Yale Institute for Music Theatre Cut from Yale School of Drama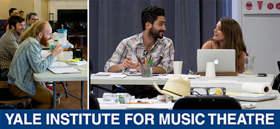 Due to ongoing University-mandated budget cuts, Yale School of Drama/Yale Repertory Theatre announced today that the 2017 edition of the Yale Institute for Music Theatre, which concluded on June 25, would be its last.
Established in 2009 to bridge the gap between training and the professional world for emerging composers, book writers, and lyricists, the Yale Institute for Music Theatre developed music theatre works in a two-week summer lab at Yale School of Drama. Under the leadership of Artistic Director
Mark Brokaw
, the Institute developed more than 20 projects, including Pop! by
Maggie-Kate Coleman
and Anna Jacobs, which premiered at Yale Rep, won the Connecticut Critics Circle Award for Best Production of a Musical, and went on to multiple productions around the country; Stuck Elevator by
Aaron Jafferis
and Byron Au Jong, which premiered at ACT and returned to New Haven for the International Festival of Arts and Ideas; The Daughters by
Shaina Taub
, and Invisible Cities by Christopher Cerrone, a finalist for the Pulitzer Prize in music. The Institute was originally conceived and founded in collaboration with the Yale School of Music, which was forced to withdraw its support in 2012 following the recession. The School of Drama took over full responsibility for the work, but successive years of downward pressure on the Yale School of Drama/
Yale Repertory Theatre
budget have made this step necessary to preserve the excellence of the most important strategic operations of the School and Yale Rep: training and production. "This was a difficult decision to make, especially given that the Yale Institute for Music Theatre has been so energetically served by so many members of the faculty, staff, and student body for the past nine years, and so astutely led by
Mark Brokaw
, whose excellent taste, astute direction, and enthusiasm made it a joyful and productive center of music theatre development," said
James Bundy
, Dean, Yale School of Drama/Artistic Director,
Yale Repertory Theatre
. "We extend our gratitude as well to
Beth Morris
on, whose early management as the Institute's first producer helped to establish a successful trajectory, and to the roster of young composers, lyricists, and book writers who participated in the Institute. Their current and future contributions to the American theatre are to be celebrated and their own advancement in the field will be another legacy of the program."