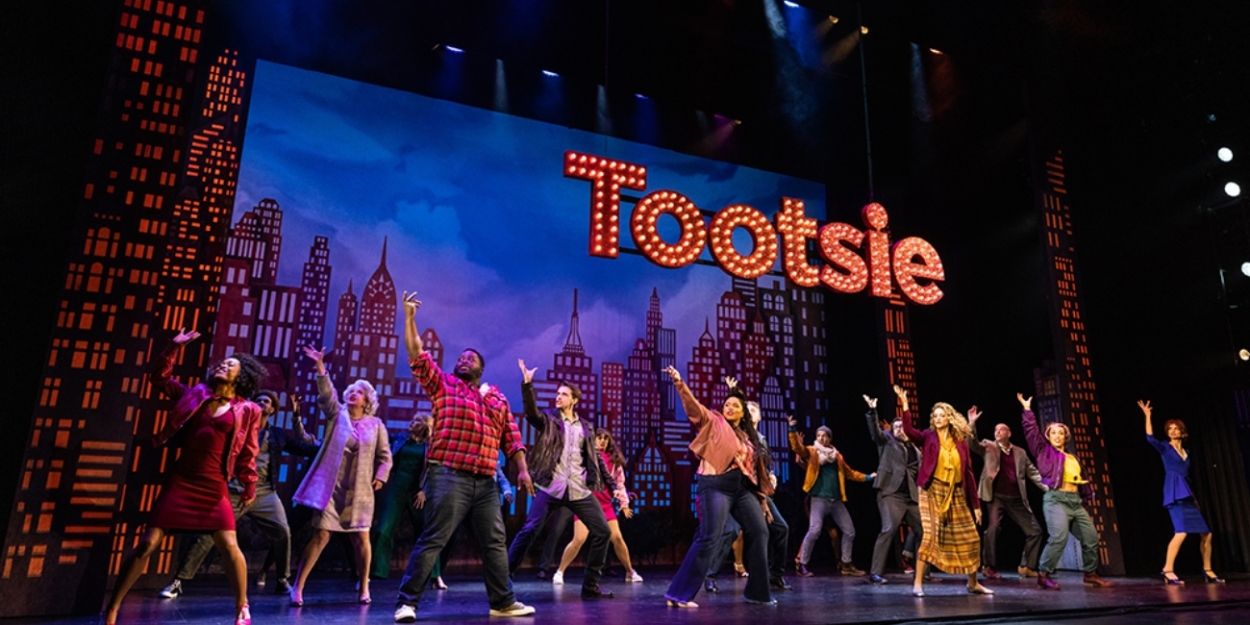 TOOTSIE is Unstoppable at The Bushnell
Now on stage at The Bushnell through February 26th
Tootsie, the musical comedy based on the 1982 film of the same name, is visiting The Bushnell now through February 26th. With music and lyrics by David Yazbek and book by Robert Horn, this Tony-Award winning show shines a light on society's treatment of women and the trouble with show business, all while delivering laughs galore.
Michael Dorsey (played by Drew Becker), a 40-year old struggling actor, knows he has the chops to make it big, but he keeps burning bridges. He arrogantly challenges directors over minute creative differences, who don't take kindly to his criticisms. Michael has made a name for himself and now no one wants to work with him. His agent, Fran (Dianne Manaster), and roommate, Jeff (Jared David Michael Grant), attempt to intervene and reroute Michael off his steady course of self-sabotage, but to no avail. That is, until his ex-girlfriend and fellow actress, Sandy (Payton Reilly), visits with news of an upcoming audition for a brand new musical. Michael decides to try something brand new. Inventing an alter ego, he dons a dress and wig and poses as sassy newcomer, Dorothy Michaels. He wows the panel and gets the gig: Dorothy is set to star in the Romeo and Juliet sequel, Juliet's Curse.
At rehearsals, Dorothy quickly bonds with the show's leading lady Julie Nichols (Ashley Alexandra), who warms Michael's heart. As Dorothy, he feels free and effervescent: So much so, that he attracts an admirer, fellow actor, Max Von Horn (Matthew Rella). Michael tries to politely turn Max down and hilarity ensues. As Juliet's Curse approaches its opening night on Broadway, Michael finds himself in a unique pickle: a love triangle with himself.
When the film premiered in 1982, it was novel, deftly utilizing the man-in-a-dress trope to enlighten viewers to the real world problems that women face everyday. Things have changed a lot, yet too little the last 40 years. It's a shame that this tale is not only relevant, but how easily the show's creators were able to update it to today. The show takes big steps to address the women's' rights movement, Me Too movement, but falls short. However, the fall seems unavoidable. The show was premiered on Broadway in 2018 and, realistically, was likely written more than five years prior. I shall needlessly remind you that society's understanding and treatment of women's rights has changed dramatically since then. While many jokes landed, others felt tone deaf.
For a book that seeks to validate women's experience and especially to address sexual harassment in the workplace, I was sorely disappointed in one creative choice in particular: In the scene when the Ron (played by Adam du Plessis), the outrageous, over-the-top, comically villainous Director, abuses his position and comes on to Julie at her apartment, the show grossly missteps. Instead of crafting a serious tone to contrast with the rest of the show and depict the severity of the scene's implications, the villain stretches to be likable in a moment where he should simply be despicable. Ron's actions aren't meant to be forgivable, so he should not be delivering the one-liners. The scene detracted from the show's message, stretching for laughs that didn't belong, and the audience was understandably unreceptive.
The sets, by Christine Peters, and costumes, by William Ivey Long, are phenomenal and a highlight of the production.
The cast delivers a mostly strong performance, but was unfortunately sabotaged by inconsistent sound mixing and poor balance with the blaring pit. We had tremendous difficulty hearing the two leads, especially during their songs. Becker and Alexandra delivered solid performances and were well-liked by the audience, but it was difficult to connect with them due to these unsurmountable issues. Despite the technical issues, the audience loved it. We laughed from start to finish.
Payton Reilly stole all our hearts and delivered an unforgettable performance as Sandy. Kathy Halenda was wonderful and memorable as Rita, the producer. Audiences absolutely loved Dianne B. Manaster and Jared Michael David Grant, whose comedic timing had everyone in stitches.
For musicals, it's standard for Act two to plunge deep into an insufferable lull. There, Tootsie exceeds all expectations and shines. The audience was hooting and hollering at the endless stream of one-liners and physical comedy.
Tootsie: The Musical is a fun, light-hearted update to the original.