ALL THINGS EQUAL Comes To The Ridgefield Playhouse Next Month
The performance is on Friday, March 3, 2023 at 8pm as part of the Teed & Brown Broadway & Cabaret Series.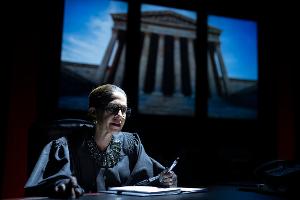 This March, bring your scrunchies, your hankies, your humor and your heart to The Ridgefield Playhouse to learn all about "RBG"- Supreme Court Justice Ruth Bader Ginsburg. All Things Equal - The Life & Trials Of Ruth Bader Ginsburg is a brand new play from Tony Award Winning playwright Rupert Holmes (The Mystery of Edwin Drood), starring Michelle Azar as RGB.
Over the course of ninety fascinating and often funny minutes, the play presents an intimate portrayal of a true American original. It will make its only Connecticut stop on its national tour at The Ridgefield Playhouse on Friday, March 3, 2023 at 8pm as part of the Teed & Brown Broadway & Cabaret Series.
Supreme Court Justice "RBG" welcomes a friend of the family to her cozy chambers to convey a sense of her life and its many trials: losing her mother the day before she graduated as valedictorian of her Brooklyn high school, being one of only nine young women studying law at Harvard while also raising a daughter and helping her husband battle cancer, fighting for women's rights in the 1970s before condescending all-male courts, and taking courageous stands for human rights as a voice of reason amid a splintering and increasingly politicized Supreme Court. An evening with a great and compassionate icon of straight-thinking American justice emerges, an RBG who is not only "notorious" but victorious as she takes a stand for ordinary people facing the many challenges of a changing world. Don't miss this entertaining and uplifting event when it makes its stop in Ridgefield! Make it a great night out with dinner and a show by visiting Eddie's Pizza & Pasta (24 Prospect Street, Ridgefield) the night of the show and enjoy a complimentary glass of house wine with your entrée when tickets are presented!
Award-winning playwright-composer-lyricist-orchestrator-conducter-novelist-singer-songwriter Rupert Holmes is the first person in theatrical history to singly win Tony awards for Best Book, Music & Lyrics. The life of late Supreme Court Justice Ruth Bader Ginsburg is chronicled his new play All Things Equal: The Life and Trials of Ruth Bader Ginsburg. "In creating this play about her richly-lived life and hard-fought struggles, I came to ever more deeply marvel at her strength, tenacity, sly wit, and compassion," says Holmes. "Our play also reveals the love song that ran through her remarkable life and shares the music that was her giddy delight. All Things Equal offers each theatregoer the chance to better know this woman, her yearning for equality, and her love for this nation's precious institutions."
For more information or to purchase touchless print at home tickets ($45-55), go online at www.ridgefieldplayhouse.org or visit or call the box office at (203) 438-5795. The Ridgefield Playhouse is a non-profit performing arts center located at 80 East Ridge Road, parallel to Main Street, Ridgefield, CT and is committed to keeping the arts alive and available to all.