Four Northeast Ohio Elementary Schools Launch First Musical Performances Through The Disney Musicals In Schools Program
Every year, Playhouse Square accepts applications and chooses four elementary schools to participate in the 19-week musical theater residency.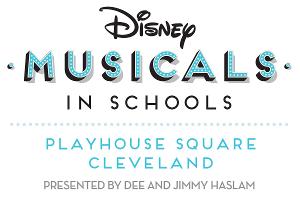 The students and staffs of four local elementary schools will take to the stage and produce their first musical theater performance this year with the help of Playhouse Square and the Disney Musicals in Schools program presented by Dee and Jimmy Haslam. Chestnut Elementary (Painesville), Old Brooklyn Community Elementary (Cleveland), Newton D. Baker School of Arts (Cleveland) and Sunbeam School (Cleveland) were selected as the program's newest participating schools for the 2022-23 school year and are currently hard at work rehearsing for their big shows.
Every year, Playhouse Square accepts applications and chooses four elementary schools to participate in the 19-week musical theater residency. The schools receive performance rights, educational support materials and guidance from professional teaching artists - all at no cost to them. The teaching artists work with the classroom educators, training them to produce a musical and to create a sustainable theater program in their schools. The residency culminates in a 30-minute Disney KIDS musical at each school.
These four new participating schools also have the unique opportunity to perform selections from their shows on a Playhouse Square stage for an audience of fellow students, family members and school community as a part of the Student Share Celebration. The private event is returning to an in-person performance in early March.
Since 2015, Playhouse Square has helped with building sustainable musical theater programs at 24 elementary schools throughout Cuyahoga and Lorain Counties. The success of the program over the past eight years has also allowed Playhouse Square to expand its reach beyond Cuyahoga and Lorain Counties and include Lake County for the 2022-23 school year. In addition to the four first year participants, the 2022-23 Disney Musicals in Schools locations include Campus International School, Garfield Elementary School, Stephanie Tubbs Jones School, Franklin D. Roosevelt Academy, Douglas MacArthur Girls Leadership Academy, George Washington Carver School, William Rainey Harper School, Buhrer Dual Language School, Paul L. Dunbar School and Wilbur Wright School. Applications and eligibility requirements for the 2023-24 school year will be available in March at playhousesquare.org/disney-musicals-in-schools.
The Disney Musicals in Schools program is an education initiative developed by Disney Theatrical Group to create ongoing theater programs in local elementary schools. After successfully offering the program in New York City schools, Disney Theatrical Group began partnering with organizations in other communities around the United States. Disney Musicals in Schools helps to keep the arts in schools and utilizes the unique world of musical theater to build positive relationships between students, faculty, staff, parents and the community. Students work in teams to develop or restore self-confidence, strengthen communication and collaboration skills all while learning and enjoying the process of creating a musical theater production. The after-school programs are completely free to participating schools.
Disney KIDS musicals, created in partnership with Music Theater International (MTI), are about 30 minutes in length and have been adapted from the classic Disney films: 101 Dalmatians, Aladdin, The Aristocats, Frozen, The Jungle Book, The Lion King, and Winnie the Pooh.