Steppenwolf Education Announces Changes To Fellowship Program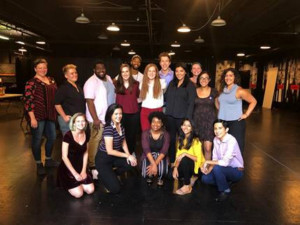 Steppenwolf Education's Professional Leadership Programs (PLP) offer opportunities through Internships, Apprenticeships and Fellowships for students, graduates, and early-career professionals. Steppenwolf Theatre Company announces a change in name from the Steppenwolf Multicultural Fellowship to the Steppenwolf Fellowship, in addition to a restructuring of the program to include a 30-hour externship. The Fellowship cohort is made up of early career people of color who hold an apprenticeship in their department of interest at Steppenwolf and are given additional paid professional development seminars and externship opportunities. The externship allows Fellows the opportunity to explore more deeply their individual professional goals, make connections to theatre practitioners outside of Steppenwolf's walls and provide more opportunities for mentorship across the industry.
Steppenwolf Education will begin accepting applications for the 2019-2020 class of PLP Fellowship Cohort in early November 2018. Learn more about Steppenwolf's Professional Leadership Program at steppenwolf.org/education/professional-leadership-programs.
This season, Steppenwolf selected 19 Apprentices who were chosen from a pool of over 500 applications. These Apprentices will dive deep into the work in their chosen departments while receiving monthly daylong seminars focusing on navigating the industry; Equity, Diversity, and Inclusion; Career Advancement, and more. Of the 19 Apprentices, six have also been selected to participate in the Fellowship program.
Development Apprentice and Fellow Mihika Miranda shares, "Working with this company and my apprentice class has reinforced my belief in myself. As a fresh college graduate, it's surreal to look forward to going to work every morning with such brilliant mentors and colleagues that are not only shaping a cultural institution and community, but also my perspectives and life path."
Production Management Apprentice and Fellow Anthony Harden comments, "Being able to work in a professional setting such as Steppenwolf is already an honor. Being able to take both the educational and professional benefits of being a part of this apprenticeship and fellowship is a dream come true. It is amazing how much knowledge I gain from both watching my supervisors and being able to actually do what they do. They want me to be as successful as possible and that is very clear."
Steppenwolf Theatre has been offering Internships for early career professionals since 1984. Since the official establishment of the Professional Leadership Programs in 2006, there have been over 450 alumni. This year's cohort marks the 15th Apprentice Cohort and the 12th Fellows Cohort. Thirty-two alumni are currently working on staff at Steppenwolf Theatre across almost every department.
The 2018/2019 Apprentice Cohort:
Carlos Enrique Arellano - Costume Shop Apprentice and Fellow; From Los Angeles, CA; Graduated from Kalamazoo College
Nakia Shalice Avila - Stage Management Apprentice and Fellow; From Holly Hill, SC; Graduated from Claflin University
Becca Brown - LookOut Producing Apprentice; From Chicago, IL; Graduated from the University of Illinois at Chicago and an alum of The School at Steppenwolf, Second City and iO's training centers
Jacqueline Corte - Marketing Apprentice; From El Paso, TX; Graduated from the University of Texas - Rio Grande Valley
Amy Couey - Scenic Art Apprentice; From Pascagoula, MS; Graduated from the University of Southern Mississippi and the Second City's training center
Tina El Gamal - Education Apprentice; From Chicago, IL; Graduated from the University of Illinois at Chicago
Allison Granat - Properties Apprentice; From Porter, IN; Graduated from Valparaiso University, IN
Brittney Symone Grant - Publicity Apprentice and Fellow; From Youngstown, OH; Graduated from Youngstown State University
Mark H. - Artistic Apprentice and Fellow; From Washington, DC; Graduated from Columbia University School of the Arts, Rutgers University and classically trained at Shakespeare's Globe Theatre in London
Anthony Harden - Production Management Apprentice and Fellow; From Rockford, IL; Graduated from Illinois State University
Rachel Kennedy - Theatre Management Apprentice; From Naperville, IL; Graduated from Hope College and also studied in London
JuJu Laurie - Stage Management Apprentice; From New Orleans, LA; Graduated from Columbia College Chicago
Mihika Miranda - Development Apprentice and Fellow; From Mumbai, India; Graduated from Franklin and Marshall College, PA
Caleb Naugle - Sound Apprentice; From Butler, OH; Graduated from Ohio State University
Reagan O'Malley - Electrics Apprentice; From Fresno, CA; Graduated from the University of California Davis
May Treuhaft-Ali - Literary Apprentice; From New York, NY; Graduated from Wesleyan University and Trinity College Dublin
Eva Trunzo - Scenic Carpentry Apprentice; From San Diego, CA; Graduated from Truman State University in Missouri
Abigail Vass - Wardrobe Apprentice; From Pleasanton, CA; Graduated from Northwestern University
Sarah Wallace - Stage Management Apprentice; From Waukesha, WI; Graduated from Boston University.
The Fellowship Program is a professional development program for early-career people of color interested in working in theatre. Fellows will hold an apprenticeship in their department of interest while being given additional paid professional development opportunities both in and out of Steppenwolf Theatre. The Apprenticeship Program is a paid professional training program for early-career arts administrators and theatre production practitioners. Participants are given practical learning experiences and independent and collective projects, all while working as a part of a team with Steppenwolf's staff. The Internship Program is for current students or early-career professionals looking for an introduction to arts administration or production. This program provides direct interaction with and access to Steppenwolf Theatre Company.
Steppenwolf Education's unique approach combines play production with educational components to enhance arts education for young audiences, as well as their teachers and families, as well as a Professional Leadership Program for early-career professionals. Every season Steppenwolf for Young Adults (SYA) creates two full-scale professional productions specifically for teens. Working closely with the Chicago Public and metropolitan area schools and other community partners, Steppenwolf Education annually ensures access to the theater for more than 15,000 participants from Chicago's diverse communities. The initiative also includes post-show discussions with artists; classroom residencies led by Steppenwolf-trained teaching artists in almost 100 classrooms in public high schools; professional development workshops for educators; and the Young Adult Council, an innovative year-round after-school initiative that uniquely engages high school students in all areas of the theater's operations, as well as other teen and community-based programs.
Steppenwolf Theatre Company is the nation's premier ensemble theater. Formed by a collective of actors in 1976, the ensemble represents a remarkable cross-section of actors, directors and playwrights. Thrilling and powerful productions from Balm in Gilead to August: Osage County-and accolades that include the National Medal of Arts and 12 Tony Awards-have made the theater legendary. Steppenwolf produces hundreds of performances and events annually in its three spaces: the 515-seat Downstairs Theatre, the 299-seat Upstairs Theatre and the 80-seat 1700 Theatre. Artistic programming includes a seven-play season; a two-play Steppenwolf for Young Adults season; Visiting Company engagements; and LookOut, a multi-genre performances series. Education initiatives include the nationally recognized work of Steppenwolf for Young Adults, which engages 15,000 participants annually from Chicago's diverse communities; the esteemed School at Steppenwolf; and Professional Leadership Programs for arts administration training. While firmly grounded in the Chicago community, nearly 40 original Steppenwolf productions have enjoyed success both nationally and internationally, including Broadway, Off-Broadway, London, Sydney, Galway and Dublin. Anna D. Shapiro is the Artistic Director and David Schmitz is the Executive Director. Eric Lefkofsky is Chair of Steppenwolf's Board of Trustees. For additional information, visit steppenwolf.org, facebook.com/steppenwolftheatre, twitter.com/steppenwolfthtr and instagram.com/steppenwolfthtr.