Review: THE LIGHTNING THIEF Electrifies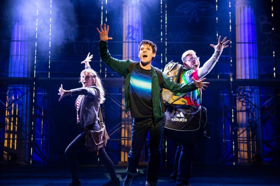 By the gods! THE LIGHTNING THIEF: THE PERCY JACKSON MUSICAL is a colossal, crowd-pleasing hit of Herculean proportions!
The off-Broadway hit, nominated for a trio of Drama Desk Awards, arrived in Chicago's Oriental Theatre Wednesday night with its original cast largely intact; a rarity as national tours go and reason enough to part with your well-earned drachma for a ticket.
And even if you don't know your Charon from your Chiron (the former is the ferryman on the river Styx, the latter is "wisest of all centaurs" --at least in the Iliad, anyway), you're apt to find much to admire in this near-perfect musical adaption of the first book in Rick Riordan's popular YA series.
The first line of Rick Riordan's book ("Look, I didn't want to be a half-blood.") is, in fact, the first line sung by Riordan's protagonist Percy Jackson (Chris McCarrell, repeating his off-Broadway role) in the musical adaption, which features book by Joe Tracz and music and lyrics by Rob Rokicki.
Consider this the little musical that could. With limited budget and some truly creative and imaginative stagecraft, TLT manages to succeed where a big budget Hollywood film failed: it remains true to the plot, character and tone of its original source material and delivers a thoroughly entertaining and epic tale that will easily charm even those unfamiliar with the original source material.
After being kicked out of his fifth school in just as many years, Percy (McCarrell) finds out that most of his troubles stem from the fact that he is the son of a mortal mother (Jalynn Steele) and Poseidon (Ryan Knowles), god of the sea.
With various mythical monsters trying to kill him, he is sent to Camp Half-Blood, a summer refuge for kids like him that include Annabeth (the daughter of Athena, played by Kristin Stokes), the satyr Gover (Jorrel Javier) and head counselor (and son of Hermes) Luke (James Hayden Rodriguez).
Percy is soon blamed for stealing Zeus' lightning bolt and sets off on a quest along with Annabeth and Grover to clear his name and prevent a war between the gods that threatens the entire world.
McCarrell is absolutely flawless as the show's titular hero. His Percy is awkward and engaging; a teen who wields snark as a shield and can't understand why things never seem to go his way. His emotionally raw delivery of "Good Kid" is the type of song likely to become a teen anthem. You'll be awed by his talent. He's that good.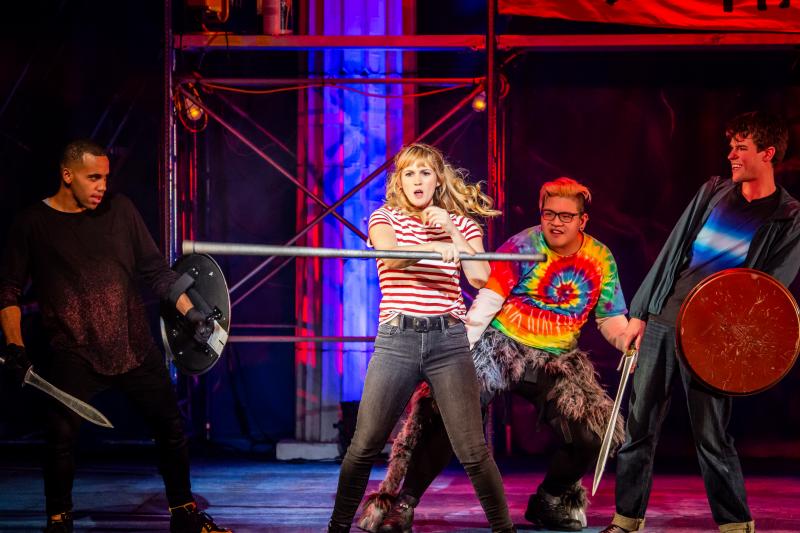 The rest of the cast are equally as strong. As Annabeth, Stokes is feisty and yet unsure. Gifted with a hat from her mom Athena that can render her invisible, going unnoticed is the very thing she fears the most. She is a badass in the vein of Wonder Woman; constantly having to prove she is every bit as good as a boy (if not better). One lyric from her big solo "My Grand Plan" struck me as an unfortunate, universal truth: "Nice girls never win if they're polite."
Javier's Grover is mostly comic relief, but he's even given a character piece ("The Tree on the Hill") in which he displays sadness and regret at the core of his character. He is also terrific as the acerbic and grouchy camp director Mr. D (as in Dionysus, the god of wine and drama). Kids might not understand his quip "who am I to give relationship advice, I'm literally the god of alcohol," but adults will probably chuckle.
Steele is given a few show stoppers as both Percy's mom and Charon. The latter character is re-imagined as chanteuse trying to break into the music business when she isn't ferrying the dead across the river Styx. Composer Rob Rokicki should be commended for the sly musical joke that is the disco-infused "D.O.A." Disco is dead. What else would be sung in the underworld?
Knowles is also equally distinctive in each of the roles he plays throughout the evening. In addition to Percy's beach-combing, "surfer bro" father, these include the centaur Chiron, Medusa and Hades.
Direction by Stephen Brackett moves at a brisk pace over the approximate two-hour run time (and there is a lot to pack in here -including a cross-country trip for our trio of heroes). The book, by Tracz, gives just enough exposition to explain both the world of Riordan's books as well as Greek mythology that those unfamiliar will still be able to keep up.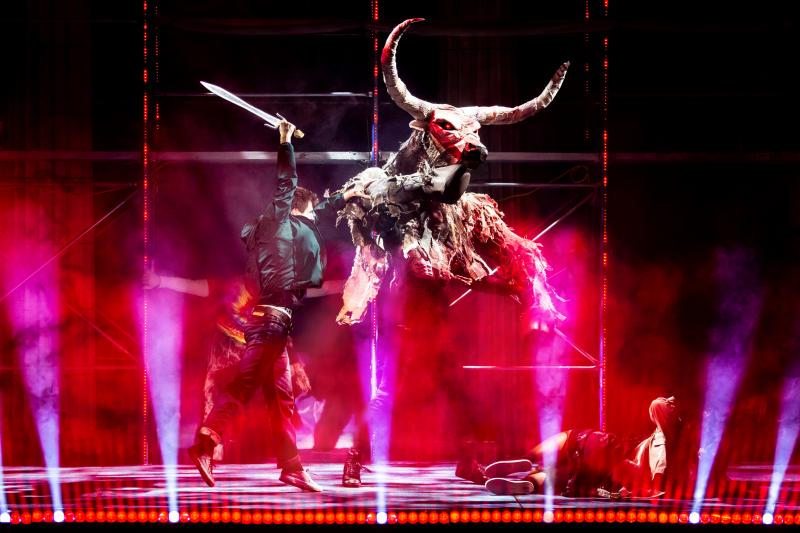 Like Percy's choice of weapon (Riptide, a pen that turns into a sword) things are not always what they initially seem, but rather something much, much more. Clever and imaginative staging, sets by Lee Savage, costumes by Sydney Maresca and puppets designed by Achesonwalsh Studios all challenge the audience to *gasp* use imagination to see (among other things), substitute teachers that transform into frightening harpies, walls of water, and squirrels that not only talk, but prove surprisingly useful for booking travel arrangements.
Much like Joss Whedon did with "Buffy the Vampire Slayer" Joe Tracz's script and Rob Rokicki's music and lyrics user familiar tropes of a genre (Greek mythology here) to explore what it means to be a kid growing up in the modern world. Neglected or ignored by adults, they are begging for the chance for anyone to just listen to them. Regardless of whether the kids succeed in that epic quest, the show ends (with no spoilers here) with cast members urging us to "bring on the monsters; bring on the real world." As in both musical and book, the challenges we face are both real and imaginary.
Without ever resorting to being preachy, it urges kids to find the strength in themselves to nonetheless persevere. That's not a bad message for young or old alike nowadays. As a result, this LIGHTNING THIEF is electrifying.
THE LIGHTNING THIEF: THE PERCY JACKSON MUSICAL runs through Jan. 13 at the Oriental Theatre, 24 W. Randolph. Tickets $25-$80.
All photos by Jeremy Daniel, courtesy of the production.