Photo Flash: Drury Lane's AIDA
Drury Lane Theatre presents the Tony Award-winning international hit musical AIDA, Directed and Choreographed by Jeff Award winner Jim Corti (Sweet Charity, Meet Me in St. Louis, Cabaret, and Sugar.) Featuring a dynamic cast led by Stephanie Umoh as "Aida" ("Sarah" in the 2009 Broadway production of Ragtime) and Jared Zirilli as "Radames" (first National Tour of Wicked), AIDA opens March 24 and runs through May 29 at Drury Lane Theatre, 100 Drury Lane. 

AIDA is a stirring tale of conflicting loyalties and star-crossed lovers inspired by Giuseppe Verdi's 19th century Italian opera with the same name. The sensational pop-rock score by Elton John and Tim Rice (The Lion King) includes musical influences ranging from African to Middle Eastern to Indian. AIDA made its Broadway Premiere at the Palace Theatre in 2000, where it ran for 1,852 performances and has since been translated into 14 languages and seen around the world. The production won four Tony Awards in 2000, including Best Original Score, as well as a Grammy Award for Best Musical Show Album for Elton John and Tim Rice's AIDA: Original Broadway Cast Recording.
Egypt has enslaved Nubia and the great power's prince, Radames, is engaged to be married when Aida,
The Princess of
Nubia, comes to the palace as a slave. Forbidden love blossoms between them and the young lovers are forced to face death or part forever. The couple's devotion ultimately transcends the vast cultural differences between their warring nations, heralding a time of peace and prosperity. This mesmerizing tale of the power of love and destiny features stunning choreography by Corti. Musical Director
Ben Johnson
breathes new life into a score complete with Motown, pop, reggae, gospel and tribal elements. The AIDA set is a brilliant combination of ancient and modern themes, including a massive plexiglass pyramid by New York City-based Set and Projections Designer Jim Dardenne (Radio City Music Hall, 25 world premiere productions). Dardenne has created serene watercolor projections that evoke timeless images including lush Nile River scenery and breathtaking desert landscapes. Vibrant lighting by Jeff Award winner
Jesse Klug
transports audiences to the majestic world of ancient Egypt. Costume Designer Melissa Torchia puts a fashion-forward spin on historical pieces to create ethereal costumes and gorgeous natural stone and metal jewelry. The artistic team also includes
Sean Kelly
(Assistant Director), Monique Haley (Associate Choreographer), Tom Rapley (Associate Choreographer),
Cecil Averett
(Sound Designer), and Mer
Edith Miller
(Props Designer). AIDA stars
Nicholas Foster
as "Pharaoh" (Jeff Award Winner for Actor in a Principal Role-Musical or Revue for Parade, Sweet Charity at Drury Lane Theatre);
James
Earl Jones
II as "Mereb" (Spamalot and Ragtime at Drury Lane Theatre);
Donica Lynn
as "Nehebka" (Once On This Island at
Marriott Theatre
); Darren Matthias as "Zoser" (
Shakespeare Theatre Company
);
Erin Mosher
as "Amneris" (first National Tour of 101 Dalmatians and Mamma Mia! in Las Vegas); Bruce Young as "Amonasro";
Stephanie Umoh
as "Aida" (2009 Broadway production of Ragtime and Tin Pan Alley Rag at the Roundabout Theatre Company); and Jared Zirilli as "Radames" (first National Tour of Wicked, Equity Regional Premiere of Rent, Altar Boyz Premiere in Washington, D.C.) The production also features
Melanie Brezill
,
Karen Burthwright
,
Stephane Duret
,
Michael Glazer
, Monique Haley, Pia Hamilton,
Pegah Kadkhodaian
, Jarret Kelly,
Adrianna Parson
, Todd Rhoades, Jaquez A. Sims, Brandon Springman, Eleho Temuru, Grant Thomas, Peter Vandivier, and Natalie Williams.
Jim Corti
returns to Drury Lane Theatre after directing last season's Sugar and receiving Jeff Award nominations for Drury Lane Theatre's Cabaret and Oh Coward! at Writers' Theatre. He received a 2008 Jeff Award for directing Sweet Charity and a nomination for Meet Me in St. Louis the same year. He also received a Jeff Award for his choreography in Drury Lane Theatre's Singin' in the Rain and directed and choreographed The Full Monty, the inaugural production at Drury Lane Theatre Water Tower Place in 2005. For Victory Gardens, Corti directed
Lonnie Carter
's The Lost Boys of Sudan,
Michael Smith
's The Snow Queen at The Biograph, and Doug Post's God and Country at The Greenhouse. He has served productions at Steppenwolf, The Second City, Chicago Shakespeare, The Goodman,
Marriott Theatre
(Jeff Award for his role in Grand Hotel) and Northlight (Jeff Award for directing Blues in the Night). A veteran Broadway actor, he appeared in the New York casts of Ragtime, A Chorus Line and Candide and the national tours of Urinetown, Cabaret and
Bob Fosse
's Dancin'. At The American Theatre Company, he is choreographing The Original Grease with director P.J. Paparelli and author
Jim Jacobs
. Corti is the newly appointed artistic director of The Paramount Theatre in Aurora, inaugurating its first Broadway subscription series this fall.
The performance schedule for AIDA is as follows: Wednesdays at 1:30 p.m. ($35), Thursdays at 1:30 p.m. ($35) and 8 p.m. ($40), Fridays at 8:30 p.m. ($45), Saturdays at 5 p.m. ($45) and 8:30 p.m. ($46) and Sundays at 2:00 p.m. ($45) and 6 p.m. ($40). Lunch and dinner theater packages range from $49.75 to $68 depending on the day of the week. Student tickets start as low as $20 and Senior Citizen tickets start as low as $29 for matinees and $43.75 for a matinee luncheon package. For reservations, call the Drury Lane Theatre box office at 630.530.0111, call TicketMaster at 800.745.3000, or visit www.drurylaneoakbrook.com.


Erin Mosher, Nicholas Foster, Grant Thomas, Jared Zirilli

Grant Thomas, Monique Haley, Stephanie Umoh, Jared Zirilli

James Earl Jones II

Jarrett Kelly, Peter Vandivier, Brandon Springman, Darren Matthias, Michael Glazer, Todd Rhoades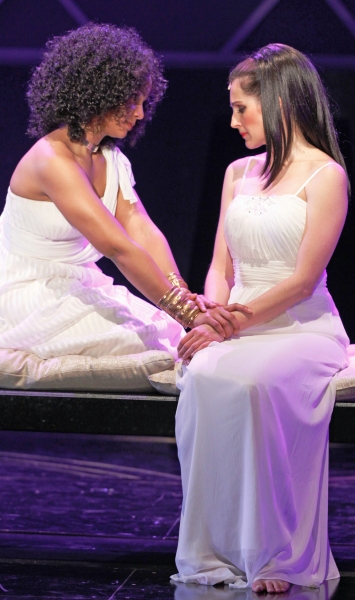 Stephanie Umoh and Erin Mosher

Stephanie Umoh and Jared Zirilli