Howard Brown Health Partners With Chicago Dancers United
Beginning immediately, Howard Brown Health will refer Chicago dance community members to primary care physicians, dentists, mental health professionals, and more.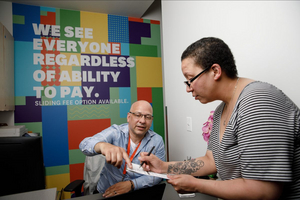 Howard Brown Health and Chicago Dancers United (CDU) have announced a partnership to improve healthcare outcomes for local dance community members. Through the partnership, Howard Brown will be the go-to referral source for dance industry professionals looking for quality healthcare services at little to no cost.

"Howard Brown is honored to provide new access points for healthcare services for the Chicago dance community, a talented and diverse group of local artists," said Channyn Parker, director of strategic partnerships at Howard Brown Health. "Supporting dance industry professionals is vital to reaching communities that may not have access to health insurance. We look forward to supporting Chicago's dance community through this partnership."

Beginning immediately, Howard Brown Health will refer Chicago dance community members to primary care physicians, dentists, mental health professionals, and more at its clinics for little to no cost. While individuals can make an appointment at any Howard Brown clinic, the partnership "clinic of choice" will be in Hyde Park at Howard Brown Health 55th Street, 1525 E. 55th St. For a full list of clinics, please visit www.howardbrown.org.

Dance industry professionals using Howard Brown's suite of services will be able to apply to The Dancers' Fund to have any medical appointment co-pays covered.

"This partnership with Howard Brown Health is going to allow Chicago Dancers United to connect our dance community to health services that may have been challenging to access previously," said CDU Board President Michael Anderson. "It's a game changer for CDU as we continue helping our dance community remain healthy."

Howard Brown Health provides full-spectrum HIV services, from screening and biomedical prevention interventions, to case management support and long-term care. More information is available at howardbrown.org.

Rooted in LGBTQ+ liberation, Howard Brown Health provides affirming healthcare and mobilizes for social justice. We are agents of change for individual wellbeing and community empowerment.

The mission of Chicago Dancers United is to foster the health and wellness of Chicago's professional dance community by providing financial support through The Dancers' Fund for preventative health care and critical medical needs. Anyone working in or retired from a professional capacity within Chicago's dance community-dancers, technical staff, administrators, choreographers, instructors, accompanists, and more-is eligible. Chicago Dancers United is supported, in part, by Chicago's Department of Cultural Affairs and Special Events, the Illinois Arts Council Agency, and the MacArthur Funds for Culture, Equity, and the Arts at the Richard H. Driehaus Foundation.
More Hot Stories For You
SongShop Live Presents THINGS CHANGE, December 11

December 1, 2022

SongShop Live presents Things Change,. exploring in song the many ways change can be good or bad, naughty or nice. When 'Everything Must Change' in this 'Crazy World', we offer Rodgers & Hart wit, Kurt Weill character, queens and pirates, elves and jingle bells (but not the carol), jazzy possibilities and endings, shifting seasons, soul-searching songs from our own Valentino, wishful thinking and resolve.
---
Comedian Ashley Gavin to Perform at The Den Theatre in February

December 1, 2022

The Den Theatre will present comedian Ashley Gavin for four stand-up performances on February 24 & 25, 2023 on The Heath Mainstage.
---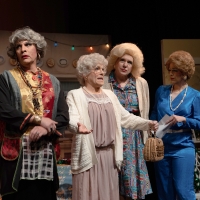 Photos: Hell in a Handbag Productions Presents THE GOLDEN GIRLS: THE LOST EPISODES – THE OBLIGATORY HOLIDAY SPECIAL

November 30, 2022

Hell in a Handbag Productions will ring in the holiday season with the return of its favorite seniors in The Golden Girls: The Lost Episodes – The Obligatory Holiday Special, playing November 26 – December 30, 2022 at The Hoover-Leppen Theatre at The Center on Halsted, 3656 N. Halsted St. in Chicago.
---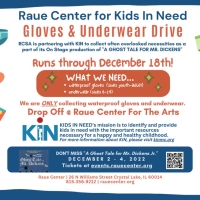 Raue Center For The Arts Partners With Kids In Need In Mchenry County

November 30, 2022

Raue Center School For The Arts has announced its partnership with Kids In Need this holiday season to collect often overlooked necessities as a part of its On Stage production of 'A GHOST TALE FOR MR. DICKENS Jr.'
---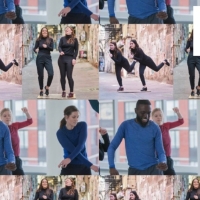 SYREN Modern Dance Announce 20-City Tour For 20th Anniversary

November 30, 2022

SYREN Modern Dance, New York City based company co-founded by Lynn Peterson and Kate Sutter, will share a split bill with kamrDANCE on December 2, 2022 at 6:30pm & 8:30pm at Arts on Site, Studio 3R, 12 St. Mark's Place, NYC.
---