Caroline Heffernan Leaves An Extraordinary Theater Legacy In Chicago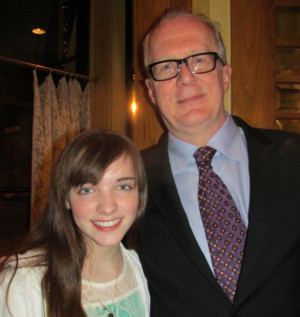 When Caroline Heffernan leaves Chicago for Los Angeles to share the title role in Amanda Peet's World Premiere, Our Very Own Carlin McClough at The Geffen Playhouse and attend UCLA as a Business Economics major in the fall of 2018, she will likely have spent more hours on Chicago's stages than any other kid in Chicago theatre history. She has starred in leading roles in World Premieres written by Pulitzer Prize and Tony Award winning playwrights (Tracy Letts and David Rabe), guest starred on NBC's Chicago Med and played a lead in Lifetime Movie Channel's My Daughter Was Stolen, filmed in Chicago. She was Steppenwolf's only Scout in To Kill a Mockingbird, Paramount Theatre's only Annie in Annie and Chicago Lyric's only Young Kim in Showboat.
Her theatrical body of work during the last decade is mind boggling, over 21 productions directed by many of Chicago's most highly acclaimed directors including Gary Griffin (3 shows), Rachel Rockwell (3 shows), Anna D. Shapiro, Jessica Thebus, Nick Bowling, Michael Patrick Thornton, William Brown, Hallie Gordon, and others. She performed difficult roles as a straight actress and starring and supporting roles in musicals including Mary Poppins, Shrek, Parade, Gypsy and others.
While other kid Chicago actors have gone on to Broadway or on National Tours, Caroline has performed ALL of her work for Chicago audiences. She is very much a home town girl; the product of the best of her Chicago roots in a hard working and wildly talented professional artistic community that has embraced and nurtured her.
What is remarkable about this young woman is not only the quality of her work on stage but also her work ethic. She never missed a single performance due to illness or school and she was never home schooled. Caroline has always been a stellar straight A student, valedictorian of Norwood Park School (K-8), a Loyola Academy and Illinois State Scholar and a National Merit Commended student (top 2 percent in the nation). She was accepted by multiple highly competitive colleges; Northwestern, Notre Dame and others.
In addition to an astonishing theatre schedule, she was a Varsity cheerleader flyer at Loyola Academy, and also did service work in Appalachia. She created and sold book marks and in doing so honored her theatrical friend and mentor, the late Bernie Yvon by being one of the top contributors to his scholarship fund in its first year. She has held her own with many of Chicago's most established actors, both male and female. Her performances have been praised by critics in tiny venues like The Gift Theatre (40 seats) and as large as Chicago Lyric Opera (3950 seats). In addition to working for established writers and directors, Caroline has also performed leading roles in new work for emerging playwrights and directors (Samantha Beach, Vanessa Stalling, Sara Gmitter, Elana Boulos).
Caroline's credits include roles at many of the Windy City's most prestigious theaters; Steppenwolf, Lookingglass, The Goodman, Chicago Shakespeare Theater, Writers Theatre, Lyric Opera, The Gift, Paramount, TimeLine, Jackelope, Marriott Lincolnshire, and many others. She leaves behind an extraordinary legacy of work in Chicagoland.
Good luck Caroline. Chicago will miss you. Thanks for ten years of theatrical memories your hometown will never forget.
Our Very Own Carlin McCullough will run June 19-July 29 at The Geffen Playhouse in Los Angeles.