A TOWN CALLED PROGRESS World Premiere to be Presented by Promethean Theatre Ensemble in March
A TOWN CALLED PROGRESS will be performed from March 16 – April 15 at The Den Theatre.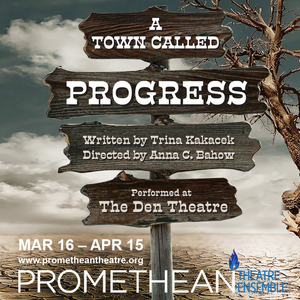 Promethean Theatre Ensemble has announced dates and casting for its world premiere production of A TOWN CALLED PROGRESS, by Chicago playwright Trina Kakacek. Anna C. Bahow* will direct Kakacek's script, which explores with humor the challenges of creating a society based on gender and economic equality. On a dusty road between Backwards and Conspiratorial in a town called Progress, Ida, the mayor, hopes to create a utopia where the women are on top. Only - the water pump doesn't work, the tumbleweeds have eyes, and the new citizens have other notions. Vivian wants to make a baby, Slim wants to make money, and Weed is up for anything as long as there is bacon. Chicago playwright Trina Kakacek's modern day fable explores the stories we tell ourselves about gender, economics, and family in this world premiere comedy. A TOWN CALLED PROGRESS will be performed from March 16 - April 15 at The Den Theatre, 1331 N. Milwaukee Avenue in Chicago. Press opening is Saturday, March 18 at 8 pm, following previews March 16 and 17. The production will play through Saturday, April 15.

Bahow announced casting today. Cameron Feagin*, who in the '21-22 season earned raves in the title role of Promethean's RICHARD III and as President John F. Kennedy in City Lit's THIRTEEN DAYS, will be Ida, the founder and mayor of Progress. Vivian, the younger woman Ida has recruited as the second resident of the town, will be played by Kali Skatchke, who was seen in EQUIVOCATION with Idle Muse Theatre Company and understudied for Lyric Opera of Chicago's DEAD MAN WALKING. The bacon-loving Weed will be played by Chris Woolsey, whose Promethean credits include Frank in MRS. WARREN'S PROFESSION and Septimus in ARCADIA. Teri Talo, who has played Caius Lucius in Forest Park Theatre's INNOGEN and Angel in CRUISE in the Stage Left Theater Spring Fling 2022 Play Festival, will be Weed's business-minded friend Slim. Understudies are Christina Jones* (Ida), Julia Cicero (Vivian), Gunner Bradley* (Weed), and Megan Wesner (Slim).
(* indicates Promethean Ensemble Member)
Promethean Theatre Ensemble selects a service organization to support and promote with each production, bridging ideas within the play to real-world efforts to address challenges within our communities. Promethean's partner for A TOWN CALLED PROGRESS is Chicago Foundation for Women. Since 1985, Chicago Foundation for Women has invested more than $45 million through over 4000 grants, annually impacting 226,000 women, girls, trans, and non-binary individuals across the Chicago region, so they are healthy, safe, and economically secure. Nearly four decades later, CFW continues to be the only organization in the Chicago region to take a comprehensive approach to expanding economic security, ensuring freedom from violence, and enhancing access to health services for these individuals. The company says, "Chicago Foundation for Women was chosen as a partner for A TOWN CALLED PROGRESS because the play's characters strive to create the same kind of safety, physical and economic, that CFW continually works toward here in the Chicago area. We are so proud to be partnered with them." Promethean will promote Chicago Foundation for Women throughout the run of A TOWN CALLED PROGRESS and raise money for the organization through audience donations.

Tickets, priced at $26 general, $21 seniors, $16 students/military are on sale now at www.thedentheatre.com.
Anna C Bahow
(Director) is a member of Promethean Theatre Ensemble. Committed to the development of new work and a diversity of voices she is an Artistic Associate with Silk Road Rising which foregrounds Asian, South Asian, and Middle Eastern artists, an Associate Artist with The International Voices Project which brings plays from around the world in translation to Chicago, and an Associate Artist at Chicago Dramatists. Bahow has received an After Dark Award for her directing, and her productions have received Chicago JEFF Awards for New Work and Use of Multi-Media. She was honored to have served as a Michael Maggio Fellow at The Goodman Theatre, is recipient of a 3ARTS WAVE Grant, and several Illinois and City of Chicago Individual Artist Grants. More about her work can be found at AnnaBahow.com

Trina Kakacek
(Playwright) is the winner of the John Gassner New Play Competition, the Dionysius Cup, and a two-time Heidemann award semi-finalist. Her plays have been featured at Chicago Dramatists, Stage Left Theatre, Lincoln Square Theatre, Victory Gardens Theater, Infusion Theatre Company, Women's Theatre Alliance, Dream Theatre, Chicago Fringe Festival, Atlanta Fringe Festival and at the Great Plains Theatre Conference. She is co-founder, co-producer, director, script writer and sound designer for Small Fish Radio Theatre, which to date has featured the work of over 60 emerging artists. When not writing, she teaches playwriting to Chicago Public High School students through Pegasus Theatre's Outreach Program. www.trinakakacek.com, www.smallfishradiotheatre.com

ABOUT PROMETHEAN THEATRE ENSEMBLE

Promethean Theatre Ensemble produces and develops ensemble-focused theatre with vibrant language in dynamic and purposeful storytelling. We select a service organization to support and promote with each production, bridging ideas within the play to real-world efforts to address challenges within our communities. Since its founding in 2005, Promethean has produced a body of work ranging from Shakespeare, 19th and 20th classics, and new work. The company was in the midst of its 14th season when the pandemic struck. A TOWN CALLED PROGRESS is Promethean's 34th production.