Flat Rock Playhouse Announces Anna Kimmell as Director of Education for Studio 52
Kimmell was recently at Arkansas Repertory Theatre as their Director of Education.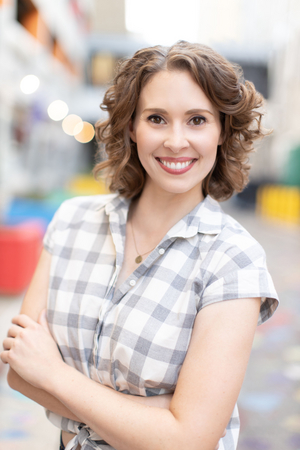 Flat Rock Playhouse welcomes Anna Kimmell as the new Director of Education for Studio 52. Kimmell comes to the Playhouse with years of performance and theatre education experience, most recently at Arkansas Repertory Theatre as their Director of Education.
Anna Kimmell is an actor, educator, and theatre artist from Atlanta, GA. A former Flat Rock Apprentice, she is delighted to return to the beloved place that jump-started her career in professional theatre and instilled the guiding philosophy to "play hard, work harder, and nap wisely." Since that formative summer in 2007, Anna has performed in regional productions at RI's Theatre by the Sea, CO's Lake Dillon Theatre, VA's Mill Mountain Theatre, AR's Arkansas Repertory Theatre, GA's Georgia Shakespeare and Theatre of the Stars, and on The Wizard of OZ National Tour, to name a few.
As an educator, Anna specializes in musical theatre, acting, and dance curricula for students of all ages. She served as the Director of Education at Mill Mountain Theatre from 2013-2016 and Arkansas Repertory Theatre from 2016-2020, where she developed year-round theatrical training programs for all ages, designed and led theatre outreach initiatives, and directed and choreographed main stage, black box, and touring children's productions. Anna has also led theatre dance courses at Hollins University and the University of Central Arkansas and a series of theatre workshops for rural elementary students in Los Andes, Chile.
Last week, Flat Rock Playhouse Artistic Director, Lisa K. Bryant, shared with Studio 52 families, students, and patrons that exciting things were coming to the Playhouse's education program. Bryant also acknowledged the difficulties of moving forward without the "Hart" of Studio 52. This spring, longtime Vagabond and advocate for arts education, Dave Hart, passed away after a long battle with cancer. In her letter, Lisa wrote, "As we move forward with education at FRP, because we all must move forward and also because Dave would not want anything less, we move forward with Dave as our guiding light. We move forward with Dave as our guardian angel. We move forward with gratitude, love, and respect for his contributions to the Playhouse, to families, and to every student who was fortunate to be taught/directed by him."
The Playhouse's first step moving forward includes bringing on Kimmell as Director of Education and offering virtual classes to students K-12. Classes will be announced on August 31, and registration will open that same day.
More Hot Stories For You