BWW Review: FENCES at Duke Energy Theater
BNS PRODUCTIONS BRINGS AUGUST'S WILSON'S, FENCES TO THE QUEEN CITY
VICKIE L. EVANS, CONTRIBUTING WRITER

August Wilson (April 1945 - October 2005) is undeniably one of the best-loved African-American Playwrights. He is the author of a ten-cycle series of Pittsburgh-based plays set in different decades of the 20th Century, that deal with an array of African-American experiences. The most popular and highly-recognized in that cycle is the Tony Award and Pulitzer Prize winning play, Fences. It addresses several conflicts and social ills that include: 1) Father/son conflict, 2) Infidelity (in the worst way that produced a child), 3) A man's inner conflict/identity crisis confusion concerning who he wanted to be versus who he really is, 4) A woman's agony to "stand by her man" regardless of her own desires, 5) A son's desire to walk in his father's shoes though they didn't fit, and 6) A best friend's commitment to a man whose flaws outweigh his strengths...and so much more.
In 2016, Fences, was made into a movie, starring my favorite actor, two-time Academy Award-winner, Denzel Washington and my favorite actress, the incomparable Viola Davis, who actually won an Academy award for it. Since I have seen the stage adaptation several times and the movie also, I admit that I walked into the Duke Energy Theater, at Spirit Square to view BNS' stage adaptation with my virtual "red pen" of comparison to see if it measured up to my previous experiences. It's like watching a cover of a Whitney Houston song...you have to have strong vocals to pull off that feat. I am proud to say that it was really good and after the first Act...I put the top on my red pen. My compliments go to the casting director who did a great job casting the right actors to the right characters. Actor Jonavan Adams did an excellent job in the lead role as the hard-nose, sometimes abusive, Troy Maxson. Not only is he as handsome as Denzel, his acting was spectacular, as well.
The interaction with Jonavan and his stage son, Dylan Ireland (Cory Maxson) was so engaging, powerful, and realistic. Both men brought August Wilson's vision to light - highlighting the conflict of father/son with fist-to-fist masculinity and raw passion, with no holds bar. The intensity in their scenes enlightened you of their similarities/division and the generational transfer of perceived learned behavior from previous parentage.
And the lady of the house, LeShea Nicole as Rose, held her own in the midst of a cast of dominating men, who were flexing their muscles. My favorite scene in Fences is when Troy reveals to Rose that he had been unfaithful and she sets him straight about his shortcomings... "I planted myself inside of you and waited to bloom. And it didn't take me no eighteen years to find out the soil was hard and rocky and it wasn't never gonna bloom." That scene always touched my heart as a feminist because it represents the personal sacrifice many women make to cement a failing relationship...at the expense of our own happiness.
James Lee Walker II, a veteran actor in the Charlotte theater community, did a realist portrayal of Troy's brother, Gabe, as a injured war veteran, with a metal plate in his head that left him mentally incapacitated. American soldiers suffered many casualties of war, leaving family members like Troy to pick up the pieces of a broken soul that experienced shell-shock. Mental illness was long swept under the rug in the African American community. Counseling and therapy were viewed as taboo, as well. August Wilson did not shy away from incorporating it as a critical topic that need to be addressed, which is applicable even in today's culture.
And the youngest member of the cast, Lauryn Vinson was the perfect starlet with charm and pizzazz in the role of Troy's illegitimate child, Raynell. Unfortunately, her entrance into the family was marred by infidelity and the death of her mother through childbearing. Rose willingness to be a mother to a motherless child was indicative of the gall men of that generation had to subject women to the humiliation that stemmed from their lack of commitment, respect and honor of their wedding vows.
Yes, Fences deal with some tough issues at the most challenging times. I give kudos to the BNS cast of Fences for delivering a classic performance and preserving the characterization that has been passed down in this six-cycle of August Wilson's legacy. I would be remiss if I didn't mention the great director of this masterpiece, Dr. Corlis Hayes. She brought out the raw emotionalism that is needed to effectively touch the heart-strings of its patrons. And final kudos to Rory D. Sheriff for bringing the African-American experience to Charlotte, especially during this extremely tumultuous political climate that we live in where preserving cultural identity does not seem to be a priority. What a great way to showcase our talents and the importance of The Arts year round. Fences is definitely a must see!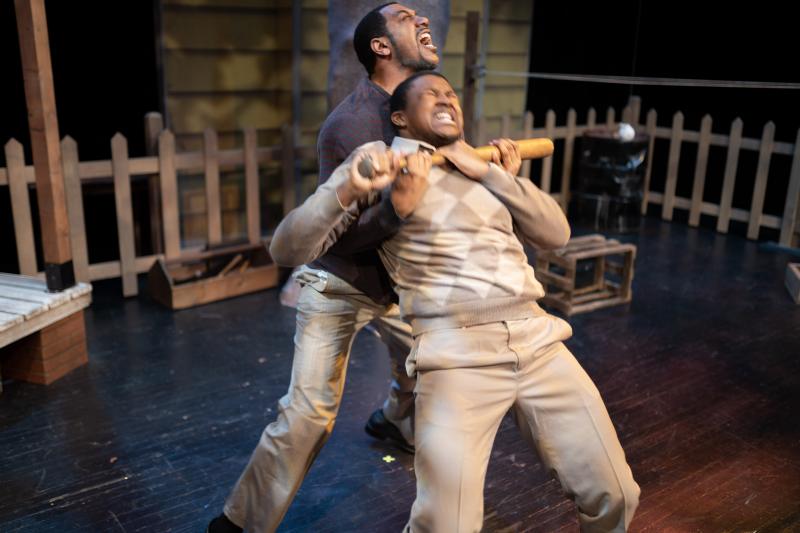 *Fences runs through February 15 at the Duke Energy Theater, at Spirit Square. Tickets can be purchased via http://www.carolinatix.org. For more information about BNS Productions, visit http://www.brandnewsheriff.com
Related Articles View More Charlotte

Stories

Shows