Photo Flash: Meet the Cast of MILLION DOLLAR QUARTET at Totem Pole Playhouse
Totem Pole Playhouse, Pennsylvania's premiere summer theater located in Caledonia State Park between Gettysburg and Chambersburg, PA, announces the opening night performance of the fourth and final offering in the theatre's four-show subscription series, the Tony Award-winning musical Million Dollar Quartet. Million Dollar Quartet is set on December 4, 1956, when an extraordinary twist of fate brought together Johnny Cash, Jerry Lee Lewis, Carl Perkins and Elvis Presley at Sun Records in Memphis for what would be one of the greatest jam sessions ever. BroadwayWorld has a sneak peek at the cast in character below!
Million Dollar Quartet brings that legendary December night to life with an irresistible tale of broken promises, secrets, betrayal and celebrations that is both poignant and funny. Relive the era with the smash-hit sensation featuring an incredible score of rock 'n' roll, gospel, R&B and country hits, performed live onstage by world-class actors and musicians. Showcased hit songs include: "Blue Suede Shoes," "Fever," "Walk the Line," "Sixteen Tons," "Who Do You Love?," "Great Balls of Fire," "Folsom Prison Blues," "Whole Lotta Shakin' Goin' On," "Hound Dog," and more.
Legendary Sun Records Producer "Sam Phillips" is played by real-life Tony Award-winning Broadway producer Hugh Hysell (Off Broadway's Perfect Crime, Phantom of the Opera international tour). David Elkins (Million Dollar Quartet national tour) is "Johnny Cash," Michael Monroe Goodman (Million Dollar Quartet Chicago and national tour companies) lends his many talents as the production's music director and as "Carl Perkins," Jason Cohen (Million Dollar Quartet national tour) is "Jerry Lee Lewis" and Joe Boover is reprising his role for the fifth time as young "Elvis Presley." Katie Drinkard (Chasing Rainbows at Flat Rock, Denver company of Forbidden Broadway) is "Dyanne."
The production is directed by Totem Pole's own Producing Artistic Director, Rowan Joseph.
The show will run July 28 through August 20. Tickets for all regular performances are priced at $50.00 and can be purchased by calling the TotemPole box office at (888) 805-7056 or online at www.TotemPolePlayhouse.org.
Photos courtesy Totem Pole Playhouse


David Elkins as Johnny Cash, Michael Monroe Goodman as Carl Perkins, Jason Cohen as Jerry Lee Lewis, and Joe Boover as Elvis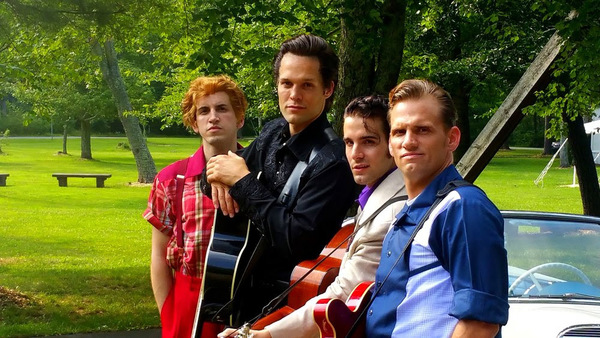 Jason Cohen as Jerry Lee Lewis, David Elkins as Johnny Cash, Joe Boover as Elvis, and Michael Monroe Goodman as Carl Perkins

Jason Cohen as Jerry Lee Lewis, David Elkins as Johnny Cash, Joe Boover as Elvis, and Michael Monroe Goodman as Carl Perkins

David Elkins as "Johnny Cash," Jason Cohen as Jerry Lee Lewis, Joe Boover as Elvis, Hugh Hysell as Sam Phillips and Michael Monroe Goodman as Carl Perkins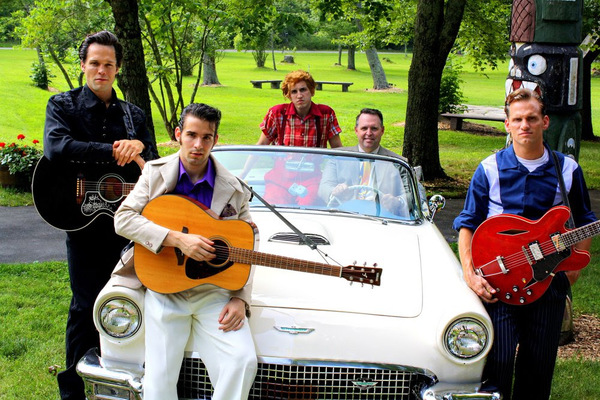 David Elkins as Johnny Cash, Joe Boover as Elvis, Jason Cohen as Jerry Lee Lewis, Hugh Hysell as Sam Phillips and Michael Monroe Goodman as Carl Perkins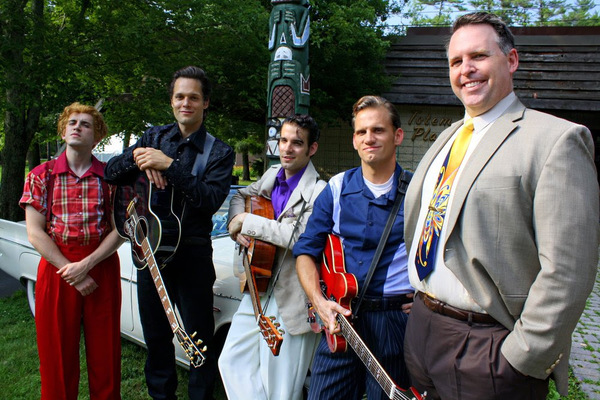 Jason Cohen as "Jerry Lee Lewis," David Elkins as Johnny Cash, Joe Boover as Elvis, Michael Monroe Goodman as Carl Perkins and Hugh Hysell as Sam Phillips