Fall In Love With Local Artists In Gretna Theatre's SHE LOVES ME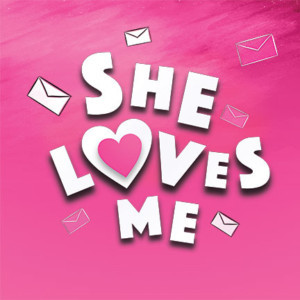 Gretna Theatre presents the Broadway classic musical comedy, She Loves Me. Inspiring the popular romantic movie You've Got Mail, She Loves Me tells the story of Amalia (Hanley Smith) and Georg (William Connell), co-workers in a department store who don't see eye to eye and constantly bump heads on the job. Little do they know the anonymous pen pals they have both been falling for happen to be each other! Featuring songs like "Tonight at Eight" and the favorite "Vanilla Ice Cream." Direct from a hugely successful Broadway revival, this sweeping romantic Tony-Award winning musical marks the biggest production of Gretna's 2018 season.
The cast is comprised of 15 actors; 12 of which are locals to Central PA: Hanley Smith, William Connell, Timothy Shew, Ellie Mooney, Josh Lerner, Andy Kindig, Andrew Zahn, Matthew Wilhelm, Janice Hughes Gunnells, Ryan Cassidy, Katheryn, Pedersen, Kayla Klase, Lauren Ritter, Matt Romain and Peter Witkowski.
The magical romance on stage may seem very real; that's because it is! Leading actors Hanley Smith and William Connell are an onstage couple and they're married in real life. Smith says she is "delighted to fulfil her dream of performing opposite her husband in her favorite musical."
She Loves Me is truly a testament to Pennsylvania's talent and Gretna's commitment to them. In addition to local actors, we're happy to have local costume designer Andrea McCormick designing costumes for She Loves Me. Andrea serves as the Artistic Director for the American Music Theatre in Lancaster, Pa. The full creative team includes: Music/Vocal Direction (Lancaster's Scott Williams), Choreography (Lebanon's Judy Williams Henry), Lighting Design (Diana Duecker), Sound Design (Lebanon's Johnathan Shuey), Properties Design (Natasha Oliver), and set design (Kyle Dixon). With direction by Gretna's Artistic Director, Thomas Cot?, She Loves Me will melt the hearts of audience members both young and old.
We've teamed up with the Jigger Shop to create a unique Mount Gretna experience. While you're in town for She Loves Me, stop by the Jigger Show and order the 'She Loves Me Sundae', vanilla ice cream with a slice of apple pie. A portion of your order will be donated back to Gretna Theatre.
Production sponsors for She Loves Me are Garcia, Garman, & Shea, and Cornwall Manor, with season partner Kapp Advertising. Tickets range from $36 - $39 and are available 24 hours a day at GretnaTheatre.org, or by calling the Gretna Theatre Box Office at 717-964-3627. Stay connected to Gretna Theatre on Facebook (Gretna Theatre), and follow us on Instagram (@gretnatheatre).
More Hot Stories For You