ORDINARY DAYS Comes to Schuylerville Community Theater
Performances run April 21st through April 23rd.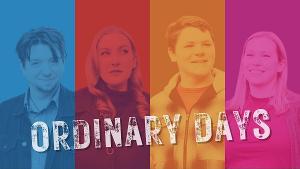 A small but mighty cast has assembled in rural Upstate New York to tell a story about the human experience and the search for connection. Schuylerville Community Theater will be presenting their take on Adam Gwon's Ordinary Days to local audiences for one weekend only from April 21st through April 23rd.
SCT's Ordinary Days is directed by Stephanie Willis with musical direction by Carol Hawks. This is Stephanie's directorial debut for SCT after spending 20+ years on the other side of the table performing on stage. She says, "The opportunity to do this show, with a cast like this, has been a dream of mine that originated before COVID changed world in 2020. The themes of struggling to connect and find acceptance in our circumstances ring truer than ever and I know audiences will relate to the small moments that amount to something far from ordinary."
The cast is comprised of four local artists hailing from Glens Falls, NY and features Carly LaMay as Deb, Jack Adams as Warren, Barbara Zanoni as Claire, and Brian Fitzgerald as Jason. All four actors have previously been seen on stage in various productions with Glens Falls Community Theater and other local performing arts companies.
Ordinary Days is the captivating story of what happens when frazzled and uptight graduate student Deb loses the notebook that contains all of her notes for her thesis somewhere on the streets of New York. Little does she know that Warren, the struggling artist and professional cat sitter who finds and returns the notebook to her, will have such a profound effect on her life. And meanwhile, their actions affect Jason and Claire, a couple inching toward marriage who ultimately can't seem to completely figure each other out because of an unspeakable tragedy from years ago.
The show begins at 7:30pm on Friday, April 21st and Saturday, April 22nd, and will start at 2pm on Sunday, April 23rd. All shows will take place at Saratoga Town Hall located at 12 Spring Street, Schuylerville, NY. General admission tickets are $22 for adults and $18 for seniors and students and can be reserved by calling 518-695-5480 or reserving online at https://cloud.broadwayworld.com/rec/ticketclick.cfm?fromlink=2229465®id=134&articlelink=http%3A%2F%2Fwww.scttheater.org%2Fcurrent-shows%2F%3Ffbclid%3DIwAR2aIkPissW6qFA7OOL4n6gB0SzJnJbR7xRGRmTNy3i98Rey3-jjaMtyvCY?utm_source=BWW2022&utm_medium=referral&utm_campaign=article&utm_content=bottombuybutton1
Ordinary Days Music and Lyrics by Adam Gwon. ORDINARY DAYS is presented by arrangement with Concord Theatricals. www.concordtheatricals.com