Franklin Stage Company Presents BILLY BISHOP GOES TO WAR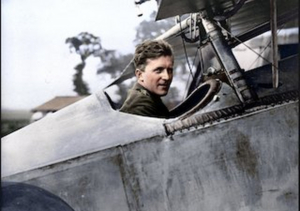 Franklin Stage Company, Delaware County's only admission-free professional theater, will present John MacLachlan Gray and Eric Peterson's Billy Bishop Goes to War, August 9th- 25th, at FSC's historic theater, Chapel Hall, in Franklin, NY.
The musical, set in Canada and Europe, explores the cost of war told through the eyes of Billy Bishop, a young Canadian underachiever who is drafted to fight in WWI. The audience accompanies young Billy on his journey to the fighting fields of Europe as he learns that the Cavalry will get him killed but learning to fly fighter planes might just save his life. The story is presented as a series of anecdotes by Bishop as he recounts his battles and the ecstasy of flying, singing and enacting his exploits as a fighter pilot. Billy also retells his conflicts not only with the Germans but with commanders and the British in general (who treated him as a colonial inferior) and all those who saw war as a good time. His entertaining version of harrowing events is told in story and song. "Billy Bishop is a classic musical in Canada, but not often produced in the US." said Co-Artistic Director Patricia Buckley. "We've always loved this story and are thrilled to bring it to FSC's audience." Added Co-Artistic Director Leslie Noble, "The entertaining nature of this piece sits atop a very serious portrayal of war and its day-to-day consequences. It's an unlikely hero's journey-an entertaining and very powerful piece of theater."
Directed by Chris O'Connor, the play features actor Woodrow Proctor in the role of Billy Bishop and local musician Tim Iversen as the Piano Player/Narrator whose renditions of the show's rousing barracks songs propel Billy on his journey. "This play shows us how the young Billy is swept up by the wave of history into the horrific events of WWI. He eventually evolves into a hero-revealing the humor, tragedy, and humanity of his wartime experience. " said O'Connor, "Woodrow Proctor as Billy adroitly finds the core of all the characters in this thoughtful and deliciously entertaining play, and it's a joy to watch. I think FSC audiences will love this play!"
The musical has won numerous awards including the Los Angeles Drama Critics' Award, the Floyd S. Chalmers Canadian Play Award and the Governor General's Award for English Drama. It was revived and performed again by its creators Gray and Peterson in 2017 to rave reviews. Broadway World called the piece, "evocative and wistful, like a tune you remember from your youth."
The Franklin Stage Company season runs through September 1 at Chapel Hall, 25 Institute Street in Franklin, NY. Please note all evening shows have a curtain time of 7:30 pm. Billy Bishop Goes to War will also have Saturday matinees at 3:00 pm. General Seating. Admission is free-suggested donation is $20 per person. For reservations, visit www.franklinstagecompany.org or call 607-829-3700.