Fifth Class of the Capital Region Hall of Fame Announced
The class will be inducted with musical performances, short videos about their careers, speeches and more in a public celebration at UPH.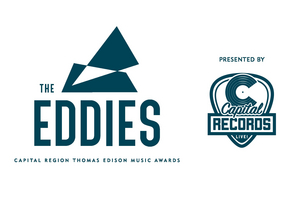 Eight individuals will be inducted into the fifth class of the Capital Region Music Hall of Fame Monday, March 27 at Universal Preservation Hall. The group includes two members of a pioneering late 1960s and early 70s alt-country band; a nun who helped launch the careers of hundreds of music industry professionals around the globe; one of the region's most active and best-known bluegrass musicians over the past eight decades; a woman who has promoted bluegrass music through the local airwaves for over 40 years; a legendary rock music photographer; and two guitarist virtuosos who forged careers that have generated international recognition.
The class will be inducted with musical performances, short videos about their careers, speeches and more in a public celebration at UPH. The evening kicks off 6 p.m. with a social gathering; the induction ceremony begins 7 p.m. All inductees are represented with plaques at Universal Preservation Hall in Saratoga Springs, as well as brief videos highlighting their careers. Tickets are on sale at universalpreservationhall.org
"It is inspiring to think about the accomplishments of these men and women and what they represent," said Jim Murphy, founder and producer of the Eddies Music Hall of Fame. "Weaved together, their stories represent an amassing cross-section of the American music scene. And collectively they reflect an amazing, vital music scene in the Capital Region."
The group brings the total number of Eddies Music Hall of Fame inductees to 32 since 2019.
Here is the Eddies Music Hall of Fame Class of 2023:
If an artist is a Rock & Roll Hall of Fame inductee, chances are better than even that Martin Benjamin has photographed them at some point in their career. His first published photo was of Bruce Springsteen at the Palace Theatre in Albany in 1979. Since then, the Union College visual arts professor's lenses have captured everyone from AC/DC to Frank Zappa, and his work has been exhibited across the U.S. and in Europe and Asia, as well as published as part of 18 TV productions and in The New York Times, The Mirror, People, Rolling Stone, American Photographer and elsewhere.
Albany native Mike Campese has released 11 solo albums featuring his fusion guitar mastery and is a former member of the Trans-Siberian Orchestra. He has been featured in Guitar One, Guitar World and Guitar Player, among other magazines, and is a columnist for several publications. A graduate of the Musicians Institute in Hollywood, he has also taught throughout his career. When not on the road, Campese splits his time between the Capital Region and California.
Felicia Collins grew up in Albany's Arbor Hill, acquiring her first guitar at the age of 12 from a pawn shop and teaching herself to play. She is best known for her role as guitarist and vocalist in Paul Schaffer's celebrated "Late Night with David Letterman" band for the show's entire run (1993-2015) on CBS. She has toured and recorded with artists such as George Clinton, Aretha Franklin, Cindy Lauper, Madonna and the Thompson Twins, among many others. And she has led her own bands and recorded three solo albums.
Wanda Fischer has hosted WAMC-FM/Northeast Public Radio's weekly "The Hudson River Sampler" show - dedicated to folk music, bluegrass, and blues music - since 1982. Prior to joining WAMC, Fischer hosted a similar show in Worcester, Mass. for four years. She was inducted into the Folk Alliance International's Folk DJ Hall of Fame in 2019. This Tennessee native, also a singer/songwriter, relocated to Schenectady in 1979.
According to The New York Times, George Frayne, "as the frontman for the band Commander Cody and His Lost Planet Airmen melded Western swing, jump blues, rockabilly and boogie-woogie with a freewheeling 1960s ethos to pave the way for generations of roots-rock, Americana and alt-country musicians." The band scored one Top 10 hit and a live album was ranked by Rolling Stone as one of the top 100 albums of all time. Frayne, Idaho born, moved to Saratoga Springs in the 1990s, where he was active as a musician and visual artist and lived until his death in 2021.
Smokey Greene remained active in the country and bluegrass music scene for nearly eight decades as a banjo, guitar, mandolin and fiddle player, as well as a vocalist. He owned his own music club in Thompson, N.Y., toured with his band the Green Mountain Boys in the 1970s, worked as a country radio DJ for two decades in Glens Falls and founded a bluegrass festival in Corinth which enjoyed a 16-year run. Born into a musical family in Tinmouth, Vt., Greene often played late in his career with sons Arlin and Scott.
Sister Mary Anne Nelson, CSJ, founded and led The College of St. Rose's Music Industry program for 49 years, retiring in 2021. She was responsible for steering the program towards a greater focus on popular music. During her tenure, music students ran their own record label, worked on live music television productions, studied music law and entrepreneurship, and ran lights and sound and performed at a bar-like venue on campus. Her vision put Saint Rose on the map as one of the top U.S. music industry programs as recognized multiple times by Billboard magazine.
Guitarist and vocalist John Tichy is an original member of Commander Cody and His Lost Planet Airmen, formed in 1967 in Ann Arbor, Mich. After playing for two years in local bars, the core members migrated to Berkeley, Calif. The group disbanded in 1976 after five studio and two live albums, and one Top 10 hit, "Hot Rod Lincoln." Tichy, born in St. Louis, who previously earned a Ph.D. from the University of Michigan, soon joined the faculty of Rensselaer Polytechnic Institute in Troy, where he became head of the Department of Mechanical, Aerospace and Nuclear Engineering.
The Eddies Music Hall of Fame ceremony will be followed by the Eddies Music Award Show at Proctors on Sunday, April 30. About 200 nominees will be acknowledged in roughly 35 categories. More information is available at theeddiesawards.com.
The Capital Region Thomas Edison Music Hall of Fame and the Eddies Music Awards are part of Proctors Collaborative, as is Universal Preservation Hall.