BWW Review: THE CURIOUS INCIDENT OF THE DOG IN THE NIGHT-TIME is Captivating at Syracuse Stage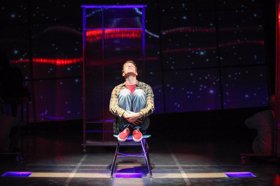 The Tony Award winner for Best Play, The Curious Incident of the Dog in the Night-Time, is now captivating audiences at Syracuse Stage. This thought-provoking and enthralling production is co-produced with the Indiana Repertory Theatre, where this same cast previously received rave reviews. Impressively directed by Risa Brainin and brilliantly acted, this production is memorable to say the least.
Apart from the impressive direction and acting, this production is noteworthy for two other reasons. While the play did receive a national tour following a run on Broadway and London's West End, Syracuse Stage and Indiana Repertory Theatre are among the first regional, non-profit theatres to receive the rights and produce this coming of age story. The co-production is also the first to cast an actor on the autism spectrum, Mickey Rowe, to play the lead role of Christopher Francis Boone, a character also on the autism spectrum.
Simon Stephens' play is based on Mark Haddon's novel, Curious Incident. The intriguing story centers on a 15 year-old boy on the autism spectrum named Christopher Francis Boone (Mickey Rowe). He is determined to solve a neighborhood mystery and identify who killed his neighbor's dog, Wellington. Boone was accused of killing the dog, but it is a false accusation. Boone decided that it is up to him to do detective work to solve the mystery.
Boone has difficulty dealing with and making sense of the world around him so he mostly stays to himself. However, he steps out of his comfort zone and knocks on neighborhood doors to find out any information about Wellington's death. Boone records his adventures in a book, which is read throughout the production by Siobhan (Elizabeth Ledo), Christopher's mentor at school.
Boone excels at mathematical memory and calculations, and has a unique and highly detailed perception of the world. Equipped with his unique brilliance and determination, Boone does learn who killed Wellington, but more importantly learns some daunting secrets about his family leading him to find his own strength, courage, and independence.
The artistic elements of this production allow the enticing and unique story to effortlessly come to life on stage. Russell Metheny's scenic design is brilliantly thought out and allows for effortless scene changes, which in turn allow even more focus on the story that is unfolding. The projections by Katherine Freer help the audience to see the numbers and thoughts or observations that are constantly running through Christopher's head. Michael Klaers lighting plays off of the emotions that Christopher is experiencing in each moment, adding to the characterization of Christopher Boone. The production also features original music by Michelle DiBucci and sound design by Todd Mack Reischman. Both enhance the production.
Under the direction of Director Brainin, and with the help of the movement coordinator Mariel Greenlee and the dramaturg Richard J. Roberts, the ensemble cast revolves around Mickey Rowe, a physically and mentally brilliant actor portraying Christopher. With Rowe at the center of all the action, Christopher's coming of age story comes to life set in present day Swindon and London - all with very believable English accents.
Mickey Rowe's ability to relate to the character of Christopher due to his own situation in real life makes his portrayal all the more impressive and believable. Rowe respectfully portrays Christopher's struggles brilliantly. He is very much a physical actor and his movement is entrancing.
The production features a highly intelligent ensemble cast. The entire ensemble allows Rowe to take the spotlight and they play off of him perfectly.
Elizabeth Ledo as Siobhan, Christopher's mentor at school is thoughtful, fascinating, and devoted in the role. Ledo's voice, movement, and presence are comforting, which is necessary given her character's relationship to Christopher.
Robert Neal as Ed (Christopher's Father) portrays a strong, but flawed devoted and emotional Father. Neal plays off of Rowe beautifully as he reveals Ed's own struggles of raising a child with a disability. There is unconditional love, anger, frustrations, loss of patience, and worry - all of which is captured in his beautiful performance. Constance Macy portrays the role of Judy (Christopher's Mother) with such power, passion, and emotion. Her character's love for Christopher is evident and takes center stage. Neal and Macy perfectly portray loving parents dealing with their own struggles and problems, but in the end they do still have one thing in common and that is their love and worry for their son.
Gail Rastorfer ( Voice 1, Mrs. Shears, et al.) proves she has the comedic, emotional, and physical skill to pull off a variety of characters. Parks, as Voice 2, Roger Shears, et al., plays his roles with strength and great intellect. Landon G. Woodson, as Voice 3, London Policeman, et al., has brilliant and memorable line delivery throughout the show. David Alan Anderson, as Voice 4, Reverend Peters, et al., is comedic in appropriate moments and expressive in his various roles. Mehry Eslaminia, as Voice 5, Punk Girl, et al., is highly memorable in her roles. She employs a believable accent and has wonderful facial expressions as she reacts to Christopher. Margaret Daly, as Voice 6, Mrs. Alexander, et al., delivers the role of Mrs. Alexander with empathy, patience, and friendliness.
The Curious Incident of the Dog in the Night-Time at Syracuse Stage shares a very unique and smart story of a character not often portrayed on stage. The play is definite must-see thanks to its fascinating story, brilliant casting, and unique group of actors.
Running Time: Approximately two hours and thirty five minutes with one fifteen minute intermission.
The Curious Incident of the Dog in the Night-Time plays through November 12, 2017 in the Archbold Theatre at the Syracuse Stage/SU Drama Complex. For tickets and information click here, or call 315-443-3275, and in person at the Box Office 820 E. Genesee Street, Syracuse, New York.