THE COLOR PURPLE's Allee Willis to Perform at New York's La MaMa, 11/10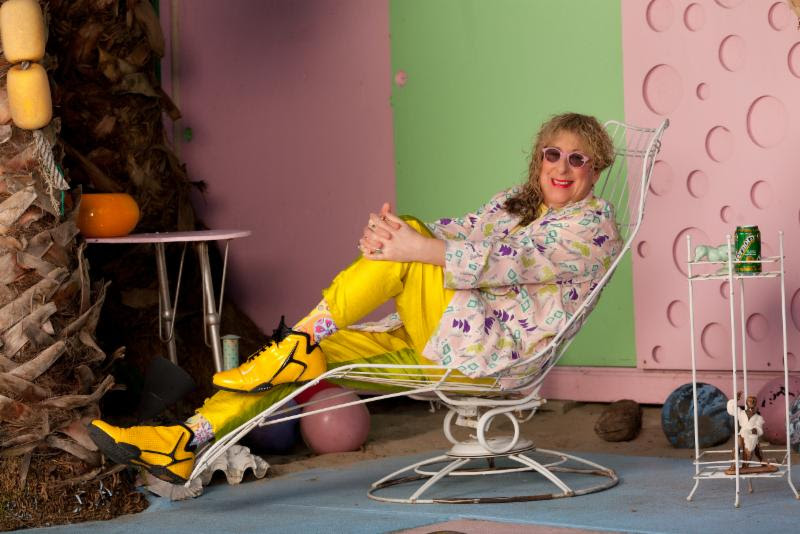 On Tuesday, November 10, Grammy, Emmy, Tony and Webby award-winning and nominated songwriter, performer, visual artist, multimediaist, director, collector, social artist, party thrower, co-author of The Color Purple, and "the most interesting woman you've never heard of" (The Washington Post) Allee Willis will host Gala 55 at La MaMa Experimental Theatre Club and perform her live show, 'Ba-de-ya Baby! Or: How I Learned to Love the Theatre.' Allee, often referred to as "The Queen Of Kitsch," calls this once in a lifetime multi-media performance - and her New York City debut - "An Experience in Experimental Dinner Theatre."
The evening of cocktails, dinner, performance, thrift shop auction (Allee appears on the hit TV series, Storage Wars), and after-party will celebrate La MaMa's 55th season. It begins at 6pm at the
Ellen Stewart
Theatre (66 East 4th Street, 2nd Floor). Tickets can be purchased here:
http://lamama.org/2016-fall-gala/
Honorary chairs for this "new party performance" by
Allee Willis
, directed by Jason Trucco, include
Bette Midler
,
Pamela Adlon
,
Lily Tomlin
&
Jane Wagner
,
Buck Henry
, and
Marsha Norman
. Willis has entertained these honorary chairs, and many others like
Cyndi Lauper
, Cher, The Pointer Sisters, RuPaul and
MARK CUBAN
at Willis Wonderland, her historic house in Los Angeles - the former MGM party house. Willis' always-sold-out live shows draw rave reviews as she celebrates her life in music, art, and kitsch with her greatest hits sing-alongs, stories, special guests, motorized art, games, videos, and a 12-course meal, all delivered with her signature party vibe. Of Willis' parties, People Magazine has written, "She throws parties that are works of art in themselves." "The magic of this show is in the performer herself. Cynical and iconoclastic, Willis approaches her performance less as singer/songwriter and more like a party host, for which she is as legendary as her music... My sides were splitting from non-stop laughter. With barely time to catch my breath. One can see why
Allee Willis
is a hit maker." (KFI-AM Los Angeles). This month, the Songwriters Hall of Fame honored Willis with a nomination for its 2017 induction. She is the only female non-performing songwriter nominated. Willis's songs have sold over 60,000,000 records, including Earth, Wind & Fire's "September," and "Boogie Wonderland," The Pointer Sisters' "Neutron Dance,"
Patti LaBelle
's "Stir It Up," Pet Shop Boys with Dusty Springfield's "What Have I Done to Deserve This?", Maxine Nightengale's "Lead Me On", and the Tony-winning Broadway musical, The Color Purple. Willis won a Grammy for Best Soundtrack for
Beverly Hills
Cop and was nominated for an Emmy for "I'll Be There for You," the Friends theme and arguably the biggest TV theme song of all time. One of Willis' most iconic pop songs in history, "September" by Earth, Wind & Fire, was just recorded by
Justin Timberlake
and
Anna Kendrick
for the new
Dreamworks Animation
film, Trolls, out in theaters Friday, November 4.
For more information on Allee Willis:
http://alleewillis.com/
https://www.facebook.com/alleewillis
https://twitter.com/alleewillis