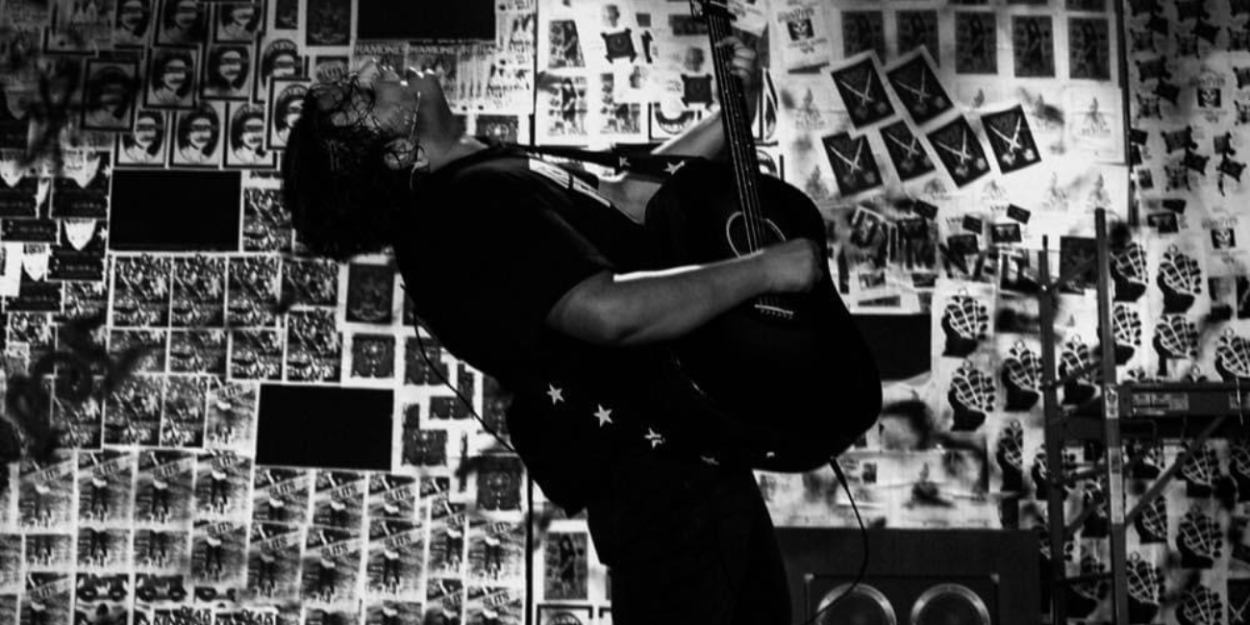 Review: Max Bartos is the Spooky Pop Punk King We Deserve at Berlin Under A
It's a treat to feel like you're getting in on the ground floor with someone truly special.
We are currently in a renaissance of the Broadway teenager. Shows like Kimberly Akimbo, Beetlejuice, and The Music Man have recently put young talent on display like no other time in recent memory. Another such show still making its way to Broadway that fits in this category is Sing Street, a musical with a cast of which more than half the members are young people (or, at least, very young-looking people). One member who has been with the show since the off-Broadway run is Max Bartos. Max, however, isn't satisfied with being a Broadway star. No, he's also planning on taking over the world as a rock star. Living in a world somewhere between Alex Brightman and Gerard Way, Max and his outsized talent recently took over the tiny underground stage at Berlin Under A to debut songs from his new album "Memento Mori." If this show is any indication, Max's rock and roll aspirations aren't so far out of reach. He's a rockstar already, it's just a matter of making sure everyone knows.
With the stage presence, graciousness, and sheer skill of someone who's been in the business three times as long as Max has been alive, it's a treat to feel like you're getting in on the ground floor with someone truly special. Now, if you've never been in a basement music venue on the Lower East Side, attending a concert with a number of people who aren't old enough to order from the bar, it's an experience. Parents are abundant, and, even as someone who hasn't reached their quarter-life crisis, this writer felt very old. Once Max started playing, however, I stopped caring where I was. All I could do was pay attention to the music! Wearing zippered trousers à la Trash and Vaudeville, a tailcoat, black eyeshadow smudged under his eyes, and with a headstone bearing his own name perched at the edge of the stage, Max Bartos clearly put a lot of thought into creating an atmosphere apropos of his material. "Memento Mori" is the story of a ghost speaking to his lover from beyond the grave, and the care with which Max created a climate that would put his listeners in that world was commendable.
Accompanied by Sam Pallatroni on piano and Alvaro Domingo on drums, what spilled forth from Max was exactly the marketable kind of sound that bridges the divide between Broadway and punk; guitar lines evoking Billie Joe Armstrong, alongside strong vocal technique, makes for a career that is not only enduring but endurable. This is my favorite thing about Broadway artists creating music in other styles: you never have to worry about their voices because everything is backed up by the skill required for an eight-show week. With his confident baritenor, Max puts an audience at ease, whether sending out a strong belt or crooning in softer moments. Though the songs may have been coming from the perspective of an individual who has passed on, the poetic lyrics still hit on a range of universal themes. Loneliness, love, yearning, and hope were just some of those themes. This was a dead man who still understood the experience of trying to be alive. There were small, slightly awkward moments of switching between guitars that could have been filled with banter or some other audience engagement, but it was perfectly understandable, given any understandable nerves involved with an evening like this. As Max continues to play out, these transitions will become easier for him.
The audience was also treated to two guest appearances at the Max Bartos Show. Newcomer Tali Golergant sang alongside Max for a duet from "Memento Mori," playing the former lover of the ghost visiting his grave. An up-and-coming musical artist, Tali also performed her original piece "Lose You." With a vocal style that was somehow simultaneously smoky and airy, Tali has her finger on the pulse of contemporary pop music. I could easily imagine "Lose You" being covered by Ariana Grande, playing non stop on some Top 40 radio station. Also in attendance was Beetlejuice's Elizabeth Teeter, premiering two original numbers. Both "Your Name" and "Happy New Year" had a country-type sensibility, and are, as of the performance, unreleased with no plans for further development. Adeptly adapting to a new style by developing a raw and uninhibited quality, listening to this skilled vocalist branch out from the contemporary musical theater sound was a delight.
With song titles like "Unspoken," "Carpe Noctem," and "Memento Vivre," the vast majority of the songs were mournful ballads, which shouldn't be taken as a bad thing! When done well, as they were, this style speaks to a version of ourselves that wants to get all up in our own feelings and just be temperamentally creative. Max's skill in the art of crafting music was evident in every moment with not a dud in sight. However, I found myself wanting something more uptempo, with that sort of drive that I love in a lot of pop punk from the late 90s and early 2000s. The finale, "Monochromatic," delivered on this desire. Described as if "Bruce Springsteen met U2," yet with a spin that was all his own, "Monochromatic" was electric, a welcome deviation, and a song that I could easily see becoming the next pop-punk anthem.
Besieged by the simultaneous difficulties of being a teenager, being a performer, and having a rapidly developing career jolted by the pandemic, Max Bartos is exceeding all expectations. He can hold an audience in a way that some adults can't even figure out. His guitar skill is virtuosic. His ability to build a network is evident, based on the packed venue and high-level collaborators. Get your hands on "Memento Mori" for an incredibly exciting look at the personal passions of this top-notch artist. Continue to listen for the name Max Bartos to witness the rise of one of the most exciting young theatre artists working today.
Visit the Berlin Under A website HERE.
Follow Max Bartos on Instagram HERE.