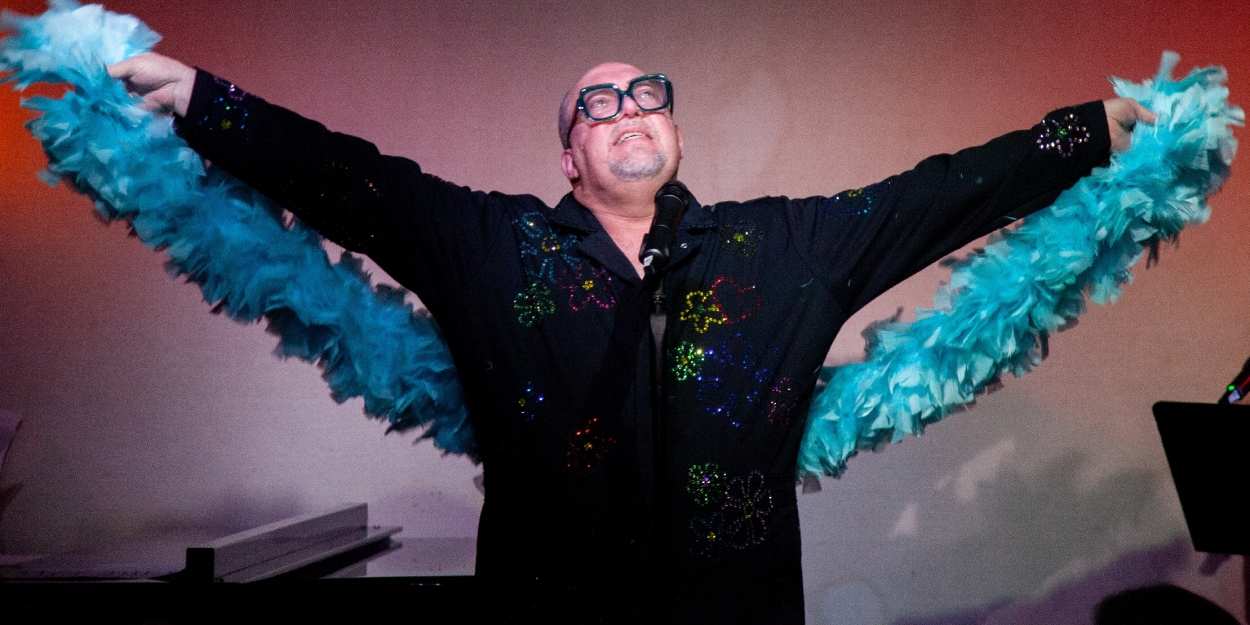 Review: John Burns Makes 'Em Laugh at Don't Tell Mama With SOCK IT TO ME!
John Burns Sings The 60s and he sings it so good... but don't forget to pack your sense of humor.
Cole Porter once advised that "All the world loves a clown." Perhaps Mr. Porter was right, and perhaps all the world does love a clown - but if that is not, quite, the most accurate truth, at least all the people that jam-packed the Brick Room at Don't Tell Mama last Friday night DO love a clown. More specifically, they love the clown that is named John Burns.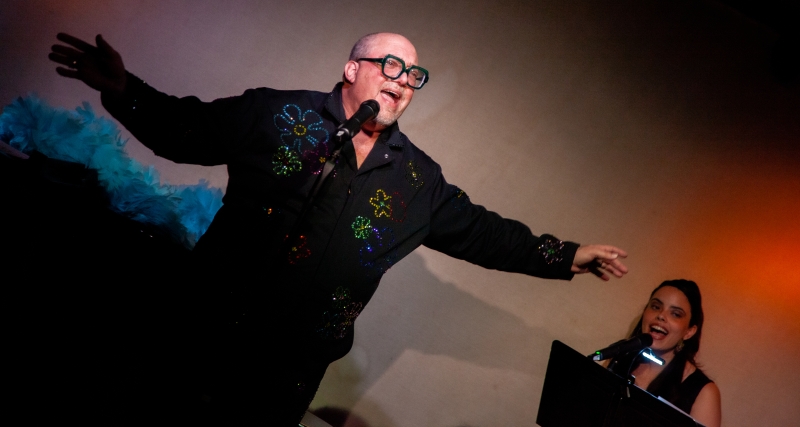 John Burns is a nightclub entertainer who has been spreading joy for a while now, and (very importantly) he spread a lot of joy over the internet since the pandemic struck and everyone went into quarantine. Although the lockdown was lifted, John Burns has continued to make people happy, by way of all of his social media platforms, for he is, indeed, a clown, and quite happy to be one.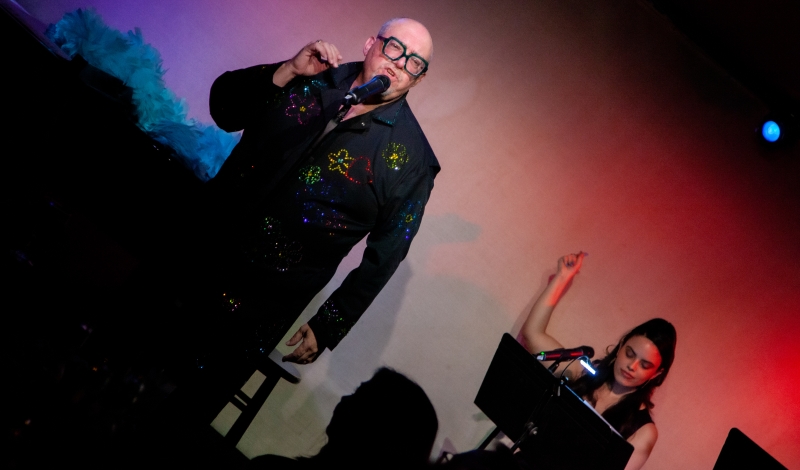 John Burns is also a trained singer who has taken his own personal and unique sense of humor and melded it with his gift for musical storytelling, making him a cabaret artist of respect and renown, and that cabaret artist has returned to the stage for the first time since the lockdown. That sold-out show is called SOCK IT TO ME! John Burns SINGS THE 60S. And sock it to them, he did.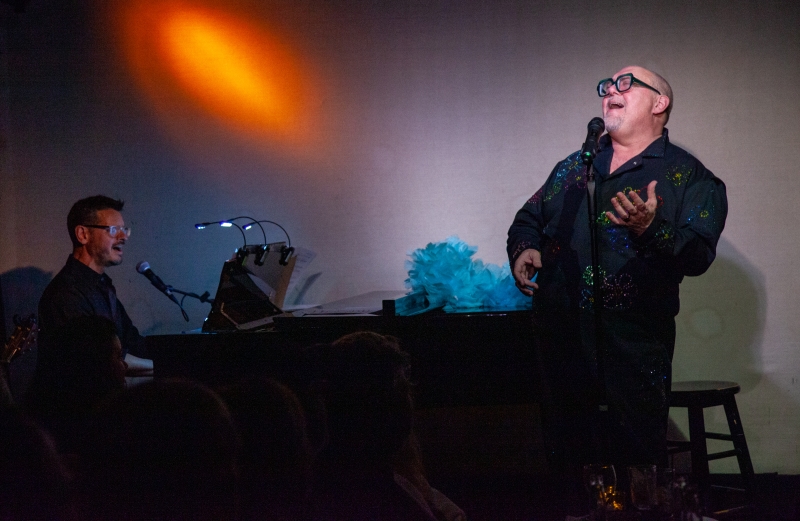 For his sold-out crowd at Don't Tell Mama, John Burns brought his A-Game. He curated a festive setlist representative of one of the great decades in music, he brought a kick-ass band to support his vocal stylings, and he rolled up to the stage with all that John Burns outrageousness that makes him so adored by the masses. It is interesting to note that, often, cabaret rooms that are oversold are usually so because of the friends of the artist. If one is lucky, one has supportive friends, family, and colleagues that will buy those tickets and sit in the seats and love everything the artist does, even when it isn't perfect. Looking around the sold out Brick Room, it was clear that John's colleagues and contemporaries want to support him - mere seats away from this reporter, one could spot Gerrilyn Sohn and Sarah Carson, two of the industry's newer artists (both of whom are making rapid ascents to the top of the heap). But it became abundantly clear that John Burns does not rely, merely, upon personal acquaintance to sell tickets because, early in the show, Mr. Burns took his comedy to the front row, making use of an unsuspecting audience member for a comedy bit that lasted throughout the entire show, at which time he asked the patron "What's your name?" before thanking her for participating in his act. Strangers at your show is the name of the game, kids. Having a name and a reputation that puts bumms in seats, luv, is what it's all about.
John Burns got his name and his reputation by putting on shows like SOCK IT TO ME! with care and consideration.
Working alongside Director Farah Alvin and Musical Director Michael Holland, John Burns crafted a program built on an impressive balance of the comedy for which he is so well loved and the music for which he has such skill, which wouldn't actually work for every singer because Sixties music is extremely specific - it has a particular vibe, a distinctive sound that won't fit every voice. John Burns has a musical theater sound, a park and bark aesthetic that might not have worked with songs like "White Rabbit" and "Eleanor RIgby" ... but it did. And it didn't just work, it worked to his storytelling advantage and the audience's extreme enjoyment of the show. It worked because Sock It To Me isn't a tribute to the Sixties - it's a tribute to John Burns. It is a tribute to comedy. It is a tribute to being flamboyant and outrageous and dramatic and fabulous. The Sixties music is just the soundtrack upon which Mr. Burns has chosen to hang all of his flamboyance, outrageousness, drama, and fabulosity. With bonafide acting intentions he immerses himself inside of the story of "Fancy" (come on, now!) and "The Boy From Ipanema" (I mean, really!) and swings hard in the other direction to turn "Unchained Melody" into a comedy number involving an audience that includes his husband and his would-be, fictional lover (the aforementioned stranger who got more than they bargained for when they bought their ticket). Burns makes everything in his act as big as the boa he throws around the stage during certain numbers - even when what is as big as the boa is a personal story about how good it feels to be "Up On The Roof." It is proper cabaret storytelling that follows the right format of making the audience laugh again and again and again, and then hitting them with something sincere... before making them laugh harder and harder and harder before hitting them with something sexy. But Burns will always return to the laughter, which is (clearly) his favorite aspect of his entertainment brand. John Burns leans heavily on his comedy, but what makes the comedy even more resonant is the fact that he doesn't have to, as is proven with the music - he just wants to.
John is most fortunate in his association with Mr. Holland (who created every stunning arrangement, including a "Drug Medley" and a Bacharach/David medley, both of which are to die for, played multiple instruments and sang in the show), as well as back up singer Jeanine Bruen (such good harmonies) and the great Matt Scharfglass, who makes every show he is in better (something this writer has said before and will say again, to be sure). The four musicians of the show have taken every bit of direction from Farah Alvin, examined it, trusted it, and applied it to the performance. There is one tiny observation that cannot go unexpressed, and it is that some of the notes seemed, occasionally, just a scooch out of Mr. Burns' reach (see: Goldfinger) and that might have been opening night nerves, or it might have been an overly rehearsed voice - it didn't occur often but it did occur, and if it was nerves or exhaustion, ok, it happens... but if it was not, it might be worth a staff meeting to see if, perhaps, taking some of the keys down a quarter step (only) might be advisable. It's a small observation and, in fact, not a critique - just a suggestion that might protect Mr. Burns' beautiful instrument. And it is beautiful, just like John himself, and his fantastic, fabulous, flawless style of couture (deliciously described in an anecdote about John's mode of costume at his debut show seven years ago, and how he developed the look he, now, proudly wears). Spoil that story, I would not, because Sock It To Me may not, currently, have any further show dates planned... but it should. It's that good. It's that musically enjoyable. It's that funny.
Yes. John Burns is a clown. And all the world should love him. All the world should love John Burns because he is wonderful. And so is his show.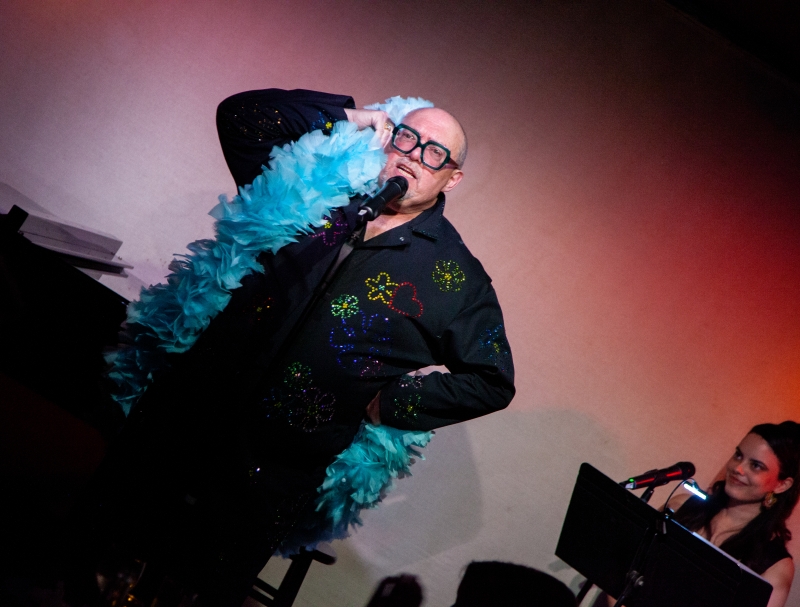 Find great shows to see on the Don't Tell Mama website HERE.
Visit the John Burns website HERE and the John Burns professional Facebook page HERE.
Photos by Stephen Mosher; Visit the Stephen Mosher website HERE.