Review: ELERI WARD Gives Us More to See in Acoustic Sondheim THE TENDER TOUR Concert at The Loft At City Winery
The Tour plays in various cities until April 16th.
When Eleri Ward walked on the stage of the City Winery Loft in a tie-dyed shirt and just her guitar, I thought, if her goal was to recreate the intimate feel of an after-dinner jam on a sofa in her apartment, she succeeded. Most of the audience had already finished their dinner and were mid-nosh of their dessert at the West Side eatery when the singer appeared and held us in the palm of the hands for the next ninety minutes, with her soothing tones and unexpected takes on popular Stephen Sondheim songs we've heard a million times. As Ward brings up time and again throughout the evening, it was only a few years ago she was making music in her closet just for herself, and here she was at the start of multi-city THE TENDER TOUR, in support of her second acoustic Sondheim album, Keep a Tender Distance. Quite a journey, indeed.
That album, which was released to streaming by Ghostlight Records last fall (physical CDs and LPs to be released at the end of the month), is smartly filled with a lot of songs originally sung by the younger characters in Sondheim shows, be it Petra from A Little Night Music, the college graduates of Merrily We Roll Along, Toby from Sweeney Todd, Marta from Company, Red from Into the Woods, John Hinkley and Squeaky Fromme from Assassins, and even Ella from Evening Primrose. And those songs, some of them heard in this latest concert, were performed by Ward as if she was reading diary entries subtitled "I Know Things Now" and "I Remember."
Eleri Ward is of a new generation of young, talented singers like Lizzy McAlpine and Kelsea Ballerini, but with a more folk and musical theater bent. Ward's musical inspiration seems to be Andrea Marcovicci and Joni Mitchell, by way of Tori Amos, giving us the vocal precision of the formers and the soulful storytelling of the latter. And seeing her live on this tour, where many of her upcoming city stops are sold out, was a joy to experience.
Ward starts the evening with the title song from Merrily, in a folksy and comforting way, before mixing in "I Know Things Now" from Into the Woods - the first clue that she was going to keep us on our toes. Ward also has an amusing habit of not ending some songs with a button, daring the audience to wonder if she had finished or was just drawing out a pause before continuing.
Other musical highlights of the concert included a wistful "Losing My Mind," a glorious mash-up of "Being Alive" and "Sorry Grateful," a playful Into the Woods medley, and a "Not a Day Goes By" where Ward did one of those aforementioned dramatic pauses on "blessed" where you could hear a pin drop the way the audience was so enraptured by her every word.
In between the songs, Ward charmingly told stories that lead her to this concert, from going to auditions as a teen, singing Amy from Company in high school, finding comfort in Sondheim songs during the pandemic, and amusingly, playing peek-a-boo with the composer in a dream.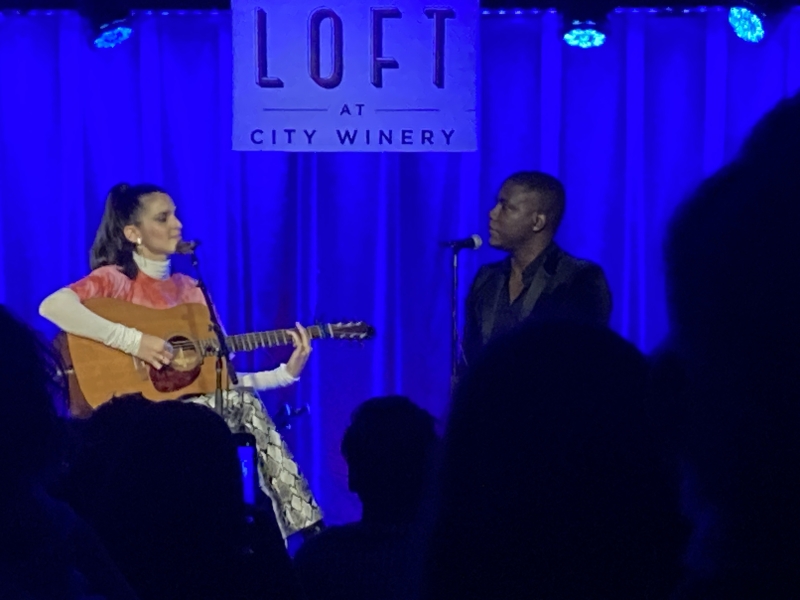 Ward with Special Guest Sidney DuPont
We in New York were also treated to a special guest duet, which Ward said is the only one planned for the entire tour. Recent Tony-nominee from Paradise Square, Sidney DuPont, joined Ward on an emotional "Move On" from Sunday in the Park with George, and it was powerfully acted and sung.
She was overwhelmed emotionally while singing only twice during the show - once on "Marry Me a Little," which is the song that has the lyric that gives her latest album its name. Ironically, it was during the lyric, "Cry, but not too often." She rebounded gracefully.
The other was during Ward's first encore, her signature "Johanna (Reprise)," which opened Ward's first Sondheim album, A Perfect Little Death. Although Ward includes the popular "Johanna" from Sweeney Todd on her latest release, it's obvious that the singer favors the lesser-known Act II reprise, which is essentially a different song. Ward seems to be on a crusade to popularize this "Johanna" and the singer's heartfelt encore is evidence enough for me.
Ward ended the concert with "Sunday," her second encore, beginning the song a capella before finally joining in with her guitar. This version, like the rest of the concert, was inviting and nakedly sincere, which the audience synergistically returns to her with a protective energy and warm enthusiastic embrace. It was a magical evening that should not be missed.
Concert Photos by Cary Wong
Upcoming THE TENDER TOUR Appearances:
February 7
3S Artspace
Portsmouth, NH
February 8
City Winery
Philadelphia, PA
February 10
Ludlow Garage
Cincinnati, OH
February 11
City Winery
Nashville, TN
February 14
recordBar
Kansas City, MO
February 15
Raccoon Motel
Davenport, IA
February 16
Colectivo Coffee
Milwaukee, WI
February 18
The Cabaret
Indianapolis, IN
February 23
City Winery
Chicago, IL
April 14-16
Pasadena Playhouse
Pasadena, CA
Ticket Information can be found here.
Please visit Eleri Ward's website.
See what else is playing at City Winery.