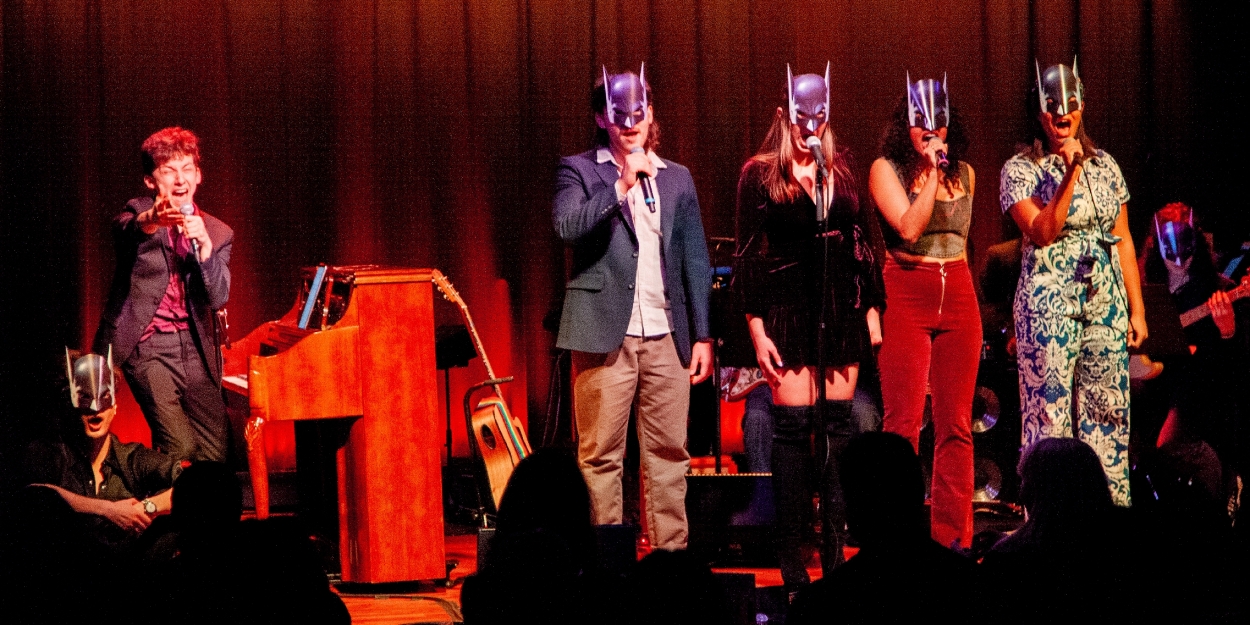 Review: Andrew Barth Feldman Comes Of Age With BARTH MITZVAH BOY at The Midnight Theatre
This do-over is more like a debutante party for songwriters... one songwriter in particular.
When the time was right, chronologically, and in the right and proper timeline in the life of a Jewish boy, Andrew Barth Feldman had his bar mitzvah. Now, only a handful of years later, Andrew Barth Feldman has had his coming out party. Andrew Barth Feldman is a man now. Andrew Barth Feldman is also a songwriter. And on Saturday night the man Andrew Barth Feldman and the songwriter Andrew Barth Feldman had his debut concert of the works of Andrew Barth Feldman. That concert was, appropriately and amusingly, named BARTH MITZVAH BOY.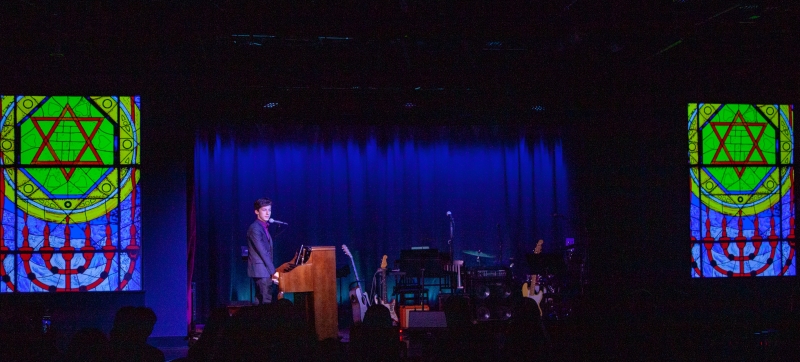 Barth Mitzvah Boy has been described in the press releases and online intel as a kind of a bar mitzvah do-over for Andrew, which makes it sound a little different than it actually was. This writer wasn't quite sure what to expect but, speaking honestly, what I sort of envisioned was a kind of play, a kind of a musical cabaret recreation of Andrew's bar mitzvah, especially since Andrew was working with his usual director Marc Tumminelli, whose creative mind always leads his artists into areas artistic and fantastical. Barth Mitzvah Boy was not a play cabaret but it was artistic and fantastical, but mostly because Andrew Barth Feldman is, himself, artistic and fantastical. The entire evening hung on Andrew himself.
And it was a success.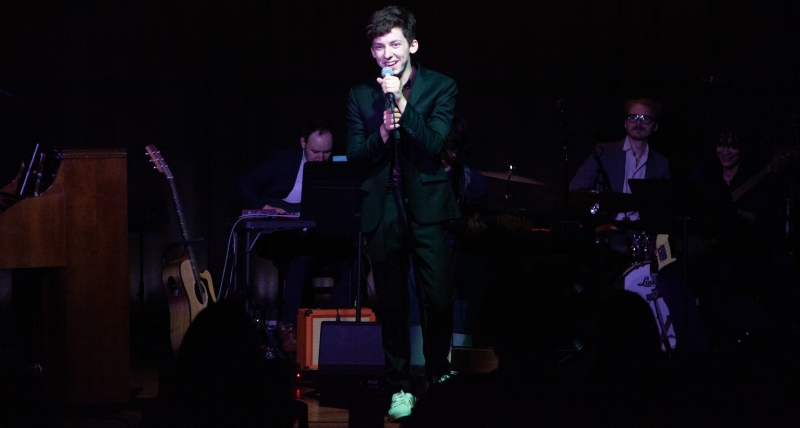 Barth Mitzvah Boy is a concert of Andrew's original compositions. In the spectacular new venue The Midnight Theatre, Andrew has a stage (a rather large one, at that), an exquisite (underline it) band, and a roster of guest artists that make the evening something akin to a television variety show. Were Andrew Barth Feldman an older human being, this would be the sort of show one would catch in the vein of "Best Of" concerts, but as Mr. Feldman is a young man in his early twenties, the concert is a transitioning moment in his life - not unlike a bar mitzvah, which he declares, during the proceedings, should be a regular thing in life. Every time something significant happens to a person, they should have a bar or bat mitzvah (not being Jewish, it has always been this writer's understanding that boys have bar mitzvahs and girls have bat mitzvahs, but in this day and age of fluidity, I expect that there will be some necessary changes in verbiage, moving forward). Andrew's latest bar mitzvah was a rockin' good time, a sensational party, and an eye-opening musical event.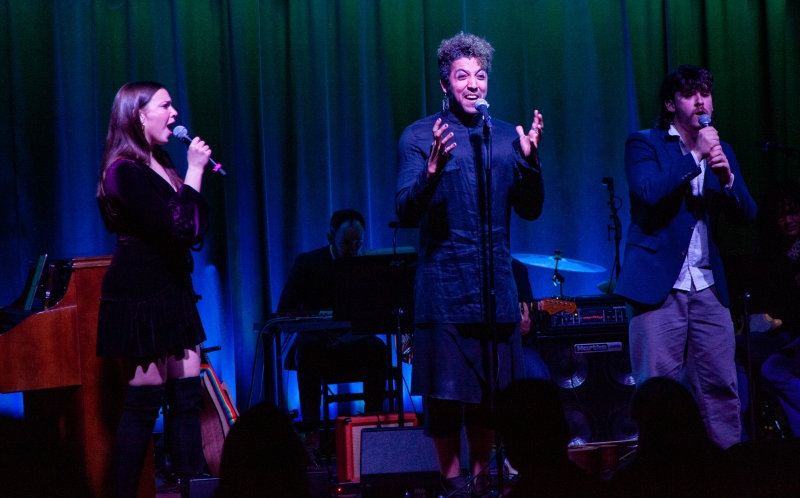 Mr. Feldman's songwriting skills are considerable. They are also varied. Andrew appears to have the uncanny ability to write musical theater, specialty comedy numbers, and songs for Spotify. His ability with a ballad is enviable, especially when the ballad is being sung by his good self, as with the soulful and beautiful "Turn The Light On" - but there is evidence that anyone should and could sing his songs in the emotional "Music" as performed by Sammie Williams,. Although every song ABF writes seems character-driven, the compositions need no play around which they must be built - that is an option but not an essential, as seen in evening highlight "Sunset (Onward)," as magnificently performed by Sam Primack. These character-driven songs seem to spring forth from the mind of Feldman in ways weird and wonderful, as is the case in songs impeccably performed by Will Roland (about a famous fictional character) and Zac Calderon (about a non-fictional person everyone knows) - and if anyone reading this review thinks this writer is going to spoil the surprise of who Roland and Calderon are personifying, the answer is no, which is why there is no photographic representation of those numbers in this article. Suffice it to say, audiences at tonight's performance are in for a laugh-a-moment surprise when Will and Zac hit the stage.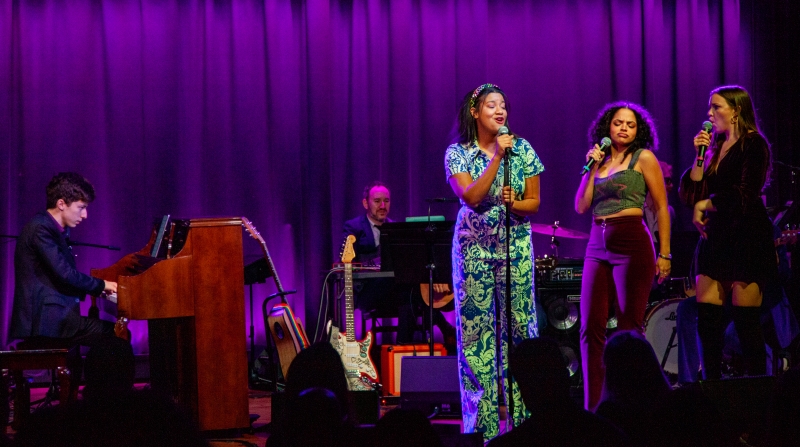 There are, in fact, a lot of surprises in Barth Mitzvah Boy, not the least of which is the degree to which Andrew can write. And it's not a surprise because he's young, it's because when anyone writes songs this good, it's always a surprise. This is all new material, so the audience can count on having to pay attention - but paying attention is worth it, in this case, because ABF's lyrics are good, they're really good - sometimes they're great, like in the hilarious Star Wars send-up performed by Alex Boniello, or another evening highlight, "Dancing Around" which Shereen Pimentel, Sadie Seelert and Amanda Rose Gross nail, to gorgeous melodic perfection. The two songs are tangible proof of the breadth of Andrew's writing skills. And the presence in the concert of so many young people clearly devoted to Andrew is proof of his commitment to his relationships.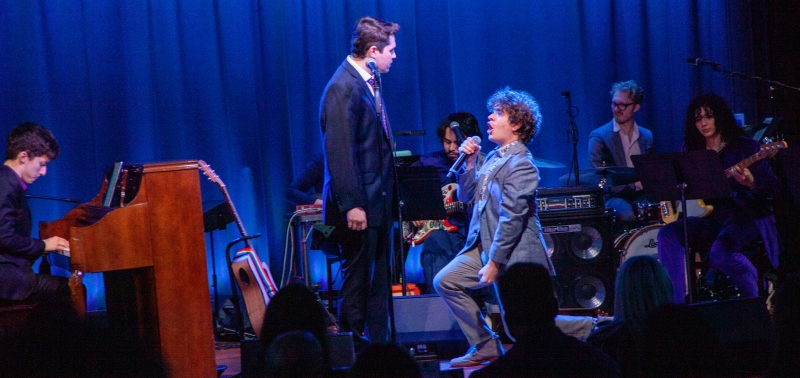 Decades ago, when this youthful actor was trying to make it in show business, the industry was rife with the negative smell of competition: it was one of the things that drove the transition from acting to photography. I've seen Andrew and several of his friends from Barth Mitzvah Boy in many group shows, and I never get even a whiff of that offensive odor about them. All I ever see from my seat in the audience is young people who love and support one another, who live to lift each other up, and who would do anything for each other, as was so plainly evidenced by the number of times that Gaten The Great cried out to his onstage friends how much he loved them, and the number of heartfelt hugs to be seen throughout the evening. Friendly love and support - that was every minute of Andrew Barth Feldman's Barth Mitzvah Boy.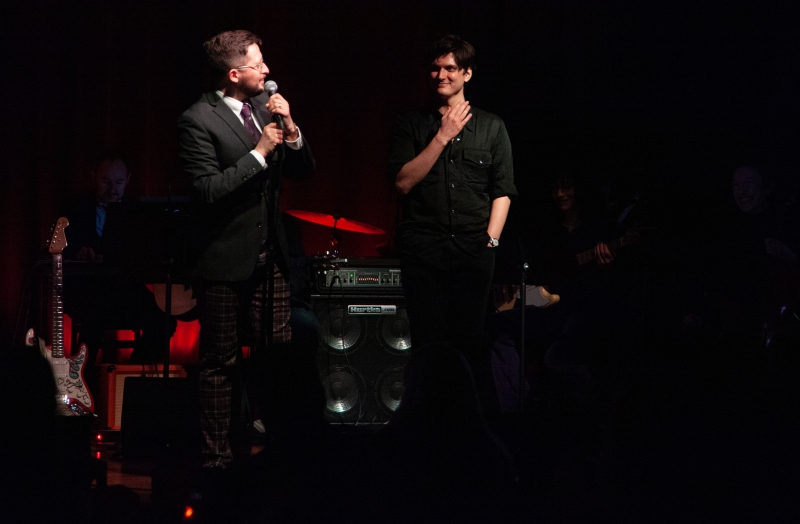 Now, when there are so many close friends on the stage (and so, so, so many close friends and family in the audience), being a stranger to Andrew Barth Feldman can sometimes leave an audience member feeling a bit left out of an inside joke (or twenty), like when Will Roland and ABF sang a special song just for Alex Boniello. It's ok. Just enjoy the words and the music and let the In Crowd enjoy the jokes. Just enjoy the moment for what it is (and any other inside joke moments), and when the proceedings circle back around to a state of being that is more general and generic, simply get back on the wagon and continue the ride. Even in the most private and intimate of personal moments, there is something to be gained from being an outsider looking in - it's called humanity. And Feldman's concert is filled with that.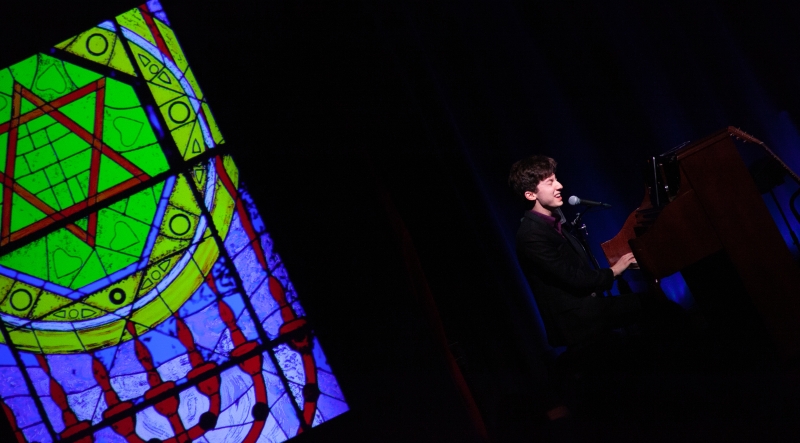 It is also filled with magic and wonder that comes in the form of The Midnight Theatre. This new space just below 33rd Street (at 9th Avenue) is one of the most exciting venues this writer has witnessed in a while. The seating arena is comfortable, roomy, and easy-going. The employees of the establishment (from seating concierge to servers) are efficient and friendly. The venue is large enough to accommodate many guests but cozy enough that the performers are not miniscule. And there are projection capabilities that allow the production to fill the entire room with photos, videos, and graphics. This is high-tech, modern, and elegant entertaining at its best and director Tumminelli made sure to use the facility to its greatest advantage, giving the actors that he has effortlessly directed a playground that allows for their greatest enjoyment and, thus, the audience's, too. Between the venue's magical ambiance and the talents of all of the performers, from Andrew to his guests to his band, Barth Mitzvah Boy is quite the bar mitzvah do-over and one heck of a coming out party. It is also (by way of an epic Superhero-informed finale) a glimpse into the future of a young man (not boy) who may, well, turn out to be a genius.
No surprise there.
See tonight's (January 30th at 7:15 pm) performance of Barth Mitzvah Boy at The Midnight Theatre by getting reservations HERE.
The Barth Mitzvah Boy Band:
Gian Perez - Guitar
Adele Stein - Cello
Mike Rosengarten - Key 2/Guitar 2
Skyler Volpe - Bass
Anthony Genovesi - Drums
Graphic artist: Jess Siswick
Photos by Stephen Mosher; Visit the Stephen Mosher website HERE.