PHOTOS: HEIL MEL!! We Salute You … As Mel Brooks Veterans & Freshmen/Women/Thems Join 54 CELEBRATES MEL BROOKS at 54 Below
With Friends Like These Who Needs Entertainers…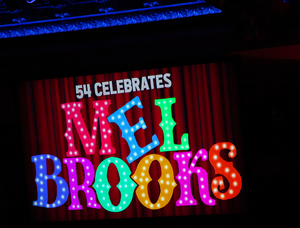 Heigh-Ho, My Merry Rainbow Tribe! Bobby Patrick, your RAINBOW Reviewer here. Putting the silent T in cabareT to bring you ALL the Tea!
Sooooooo, my lovelies, comedy legend, uber mensch, and EGOT winner Mel Brooks was given another Boffo, sold-out salute at 54 Below on Monday night and Broadway World (well, little Bobby) was there to capture it in glorious color.
54 CELEBRATES Mel Brooks Featured the Enormous Talents of:
Jill Abramovitz (Beetlejuice, Fiddler on the Roof)
Jim Borstelmann (The Producers, Young Frankenstein)
Lindsay Nicole Chambers ("Submissions Only," Lysistrata Jones, Hairspray)
Michael Kostroff (The Producers, Les Misérables, HBO's "The Wire")
Michael Kushner (Moo With Me, Dear Multi-Hyphenate, The Dressing Room Project)
Ryan Mac (Wicked, Anastasia)
Stuart Marland (The Producers, Newsies)
Alex Puette (Hadestown)
Ben Rappaport (Fiddler on the Roof, TV Land's "Younger")
T. Oliver Reid (Hadestown, Once on This Island)
Jelani Remy (Ain't Too Proud, Disney's The Lion King)
Kyle Scatliffe (Hamilton, The Color Purple, Les Misérables)
Ben Schrager (Indecent)
Adam B. Shapiro (Fiddler on the Roof)
Phil Sloves (Spongebob Squarepants)
Tony Award® winner Karen Ziemba (Contact, Prince of Broadway, Bullets Over Broadway)
Caroline Aimetti (Mourning the Living)
Asia DeShields
Jenn Maurer (Elf)
Hosted by The Hilarious Michael Kostroff (Who Killed it, BTW)
With Musical Direction by Ben Caplan
Produced by The Lovely Jen Sandler and The Equally Lovely Michael Kushner
This night went over like Buster's Gang and had that at-capacity house climbing the walls, when they weren't on the floor from laughing. To put you in the picture, here are some pictures for you to enjoy ,as Little Bobby gives you his PHOTO PHLASH from 54 CELEBRATES Mel Brooks at 54 Below...
54 Celebrates Mel Brooks is a recurring show at 54 Below so keep an eye out for the next one and for other great shows on the 54 Below website HERE.