Nicolas Dromard and Desiree Davar Return To 54 Below in March
The performance is on March 17 at 7:00 pm.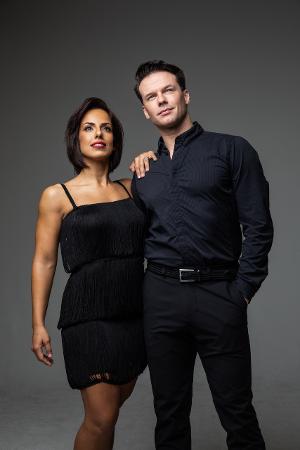 Two triple threats walk into a cabaret...and magic happens. There's no punchline here; just an evening of show-stopping, heartfelt, and high-octane entertainment.
Broadway stars and real-life couple Nicolas Dromard & Desiree Davar return to 54 Below with Superheroes in Love: La Vie en Rose. Each with an impressive résumé of Broadway and theatrical credits, including Wicked, Jersey Boys, Mary Poppins, and West Side Story, this dynamic duo invites you to a more intimate showcase of their talents, their love, and their stories. Join them for an evening out-of-this-world vocals and delightful choreography.
Harkening back to the golden age of Broadway and vintage Hollywood, Dromard and Davar promise an evening that will warm your heart and bring you to your feet cheering for more. Mark your calendars: Friday, March 17 at 7:00 pm. They are accompanied on stage with a world-class musical trio: Gillian Berkowitz (Head Over Heels, Jersey Boys, School of Rock, Avenue Q) on piano, Steven Morris on upright bass, Aaron Irwin on saxophone, and David Lamoureux on drums.
Superheroes in Love: La Vie en Rose, starring Nicolas Dromard and Desiree Davar, plays 54 Below on March 17 at 7:00 pm. Tickets $25 - $65 with a $25 food/drink minimum. Tickets at www.54below.com or (646) 476-3551.
54 Below is located at 254 W. 54th St. Cellar, New York, NY 10019.