Liz Rubino Debuts New Show SPRING THIS YEAR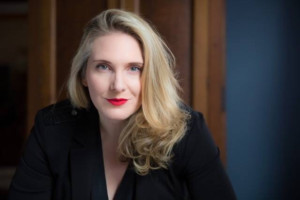 Sinnger/Actress, Liz Rubino, to Debut New Show, "Spring This Year," at New York's well known cabaret "Don't Tell Mama" on Saturday, May 18th @ 7:00 p.m.
RSVP online at http://tinyurl.com/y5a2uuzz or call and RSVP at 1 - 212 - 757 - 0788. Cash Only at the Door.
Liz returns to the New York cabaret scene with her latest show "Spring This Year." With Musical Direction by pianist, Robert Bergner, the show features songs from various musical genres including: "Shiver Me Timbers" by Tom Waits; "Carousel" by Brel/Shuman/Pomus; "You Don't Love Me Anymore," by Weird Al Yankovic and "I Feel So Much Spring" by William Finn. Liz has the thrill of introducing a song from the composer/lyricist team of Michele Brourman and Sheilah Rae, named "Room to Breath" from their musical "The Belle of Tombstone," which will be presented in CT, late April/May. Joining Robert are Will Cleary on Saxophone and Michael Scialla on Percussion and Guitar.
Miss Rubino stage roles have included "Mama Rose" in "Gypsy," "Countess Aurelia" in "Dear World," and "Madelaine Tru" in "The Wild Party." Liz's critically acclaimed voice has begot opportunities to appear in Florida, on the West Coast and New York, leading to a traveling "gypsy" lifestyle.
Her debut album, "Touch of the Moon," was released in 2008, and her latest album, Woman Under The Covers, has enjoyed national concert performances in New York City and Ohio. "Woman Under the Covers" is a collection of traditionally male pop covers featuring "Turn the Page," Origin of Love" and "Right Here Waiting." "Make Yourself Comfortable."
In addition, as a musical comedy performer, Liz is one half of the dynamic duo of Suave & the Boner with duet partner John Paul Boukis. Their hilarious, steampunk, double-entendre brimming show debuted at The Duplex in 2013, and has played regionally as well as return engagements in New York City.
The Bistro Awards review:"As with any power ballad, especially one that was a number one hit, it's probably best to perform it close to the version of the original artist, in this case Carly Simon; Rubino followed that wisdom with a knockout rendition of "Nobody Does it Better" (Carole Bayer Sager), from the 1977 James Bond movie The Spy Who Loved Me. And Rubino sang "Disneyland" (Howard Ashman), a cabaret evergreen, as well as I've ever heard it sung."
More Hot Stories For You