Leddy And Realbuto To Make Green Room 42 Debut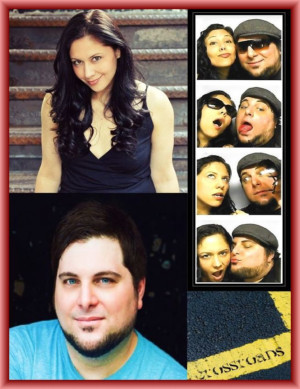 Singer/Actress Erin S. Leddy and New York concert performer, actor and writer Tim Realbuto will team up for their Green Room 42 debut in CROSSROADS on Sunday, April 8th at 7:00 PM. Ms. Leddy is known for her performances in GHOSTLIGHT THE MUSICAL (co-written by Realbuto) and ANYTHING GOES. Mr. Realbuto, who is known for his performances in THE WEAK ONES and WUNDERKIND, will begin filming the lead role in the motion picture YES (based on his hit stage play) this spring.
Erin and Tim, who have been dear friends for years, have teamed up to create a very personal new show about love, loss, moving on, growing up, and finding yourself. With original songs by Matthew Martin and Tim Realbuto, plus Stephen Sondheim, Jason Robert Brown, Jerry Herman, and many more, Erin and Tim will sing from their hearts, hoping to change the way they (and the audience) see the world. Not everything is so black and white. What do you do when life doesn't turn out the way you planned? You certainly don't want to miss this dynamic duo premiere their brand new show at the coolest venue in town!
Renowned musician Julianne B. Merrill (ALLEGRO THE MUSICAL) will serve as music director and pianist for the evening, with Sam Wagner on drums, and Gordon Green on cello, bass guitar, and the ukulele.
Tickets, which start at just $10, can be purchased by visiting https://web.ovationtix.com/trs/pe.c/10257238. You can use the code "ROADS5" to get $5 off all ticket prices. The Green Room 42 is located at 570 Tenth Avenue (on the fourth floor) in NYC.
The Green Room 42 is Broadway's newest urban entertainment cabaret club, that since its opening on Valentine's day has featured Broadway names like Alice Ripley, Telly Leung, Josh Groban, Eva Noblezada, Lillias White, James Snyder, The Skivvies (Lauren Molina & Nick Cearly), Matt Doyle, Constantine Maroulis, and many more. Located on the fourth floor of YOTEL NYC, The Green Room 42 boasts a funky new vibe, and no food or beverage minimum-- opening up the cabaret industry to an affordable, relaxed atmosphere, perfect for theatre people and theatre fans alike.
More Hot Stories For You