Green Room 42 Hosts AN EVENING WITH PATTI PAGE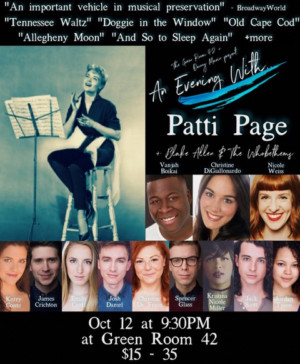 Patti Page is being celebrated October 12 9:30PM at Green Room 42 as part of Blake Allen's "An Evening With..." series. Called "an important vehicle for musical preservation" (BroadwayWorld), the series is committed to honoring and educating audiences about the music of America from the early-mid part of the 20th century by setting these celebrated works with notable contemporary voices and new arrangements.
The Green Room 42 and Danny Marin present "An Evening With..." Patti Page, the fourth installment of this important series, on Friday October 12 at 9:30 p.m. inside the Times Square Yotel. Curated by Blake Allen, known for his innovative bridging of contemporary music and theater through composition, he also orchestrated the evening and provides a deeper inside to the life of Patti Page with video clips, facts, and a slide show.
The evening will feature the songs we all know from the 40s-70s, spanning Patti Page's legendary Grammy winning career, with beloved songs from "Tennessee Waltz" to "Allegheny Moon," "(How Much is That) Doggie in the Window," "I Went to Your Wedding" and "Old Cape Cod," to Broadway songs she made into pop standards, wonderful vocal quartets such as "And So to Sleep Again," "I Adore You,"!and unexpected mashups with a nostalgic flair.
The cast will include the smooth vocal stylings of theatre, radio, and voice over actress Christine DiGiallonardo (A Prairie Home Companion, Candide, Me and My Girl, Fabreze), singer-songwriter Nicole Weiss (The Imbible..., Folk Wandering), Vanjah Boikai (Porgy and Bess), and more announced soon.
Backed by a nine-piece band including musicians from Spongebob and Be More Chill, the evening will also welcome members of the "An Evening With..." Company: Kerry Conte (Mary Poppins, Hey, Look Me Over!, White Christmas), James Crichton (Botticelli in the Fire, Peter and the Starcatcher; Jasper in a Deadland), Emily Croft (Rock of Ages); Josh Daniel (Book of Mormon; Boston|Nebraska), Christine de Frece (It Should Been You, NYFA and Circle in the Square Faculty), Spencer Glass (Wringer), Kristina Nicole Miller (Welcome), Jack Scott (Newsies) and Jordan Tyson (Sweetie; Folk Wandering).
Blake Allen will continue to present the works of the 20th century to preserve their impact on the music and artists of today with Peggy Lee (featuring Lesli Margherita) December 15th and into 2019, with Dionne Warwick, Doris Day (featuring Diana DeGarmo and Michelle Dowdy), Shirley Bassey, Eartha Kitt, and more already being cast.
PERFORMANCE INFORMATION
The Green Room 42 Presents: An Evening With... The Sherman Brothers will take place Friday, Oct 12 at 9:30 p.m.
Ringside seating is priced at $35, Main Dining Room at $20, and Rear at $15. A full menu is available, and there is no food or drink minimum. Tickets are available online at https://web.ovationtix.com/trs/pe.c/10314562
Get a preview below:
More Hot Stories For You