Click Here for More Articles on NEW YORK CITY
BWW Review: Rita Wilson Sings a Song for Everyone In Her Return To Café Carlyle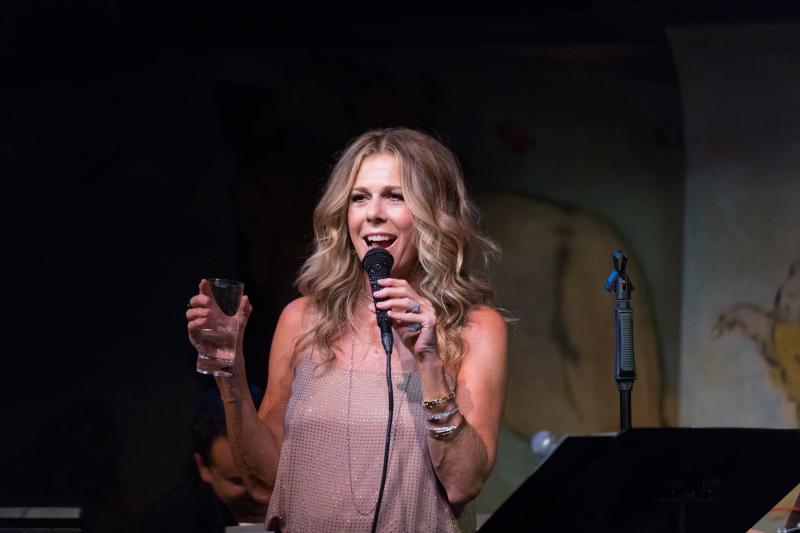 Bubbly and charming as all hell, from the moment Rita Wilson took the stage at Café Carlyle, it was as if there was nowhere else she'd rather be.
There was never one moment at the October 10 show, the first in a two-week run at the venue, when the husky-voiced star wasn't clearly ecstatic to be on that stage, at one point joking, "I guess last year's show went so well, they're actually paying me." At another, she said performing was superior to therapy because "I can go over the allotted time, and I feel like you're listening to me."
As much as that energy shone through as she addressed the crowd, her warm presence was even more palpable in her songs. Feeling like musical genres has become too segmented, Wilson explained she loves all styles of music. So she did what any self-respecting songwriter would do and wrote tracks that blurred the lines of country, pop and rock. Wilson opened things up with "You're the Music" (Mitch Allan/Kara DioGuardi/Kristian Bush/Liz Rose/MoZella/Rita Wilson). It was fairly mellow, as far as opening numbers go, but she quickly kicked things up a notch.
For the most part, Wilson sang her own material, the most notable exception being a mini-medley of Bobbie Gentry's "Ode to Billie Joe" and Jeannie C. Riley's "Harper Valley P.T.A" (Tom T. Hall), with her musings on the songs' soap opera-esque lyrics woven in between.
Early on, Wilson admitted to being a little hoarse from over-rehearsing, but if her voice was huskier than usual here and there, the performance didn't suffer for it. Yet there was a notable shift in energy between her songs and her stories. While brimming with confidence in both, there was a lived-in feeling as she sang that wasn't always present when she spoke. In part, her reliance on the notes in her binder seemed to be to blame, as she sometimes whipped through sections before getting back to the music.
Lee Nadel assisted on bass, along with Brian Dunne on drums, and Alex Navarro, who primarily played the keys but also played acoustic guitar and sang back-up. Still, her secret weapon was guitarist Andrew Doolittle, who not only played various instruments but made for a solid duet partner for Wilson.
Their partnership was perhaps best emphasized during "Strong Tonight" (Kelly Archer/Blair Daly/Wilson), which was featured on the TV series NASHVILLE. Sharing her excitement at Connie Britton singing the song, Wilson teased, "And they didn't even see if I was available first!" As performed by Wilson and Doolittle, "Strong Tonight"' was somehow as heart-rending as it was catchy, and the words "I just want to have a breakdown / I just want to let my heart ache" are still stuck in my head.
Generally, mentioning that Wilson's husband, Tom Hanks, was in the crowd would normally be irrelevant at best and insulting at worst. But he was such an enthusiastic audience member---from shouting "Oh yeah!" at one point to waving his phone like a lighter at another---it was almost as if he were part of the show. Luckily, it wasn't enough to distract from Wilson for long.
Swaggering around the stage before one number, she talked about the importance of resistance, particularly at this moment in time. Revealing the song's name---"You're Not the Boss of Me" (Wilson/Jeffrey Trott)---she cracked, "Which, thankfully, everyone who worked for Harvey Weinstein can now say." The line had more bite than the rest of her jokes, but so did the rock song, with Wilson demanding she's who she needs to be and nailing a note she clamped down on and refused to let go.
After opening up about past health issues, Wilson's sweet performance of "Throw Me a Party" (Kristian Bush/Liz Rose/Wilson), a number about the shindig she wants her loved ones to throw in her honor once she's gone, received a standing ovation from the crowd.
Returning for the encore, or, as she dubbed it, "the French word meaning 'clap for me more,'" Wilson performed a one-two punch that was one of the most effective show-closers in recent memory. First, she was all smiles during a rendition of "Along for the Ride" (Wilson/Annie Bosko) that would make anyone want to roll the windows down and let their hands wave in the air. Closing it out, she sang "Song for Everyone" (Wilson/Richard Marx/Trey Bruce), an upbeat country-pop melange with a bit of "Drift Away" (Mentor Williams) sprinkled in.
In keeping with that final number, Wilson expressed her hope that, at the very least, each person in the room connected with at least one number. Based on the reaction she received, for many, it was far more than just one.
---
Troy Frisby is an entertainment writer and digital news producer based in New York. Follow him on Twitter @TroyFrisby.