Click Here for More Articles on NEW YORK CITY
BWW Review: Leslie Jordan EXPOSED as Frank and Funny at the Metropolitan Room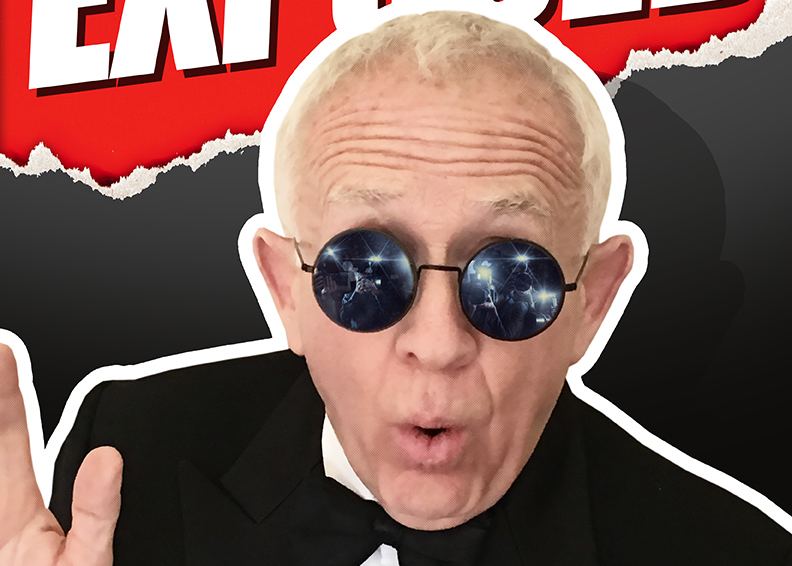 Part coming-of-age story and part lighthearted Hollywood exposé, one thing you can't say about Leslie Jordan's latest show is that the star is lacking in material.
The tales he shared during EXPOSED at the Metropolitan Room on July 13 were like interweaving tapestries not entirely unlike a lurid, modern-day ARABIAN NIGHTS. In fact, the frenetic star asked the crowd to bookmark his place in a story so he could go off on a wild tangent more than once.
And, for the most part, they paid off, since his life's journey from Chattanooga native with a show pony named Lemon Drop, to Emmy winner, to one-man showboat---for his recurring guest role on WILL & GRACE---remains truly one of a kind. More than that, though, Jordan has a true knack for telling tales rivaled only by his love of a one-liner.
The petite star took the stage to find the mic perched above his head, and without missing a beat, he cracked, "We didn't do the soundcheck today."
Bursting with Southern charm, his description of his upbringing in Tennessee was utterly charming, from his twin sisters---or, as it sounded in his drawl, the "tweens"---to his mother, Miss Peggy Ann, who appears to be quite the character herself. Discussing the show's title, he said it had been toned down after his mother got wind of his plans.
Here and there, some bits felt a tad dated. For instance, calling his back hair "the gay cardinal sin" doesn't necessarily ring true in 2017, in a world full of bears, cubs, and otters. But he certainly shined a light on topics that don't often get their due, particularly crystal meth addiction in the gay community.
Jordan spoke matter-of-factly and still hilariously about his own battles, becoming an early member of Crystal Meth Anonymous and remaining off the drug for the past 20 years. He also tied in a riotous story about a banana tree that would be a shame to spoil.
Yet for as much as he exposed about himself, the actor had equally as much to say about the stars he's encountered over the years in show business: Billy Bob Thornton, Martin Sheen, Cloris Leachman--- you name it.
An unabashed prima donna with a bit of a vicious streak, a fair amount of Jordan's set revolved around his attempts to pull focus from his co-stars, like doing an otherwise inexplicable cartwheel while filming THE HELP. And his story of a juicy tête-à-tête with Jessica Lange over a scrapped line of dialogue on AMERICAN HORROR STORY had me cackling.
But careful not to bite the hand that fed him (and might again, when the show is resurrected this fall), Jordan didn't share any real details about his time on WILL & GRACE, its stars, or whether he'll return for the reboot.
His talk of the beloved series was kept almost exclusively from his journey to landing the role of Beverley Leslie---he did by taking his rep's advice to "do that Truman Capote shit you do"---to his march toward Emmy gold.
Appearing in a dozen episodes over the show's run but having a presence that looms large in fans' minds, Jordan teased, "I just kind of walked in and stole the show." That's not hyperbolic, either, which is why even though the absence of WILL & GRACE dirt was conspicuous, it was nowhere near fatal. Bringing it back to his Best Guest Actor in a Comedy Series award with a delightful humblebrag, Jordan began gasping dramatically and was soon practically on the floor, proving exactly why he won it in the first place.
Less successful was Jordan's detour into his appearance on CELEBRITY BIG BROTHER in the UK, expressing outrage over accusations of transphobia he faced at the time for his battles with boxing promoter Kellie Maloney, who transitioned on the series. In the future, he'd do well to rethink using different pronouns to distinguish between the Maloney he first met and didn't like and the one he now calls a friend.
Truly, I believe Jordan when he says he only has the best of intentions. But beyond the importance of being sensitive to a person's preferred pronouns, on a storytelling level, that choice seemed to create a palpable feeling in the audience that things might go off the rails (and not in a fun way).
Thankfully, they didn't, with Jordan soon turning to an incredibly emotional experience in his life. He was a grand marshal in the Capital Pride Parade the same weekend as the Pulse nightclub shooting in Orlando, Florida, and Jordan was asked to remain in Washington, D.C. by the Obama administration to represent the LGBTQ community.
Having watched the brilliant character actor pop up in every TV series under the sun, after all this time, seeing what makes Jordan tick was a little surreal. Recalling whipping out a killer first pitch at an MLB game on behalf of the Pulse victims and his late father, for just a moment, he seemed to drop any hint of artifice.
It's bold to close out what is ostensibly a comedy show on such a tender note and even bolder to then try---and succeed---in finding the humor there. But I guess that's what decades of performing experience (and don't forget that Emmy) will teach you.
---
Leslie Jordan will next perform EXPOSED at the Big Bear Romp in Big Bear Lake, California, on August 18 at 8:30 PM. For tickets and information, visit thelesliejordan.com.
Troy Frisby is an entertainment writer and digital news producer based in New York. Follow him on Twitter @TroyFrisby.