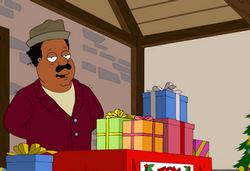 CLEVELAND BROWN (Mike Henry) and his family and friends are back for more shenanigans in the upcoming fourth season of THE CLEVELAND SHOW.
The Emmy-nominated series follows the Brown-Tubbs blended family, led by Cleveland and his sassy high school sweetheart-turned-second-wife DONNA (Sanaa Lathan). The rest of the household includes Donna's five-year-old with an old soul, RALLO (Henry); her boy-crazy teenage daughter, ROBERTA (Reagan Gomez); and Cleveland's lovable, but not so bright chip-off-the-old-block, CLEVELAND JR. (Kevin Michael Richardson).
Rounding out the clan in Stoolbend, VA, are Cleveland's friends and neighbors, including loudmouth redneck LESTER (Richardson) and his weighty wife, KENDRA (recurring guest voice Aseem Batra); talking bear TIM (Seth MacFarlane) and his talking bear wife, ARIANNA (recurring guest voice Arianna Huffington); vertically challenged HOLT (Jason Sudeikis); and Holt's gay best friend, TERRY (Sudeikis).
This season, Cleveland discovers a conspiracy behind hip-hop music; pursues his dream of becoming a Major League Baseball scout; and befriends the family's new physician, DR. FIST (recurring guest voice Bryan Cranston). Also, Donna takes her run for local office way too seriously, and Cleveland Jr. takes Rallo under his wing after a lice outbreak at school forces him to chop off his beloved 'fro.
Some of the guest voices visiting Stoolbend this season are Rock and Roll Hall of Fame inductee George Clinton; singer/songwriter Bruno Mars; rapper Nicki Minaj; Grammy Award- winning musician ?uestlove of The Roots; actor Nick Offerman ("Parks and Recreation"); Emmy-nominated actress Sofia Vergara ("Modern Family"); and returning guest voices comedian/actor Will Forte, television personality Tim Gunn, filmmaker David Lynch, actress/choreographer Rosie Perez, Tony Award-winning actress Phylicia Rashad, musician will.i.am of the Black Eyed Peas, and rap superstar Kanye West, who will reprise his role as "Kenny West."
THE CLEVELAND SHOW is a 20th Century Fox Television production. Rich Appel, Mike Henry and Seth MacFarlane are co-creators and executive producers of the series.
Latest Articles About The Cleveland Show on FOX