Spielberg-Directed Feature Film THE FABELMANS Seeking Kid and Teen Actors
They are currently looking to cast the roles of 'Teenage Sammy' and 'Young Sammy'.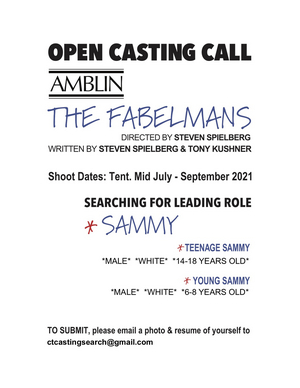 Casting director Cindy Tolan is seeking kid and teen actors for THE FABELMANS, a feature film directed by Steven Spielberg and produced by Amblin Productions.
They are casting the leading role of Sammy. The casting breakdown states:
Teenage Sammy:
Male, White, 14-18 years old.
Young Sammy:
Male, White, 6-8 years old.
They are currently auditioning both of these roles via self-tape requests.
TO SUBMIT, actors can email their headshot/resume, with the role they'd like to be considered for, to ctcastingsearch@gmail.com.