Link TV Announces New Foreign Film Series CINEMONDO With Award-Winning Lineup Today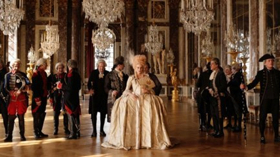 Link TV, the national independent non-commercial satellite television network, announced today the premiere of a new weekly international film series called CINEMONDO that brings cinema from around the world to foreign movie fans.The new weekly Link TV series will be one of the few destinations for cinephiles to watch quality foreign films that were produced to bridge worldly gaps and promote in viewers a better understanding of the broader world. Promising to bring audiences great artistic, cultural and political value, CINEMONDO will premiere on Link TV Thurs., Dec. 6 at 9 p.m. ET/PT with each title streaming for seven days following the broadcast at linktv.org/cinemondo.
An award-winning and internationally acclaimed lineup includes films dating back to 1964 that feature Academy Award®-nominated Directors Federico Fellini and Ziad Doueirias well as actorsDiane Kruger andGabrielle Byrne.The new Thursday night series will run through 2019 with a common thread of connecting people through film by highlighting portrayals of diverse human experiences around the world. The entire CINEMONDOschedule can be viewed at linktv.org/cinemondo.
CINEMONDOwill telecast as follows on Thursdays at 9 p.m. ET/PT (subject to change):
"The Attack" - Dec. 6
This Lebanese drama follows an Arab surgeon living in Tel Aviv who discovers a dark secret about his wife in the aftermath of a suicide bombing (2012). Cast: Ali SulimanDirector: Ziad Doueiri
"Outside the Law" - Dec. 13
A French war drama that tells the story about the Algerian struggle for independence from France after WWII (2010). Cast: Jamel DebbouzeDirector: Rachid Bouchareb
"City of Women" - Dec. 20
An Italian drama looks at a businessman who finds himself trapped at a hotel and threatened by women en masse (1980). Cast: Marcello Mastroianni, Anna PrucnalDirector: Federico Fellini
"Artist and the Model" - Dec. 27
This Spanish drama follows Marc Cros, an elderly sculptor, who lives in the south of France, safe from the 2ndWorld War that rages in the distance. After giving shelter to a beautiful young Spanish political refugee, Marc soon sees a change in his art (2012). Cast: Jean Rochefort, Claudia CardinaleDirector: Fernando Trueba
"Capital" - Jan. 3
A newly appointed CEO of a giant European investment bank who works to hold on to his power when an American hedge fund company tries to buy out his company (2012). Cast: Gabriel ByrneDirector: Costa-Gavras
"The Other Son" - Jan. 10
Two young men, one Israeli and one Palestinian, discover they were accidentally SWITCHED AT BIRTH (2012). Cast: Emmanuelle DevosDirector: Lorraine Levy
"Timbuktu" - Jan. 17
This French drama looks at a cattle herder and his family who reside in the dunes of Timbuktu as they find their quiet lives disturbed by jihadists (2014). Cast: Pino DesperadoDirector:Abderrahmane Sissako
"Amen"- Jan. 24
The French BIOGRAPHY of SS officer Kurt Gerstein during WWII as he tries to inform Pope Pius XII about Jews being sent to extermination camps. Young Jesuit priest Riccardo Fontana helps him in the difficult mission to inform the world (2002). Cast: Mathieu Kassovitz, Ulrich TukurDirector: Costa-Gavras
"Farewell My Queen"- Jan. 31
A French romance examining the relationship between Marie Antoinette and one of her readers during the first days of the French Revolution (2012). Cast: Diane Kruger, Léa SeydouxDirector: Benoit Jacquot
Join the conversation on social media using #Cinemondo
Founded in 1999, Link TV is an independent viewer-supported media organization dedicated to providing programs that engage and educate its audiences with unique perspectives and activate them to become involved in the world. Reaching more than 34 million U.S. satellite households nationally, Link TV (DirecTV channel 375 and DISH Network channel 9410) connects American viewers with people at the heart of breaking events, organizations at the forefront of social change and the vibrant cultures of an increasingly global community. For additional information about Link TV productions, web-exclusive content and program schedules, please visit linktv.org. Select programming from Link TV is also available for streaming on Apple TV, Youtube and Roku platforms. For more information please visit https://www.linktv.org/about/apps. Link TV is a content channel of the Public Media Group of Southern California.
Image: Art from "Farewell My Queen" courtesy of KCET
Related Articles View More TV

Stories
More Hot Stories For You