Lady Parts Justice League Premieres the Hilarious THE JUSTICE LEAGUE WE DESERVE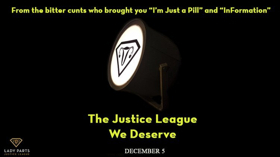 In their latest video release, "The Justice League We Deserve," Lady Parts Justice League takes a page out of the DC Comics playbook and beams into the sky their version of a Bat-signal-- a glowing Uterus that is the clarion call to gather the superheroes of the reproductive rights movement to fight back! Unlike the DC Comic's Justice League, Lady Parts Justice League's Justice League is made up of badass defenders of bodily autonomy. "The Justice League We Deserve" celebrates the Wonder Women (and Batmen) who show up everyday to fight for abortion access, reproductive freedom, and equality for all people regardless of gender, race, class, and citizenship.
In "The Justice League We Deserve," you'll meet "Bufferzona" a kickass clinic escort who puts herself on the line to safely walk patients to their appointments under the duress of evil, hate spewing protesters; "Drilltronic" uses her superpowertools to do the maintenance around the clinic; "The "Advocats" are high schoolers leading the charge busting abortion stigma, fighting for gender equity, and against rape culture. And no superhero is worth their salt without a brilliant tech nerd and "Jane" is the glue that holds Lady Parts Justice League's Justice League together. The Justice League We Deserve video not only hilariously reminds us how we can all use everyday skills to become reproductive rights superheroes, its timely references around sexual assault and current abortion legislation, showcases Lady Parts Justice League's ability to respond to the news of the day and create a call to action on a dime. But that is to be expected as LPJL was founded by
THE DAILY SHOW
co-creator Lizz Winstead in 2015. Her vision was to create a grassroots, reproductive rights organization that uses humor to expose laws that harm women and all genders, and to support clinics with their "USO-meets-Habitat For Humanity" boots on the ground activism. With a small staff of brilliant creatives and the power and remarkable force of a solid volunteer base, LPJL has amassed over 1,200 volunteers. In a day where reproductive rights are continuously under attack by politicians and anti-abortion protesters and pundits, celebrating the people who show up, and in their own way sans capes, protect those rights and defend vulnerable people against the evil of politicians and other anti-abortion extremists is radical and even more thrilling than a major movie release. Founded in 2015 by Daily Show Co-Creator Lizz Winstead, Lady Parts Justice League infuses humor to talk about reproductive rights while also dropping some knowledge and activism around reproductive rights and abortion into our pop culture and social lives, inspiring folks who have not been active in the feminist and reproductive rights movements to get on board. A rapid response creative production team made up of comedians, writers, and activists, The League is on call 24/7 producing videos, artistic memes and creating national actions that respond instantly to the breaking news surrounding reproductive rights issues. Part of LPJL's mission is to support and raise awareness about independent abortion providers who bear the brunt of anti-abortion legislation and harassment. Several times a year, the League goes on the road to perform comedy shows in a USO format bringing entertainment and love to these clinics and their communities. They also provide elbow grease at the clinics themselves, including anything from bringing lunch to building a fence to planting bushes to
block protesters. Understanding that reproductive rights issues vary by race, class, and gender identity, Lady Parts Justice League is committed to diversity by creating content that fosters a multicultural, inclusive experience within the reproductive rights movement.