Kissy Cousins Monster Babies and Morphing Elvis Wins Chaplin Award for Best Comedy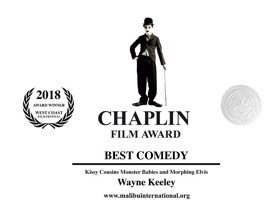 While this may be a significant newsworthy item in and of itself to the independent film community, combine it with the fact that the film took 25 years to make, is up for a Guinness Book of World Records and The Chaplain award represents an astounding 85 Film Festival Laurels to date, you just may have the makings of what the Producers and Director claim is the Cult Classic of all time.
The film which can only be described as a mash-up between The Producers and Rocky Horror (and maybe a smidge of Hot Tun Time Machine thrown in) has won rave reviews from the critic. The film, which began shooting in 1992, is directed by Five-time Emmy Nominee and two-time Emmy Winner, Wayne J. Keeley and produced by Emmy Award Winner Craig Dobson of Siberian Films. Reading Jurassic Park a year before it was made into a film, Keeley reasoned that a spoof could generate a lot of attention and could be boot-strapped to Spielberg's film. Little did Keeley realize that it would be Jurassic World and premiere 25 years after the first Jurassic Park film was made. Keeley said that when we first started shooting, the actors were saying, "what is all this Jurassic crap?"
The original film, a good deal of which was shot in the nineties, went through three distributors until it was shelved for being outdated. Enter Keeley's wife, better half, writing partner and Emmy nominated journalist. The two put their heads together and figured out a way to shoot new footage which would be relevant today and retool the old footage to have the dynamic pace of today's films.
Did it work?
Well, 85 Film Festival Laurels later and rave reviews would seem to be relatively stable predictors of the film's success. Add to that a red carpet SRO premiere at Film Fest 52 in Connecticut, and it may appear that the Jurassic Monster Babies who are featured in the film have legs.
While the Producers discuss options for distribution, it is still Keeley's dream that Kissy Cousins will be the cult classic of all time beating out The Rocky Horror Picture Show and grossing 500 million along the way. His previous endeavor, Nosferatu- The First Vampire is already considered by many to be a cult classic.