Film On Social Change Starring Laura Przybilla To Be Released This Fall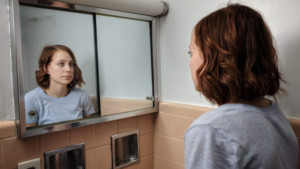 Austrian-born actress Laura Przybilla has become known for picking projects with a strong social message.
The award-winning actress moved to NYC three years ago to study with some of the most prestigious teachers in America at The Lee Strasberg Theatre and Film Institute (the same school where Angelina Jolie, Al Pacino and Scarlett Johansson started their careers). There she was chosen, due to her incredible talent, to appear on THE TODAY SHOW to give acting advice to Emmy award winning hosts Al Roker, Natalie Morales, Willie Geist and Savannah Guthrie. Within a few months of graduation she was cast in Steve Martin's hilarious music video "Caroline" where she appeared along side SNL stars Bill Hader and Cecily Strong and she originated the role of "Angel" in the NYC premier of the comedy Twin Restaurants directed by Tony Wang.
Yet Laura Przybilla's heart lies with projects that have a strong social message. She appeared in the lead role of "MINE" a short film by award-winning Argentinian filmmakers Adrian Batista and Fernanda Caride, which is set to become a feature film in 2019. The film deals with the incredible sensitive topic of domestic violence and how it affects 1 out of 3 women.
In January 2018 she wrapped the film "Ana & Bara", a film about sexual abuse written and directed by Zoe Fleer. Laura Przybilla in the lead role portrays a young woman (Ana) who struggles to remember the incidents of the night before. The film deals with toxic masculinity, rape, drug abuse and the typical denial of these topics.
"I think movies and art can make a big difference in this world. People love stories so we better tell them good ones. There are so many important ones to tell. Stories that bring forth awareness of what it's like to live through traumatic events, but we as humans have the capacity to push through, especially if we're surrounded by support and understanding. I hope my films can open people's eyes and make them understand things they might have never even thought about before. I hope it makes people realize that we're all the same and that we all deserve to be heard and understood."
Ana & Bara will premier this fall and the short film version of MINE can be watched here: