BWW Review: Sing Your Heart Out, Enjoy BOHEMIAN RHAPSODY Sing-Along Version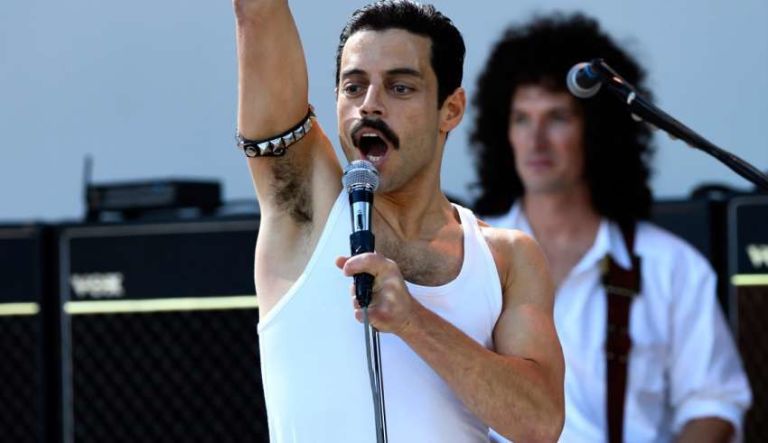 Manila, Philippines--The sing-along version of the film "Bohemian Rhapsody" arrives as a boon to Queen fans nationwide. Whether you're a die-hard follower or a hapless non-singer, the projected lyrics on the big screen make it a difficult invitation to resist.
Some of us are guilty of simple pleasures. Certainly, the film has had its share of scathing reviews, for reasons ranging from mediocre screenwriting to allegedly tone-deaf regard for history. We understand that critical reviews are integral to artistic accountability, but popular sensibilities are impervious to objective wisdom. The buck stops with the consumer and no amount of mind-altering polemics can keep a stubborn hedonist from belting out at the movies.
And when you're in the Philippines, you're well advised to leave the karaoke subculture unprovoked.
Avid fans have a way of suspending perceived limitations in favor of a deeply personal motive. It's an emotional affair, akin to the epiphany that seizes a veteran critic after seeing a rare gem of a product. Ultimately, the hypothetical fan will see what she wants and affirm what she loves, warts and all.
Some biopics are funny that way, too. The creative process necessitates an occasional compromise of an established order to suit the aesthetic desire.
For those on the margins and clueless on the subject, "Bohemian Rhapsody" is a story about Freddie Mercury and his epic rise to stardom brought on by his unique musical sound and electrifying charisma. As a rock star, he was both admired and despised for breaking the rules that existed to maintain commercial order and stifle creative genius. He had a challenging start to a singing career marked by a physical quirk--a conspicuous overbite that he managed to turn from an embarrassment into an asset. (Extra teeth meant a higher vocal range, said he.)
Before he died of complications from the AIDS virus, Freddie's life was a bacchanalian feast: a desperate facade to shield an anxious lonely boy who was never good enough for a father's approval.
Call it overcompensating, but we can only wish to have half the audacity to pursue greatness against all odds.
The band itself was no stranger to controversy nor immune from criticism. "Bohemian Rhapsody," Freddie's transcendent composition, was lambasted by music critics and shunned by recording impresarios across the spectrum, yet it rose to unprecedented success, busting everyone's charts while defying every prescribed convention for airtime. It's a reflection of the frontman's persistent drive for authentic expression. His was the sort of devil-may-care moxie that refused to settle for less than genuine and complete abandon.
Filipinos love a feel-good drama, especially the maudlin sort that features the hardship of a struggling hero with supernatural talents. We tend to be suckers for emotional payoff, but ironies aren't lost in moments of indulgence. Particularly haunting, in hindsight, is the prophetic implication of Freddie's lyrics written long before he knew about his illness.
From "My Fairy King":
Someone, someone has drained the color from my wings
Broken my fairy circle ring
And shamed the king in all his pride
Changed the wings and wronged the tides
Mother Mercury, look what they've done to me
I cannot run, I cannot hide.
And like a prediction of his early demise, from "The Show Must Go On":
My soul is painted like the wings of butterflies
Fairy tales of yesteryear will grow but never die
I can fly--my friends
The show must go on.
And from "Bohemian Rhapsody," most eerie as we watch him immersed in composition:
Mama, ooh, didn't mean to make you cry
If I'm not back again this time tomorrow
Carry on, carry on as if nothing really matters
Too late, my time has come
Sends shivers down my spine, body's aching all the time
Goodbye, everybody, I've got to go
Gotta leave you all behind and face the truth.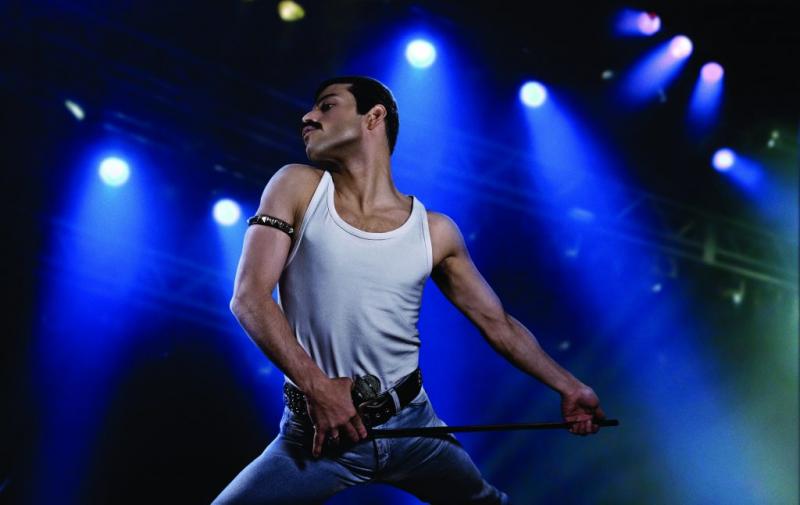 Rami Malek inhabits Freddie's character with uncanny sensitivity and a loveable arrogance. He may get the opportunity to nab this year's Oscar for Best Actor, but he's already endeared himself to the court of popular opinion. He's absorbed in Freddie's skin, if you will, and takes no time in supplanting our image of the rock icon. We believe him from the get-go. He's also surrounded by a capable supporting cast of actors who bear a stunning resemblance to the original people in Freddie's life. If you love Queen and the music they brought to this world, it's more than enough impetus to see the movie.
As of this writing, the sing-along version [also available in Korea] has seen a substantial rise in ticket sales of "Bohemian Rhapsody." We'll assume it's not the sanctioned fare of the hifalutin cinephile, but if you're up to a hell of a good time, get yourself and a friend to the cinema, let your hair down and sing your heart out.
A 20th Century FOX presentation, the sing-along format of "Bohemian Rhapsody" screens across the Philippines in these cinemas HERE.
Photos: 20th Century Fox