Review: IDOMENEO Returns to Met with Splendid Spyres, Glistening Fang, under Honeck's Fluid Conducting in House Debut
Performance shows the difference casting can make in skewing attention of the major roles
On the second night of the new season, the Met went for Mozart, conducted fluidly and elegantly, but it was hardly 'business as usual.'
When I last saw the opera at the Met--in the 40-year-old Jean-Pierre Ponnelle production that still looks fresh--IDOMENEO had a different emphasis for me. Despite wonderful singing from many of the principals in the cast, it wasn't the King of Crete (the title role) or his captive, Ilia, daughter of King Priam of Troy, that was so memorable. It was Elettra, the jealous princess of Argos who walked off with the show.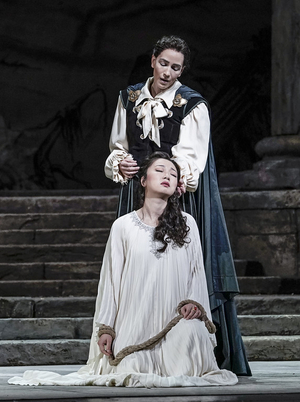 This time around, it seemed changed. The title role in this, considered by many to be Mozart's first mature opera, was sung by Michael Spyres, billed in the program as a tenor but usually known these days as a "baritenor." He gave a knockout portrayal that caught both the heroic and elegant, the high and the low sides of the character.
Giving him a run for his money was the exquisite Ying Fang as Ilia, who I've heard and admired many times, since she was a student. Her arias in Acts II and III were models of gorgeous sound.
Overall, the singing was good, but without setting the stage ablaze. The performance's Elettra was Federico Lombardi, who has a lovely voice but didn't build her character from the beginning, so that when she becomes unhinged in Act III, the impact was not great enough.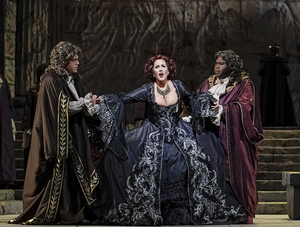 Tenor Paola Fanale's Arbace (Idomeneo's confidante) was a fine contrast to the King's more heroic sound. For me, the letdown was mezzo Kate Lindsey as the king's son, Idamante, a pants role. She looked right and her dramatic skills were what they should be. But she didn't have enough sound, even when she came to the stage's curtain, and was practically in the orchestra.
As I alluded to earlier, Manfred Honeck made a significant debut leading the Met orchestra. You were never in doubt about who was in charge, as he drew lovely work from the orchestra and principals; the chorus was also in peak form, under chorus master Donald Palumbo.
Performances of IDOMENEO will continue through October 20. For more information and tickets, see the Met's website.
Richard Sasanow has been BroadwayWorld.com's Opera Editor for many years, with interests covering contemporary works, standard repertoire and true rarities from every era. He is an intervi... (read more about this author)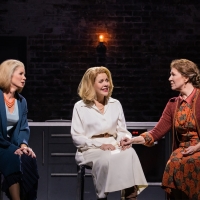 Review: THE HOURS Goes by in Minutes as Met Gives Birth to Fascinating Opera by Puts and Pierce

November 25, 2022

The Met gave birth to a fascinating new opera on Tuesday and it wasn't a moment too soon to unleash composer Kevin Puts's THE HOURS on an audience that sometimes seems doomed to die inundated by too many AIDAs, BOHEMEs and CARMENs. The world premiere production of THE HOURS by Puts and Greg Pierce was directed by Phelim McDermott. The cast was a starry one, led by soprano Renee Fleming, soprano Kelli O'Hara and mezzo Joyce DiDonato.
---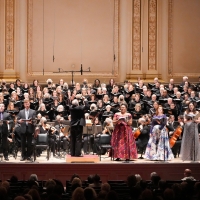 Review: Oratorio Society Debuts Stunning NATION OF OTHERS by Moravec and Campbell at Carnegie Hall

November 18, 2022

The Oratorio Society of New York (OSNY), under Kent Tritle, gave its second stirring world premiere by Paul Moravec and Mark Campbell with Tuesday's outstanding performance of A NATION OF OTHERS.
---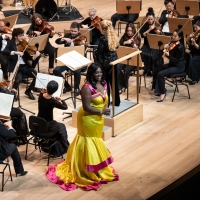 Review: An Old-Fashioned Sing-Off Celebrates ANGEL BLUE at Geffen Hall's 2022 Richard Tucker Gala

November 15, 2022

Award-winner Angel Blue started off the proceedings at the Richard Tucker Gala (after Barry Tucker's usual introduction/ode to his father, the great tenor) with a bang: Puccini's justly famous aria "Vissi d'arte" from TOSCA. For those of us who've only heard her as Bess in Gershwin's PORGY & BESS at the Met, it was a revelation to hear her lush, velvety voice raise the rafters on the hall, with no warm up.
---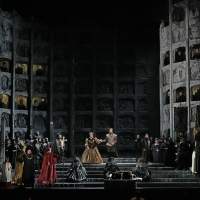 Review: DON CARLO Returns to the Met, This Time in Italian

November 13, 2022

Last season, the company gave its first presentation of the French version (that's the one called DON CARLOS, with a final S to his first name), in the five-act version that lasted almost 5 hours. This year, we're back to Italian, under Carlo Rizzi's firm baton, in one of a number of versions (this one running about 4 hours) of DON CARLO, which uses shortcuts to tell the story elements deleted with the excision of the first act (usually referred to as "the Fontainebleau scene").
---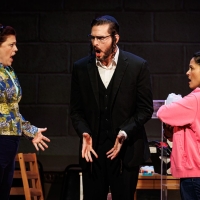 Review: New York Becomes HOMETOWN to Kaminsky-Reed Opera About ICE Raid on Slaughterhouse in Iowa

November 10, 2022

HOMETOWN TO THE WORLD--the 70-minute contemporary chamber opera by Laura Kaminsky and Kimberly Reed about the aftermath of a 2008 raid by the US Immigration and Customs Enforcement (ICE) on a slaughterhouse in Postville, Iowa--is about as far from the Midwest of Meredith Willson's THE MUSIC MAN imaginable.
---