Interview: Stephanie Blythe of SAN DIEGO OPERA'S PUCCINI DUO at San Diego's Civic Theater
Mezzo-Soprano Stephanie Blythe Sings Baritone in San Diego Opera's Puccini Duo
Part 1 of 3
Stephanie Blythe is probably the only opera singer who represents an ukulele company. That she embodies the unexpected is further confirmed by her upcoming roles in the San Diego Opera's next production, two one-act operas by Puccini. The mezzo soprano will first sing a deeper contralto as the Principessa in Suor Angelica. Then, in the title role of Gianni Schicchi, she'll be in the baritone range traditionally assigned to a male singer.
A headline once nailed it: "Stephanie Blythe can do anything, and apparently will." The "can do" is appropriate for a singer who, in 1995 just 18 months out of school, landed at the Metropolitan opera and has performed there in a wide variety of roles ever since. We spoke via Zoom about her career and the roles she will be singing in four performances, the first on February 11.
San Diego audiences have seen her in grand opera, Verdi's requiem, a recital of songs associated with Kate Smith, and last year, a recital of the pop songs of Johnny Mercer. She's had the lead in Carmen, but recently starred in Chicago as Don José, Carmen's bewitched lover. "And I had the most marvelous time. This is not a lark for me. I take it very seriously. And I'm not trying to thumb my nose at anybody. I'm just trying to make the art that I can, that I did dream of doing." (In case you wondered, the reviews were favorable.)
You might think all that covers apparently will do anything, but the headline I quoted was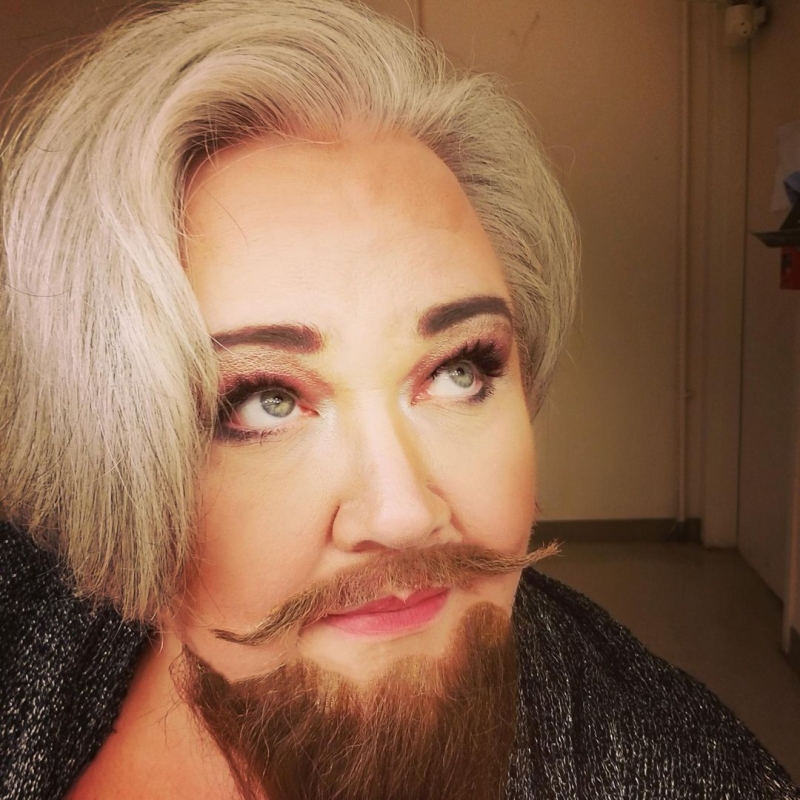 triggered by a Philadelphia drag show in which she donned a beard and mustache to become her twin, tenor Blithely Oratonio. They've begun to sing video duets on Twitter. Can a recording of Carmen with her in every role be far behind? (Though the bass-baritone of the Toreador may be a challenge.)
The two one-act operas in her upcoming performance are taken from a set of three Puccini titled Il trittico. I wondered if singing two characters in different voice ranges required more rehearsal time.
"This isn't the first time I've done multiple roles in a show. I've often sung in (Handel's) Julius Caesar, first as Tolomeo, then Cornelia, then Caesar, and back to Cornelia. I've been doing Il trittico for a very long time and often had a different role in each one. Rehearsal for multiple roles depends on the piece and the company, but I'm used to it, and we have enough."
Having performed multiple roles in the same opera allows a deeper understanding of what the composer had in mind and how characters interact. Costumes are another priority in her chameleon-like approach to new roles.
"Absolutely! There's a lot of wonderful work that you can do in staging, too. But once the costume comes on, that really is the thing. It changes the way you move, the way you feel about yourself, because it's a part of how you signal to the world who you are."
Why does Blythe take on so many roles? "I'm attracted to projects that allow me to explore different passions and transitions in my life. I think 'transition' is one of the most important words for any artist. Voices change from the moment you start singing. It's never the same--from one day, one year, one decade to the next. It's part of the body, and so affected by intellectual, physical and spiritual change. And that has to be accepted."
A recent change for her is an appointment to Bard College. "I accepted the position of Artistic Director of Bard's graduate Vocal Arts program one semester before the pandemic started. When my performances had to be canceled because of the pandemic, I had this teaching job, and I really enjoyed it. I adore working with the students. I love my colleagues. Many professional performers teach there, and I prefer that.
"From this point on it will be a major focal point. I want to teach young singers to build on technique, research, and study of course, but to really focus on what makes them unique.
"I feel like my soul is fed every day I work with students and young artists, and especially the singers and pianists. They are so enterprising and have so many interests." They don't want to play concerts just to check academic boxes. There's a thought-out reason "based on who they are and what they want to say, and I think that's marvelous."
In Part 2, we discuss a bout of anxiety attacks Stephanie Blythe suffered early in her career, her love of popular music, and how she became an ukulele rep.
For time and ticket information go to San Diego Opera.