Interview: Darren Drone & Chanáe Curtis of FALSTAFF at Opera San José Represent the New Face of Opera
The two rising stars perform in Verdi's comedic masterpiece February 11th to 26th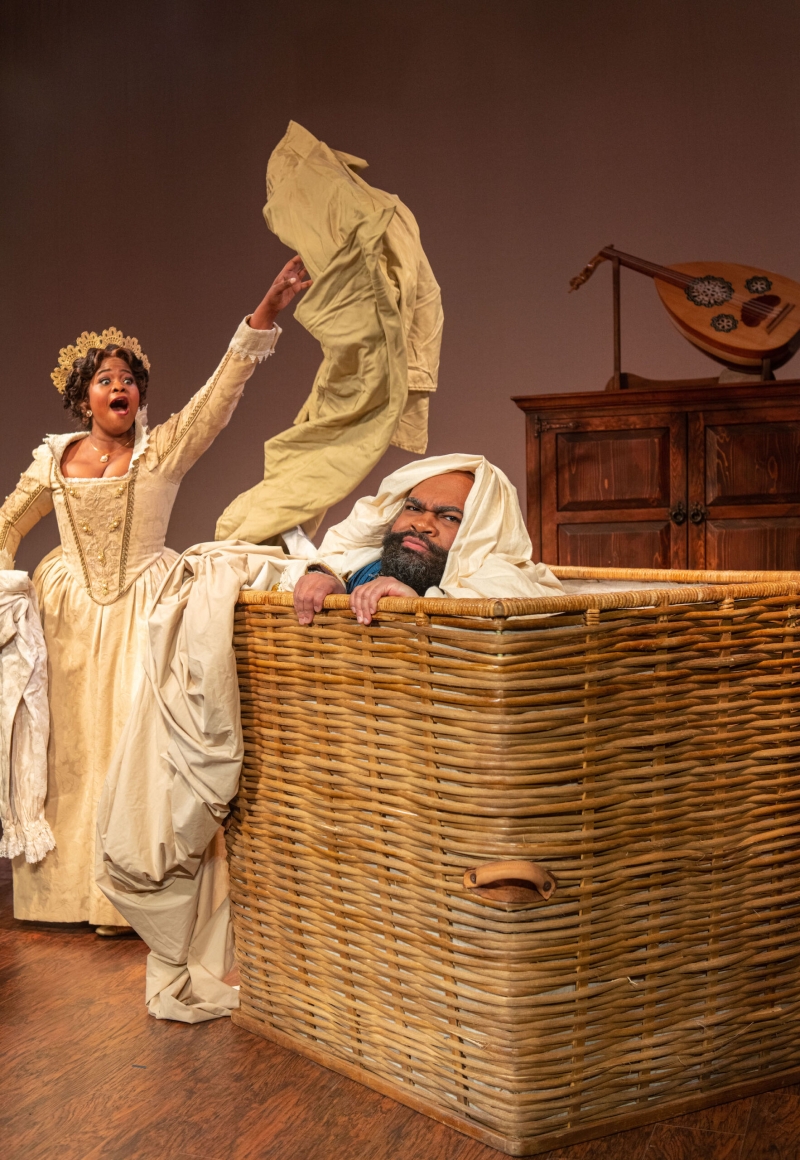 Opera San José is continuing its practice of offering a more inclusive and welcoming vision for the artform with the casting of two exciting young Black American singers in its rollicking production of Verdi's beloved comedic masterpiece Falstaff. Baritone Darren Drone is taking on the title role of Shakespeare's mischievous knight. Praised by Opera News for his "gorgeously warm tone and deep resonance," Drone is quickly rising in the classical music world, appearing as a featured soloist in the 21-22 Metropolitan Opera's Porgy and Bess and as Morales in Santa Fe Opera's 2022 Carmen. Soprano Chanáe Curtis is performing the role of Alice Ford. Curtis made her Met debut as Annie in its 2019 Porgy and Bess and returned as Countess Ceprano in Rigoletto. She has also performed extensively abroad, including with the Welsh National Opera and in a guest appearance at Buckingham Palace for Prince (now King) Charles.
I had the pleasure of speaking with Drone and Curtis by phone earlier this week as they were deep into rehearsals. We talked about what they particularly love about Falstaff, their paths to finding careers in opera, their experiences as Black opera singers and the thrill of performing at the Met. In conversation, both are engagingly down to earth with a healthy sense of humor, with Drone being more direct and jovial and Curtis a bit more introspective and loquacious. The following are edited excerpts from two separate conversations.
You're both making your Opera San José debuts with Falstaff. How did you come to their attention?
Darren Drone: I auditioned for them in the fall of 2021 when I was in a couple of choruses at the Met, and they seemed to like me. I got a call a couple of months after that when I was at Florida Grand Opera, and they said they wanted me to play Falstaff, which was really, really surprising. I covered it last summer at Santa Fe, but I didn't think that it was really a possibility until maybe a little down the line, just because Falstaff is usually played by someone who is well into their career, a little bit older, and it's very vocally demanding. So I was really surprised - and here I am!
Chanáe Curtis: It was a really easy process, which never happens! I auditioned for them I think last fall, and then I was cast. I was really interested in working with Opera San José because of the work that they're doing and what [General Director] Shawna Lucey has brought to the company.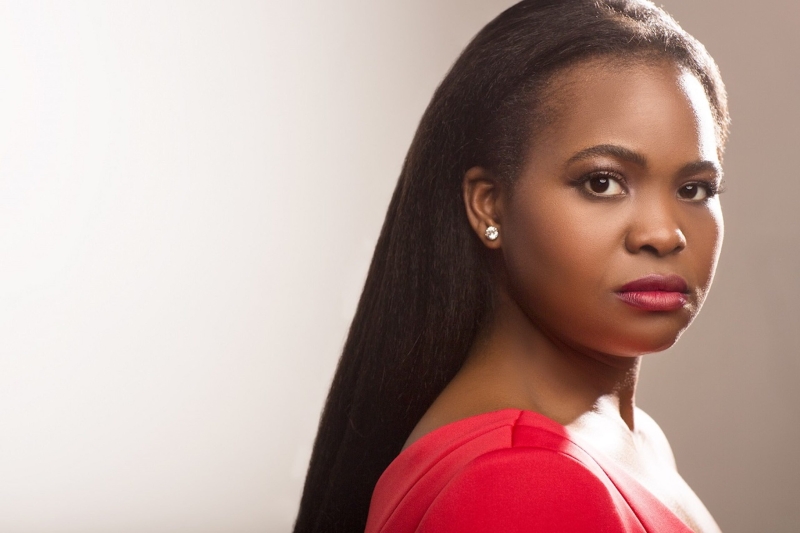 Were these on your list of dream roles?
CC: Yes! It's a role where you get to express a lot of different sides of yourself, and you get to use different parts of your voice as a soprano, which is why it's such a great exercise in preparing for larger roles where you've got a lot of stage time. It teaches you a lot about how to manage the voice and the breath and the body. I'm hoping it's a role that I get to enter into a lot of houses with. In doing it for a second time now, I'm really starting to come into my own with it, finding the things that make my Alice stand out.
DD: Oh, absolutely. Falstaff and one of his archnemeses in the show, Ford, both of those are great baritone roles. It's definitely been on my radar as something I wanted to play. I didn't think I would get to play it so soon, but am absolutely thrilled to get to do so.
What do you especially love about Falstaff?
DD: Falstaff is actually one of my favorite operas. It's so unique in that once the train starts going, it never really stops. It's sort of like the musical Rent. To me they operate in a similar way. Once you start going, you just kind of steamroll to that ending.
CC: My absolute favorite thing about it is the fact that you have all these men who have all these schemes and plans, and the women always outsmart them. It really is just a great example of girl power, and it plays on misogyny. I feel like even from the first scene when you see the women come out, there's something so clear about how Verdi wrote it that even just the music tells you "The women are clearly going to win, but let's just watch the whole opera play out and see how fun it is to watch them win."
What is your very first memory of singing in public?
CC: I think I was about 13 or 14 and my first voice teacher sort of plucked me. I played the flute for about 8 years, and I was practicing in the hallway. I would play a passage on my flute and then sing it to myself, and somebody overheard me doing that and was like "You have a great voice. Why don't you join the choir?" And I said, "Well, I can't cause it conflicts with band." [laughs] So she ended up making an after-school choir and I joined it and eventually it just kind of flopped, but she took me on and was like "Well, you need to keep singing so I'm gonna give you lessons." Her name was Sylvia Smith and I would babysit and clean in exchange for voice lessons. Then she finally put me in recital around 13 or 14. I sang "The Flower Duet" with her, I sang a couple of the 24 Italian Art Songs, and I remember extreme stage fright. I was so nervous she could barely get me to walk out there.
DD: Oh, gosh! [laughs] In the fourth grade, there was this little choir thing at my elementary school. We sang some songs for Halloween, we put masks on and it was very cute. I remember our teacher directing us, Mrs. Johnson, who was sort of the de facto head of music there. It wasn't formally a concert, just a couple of spooky songs. But, hey, I've always loved Halloween and I love spooky stuff so I was into it. [laughs]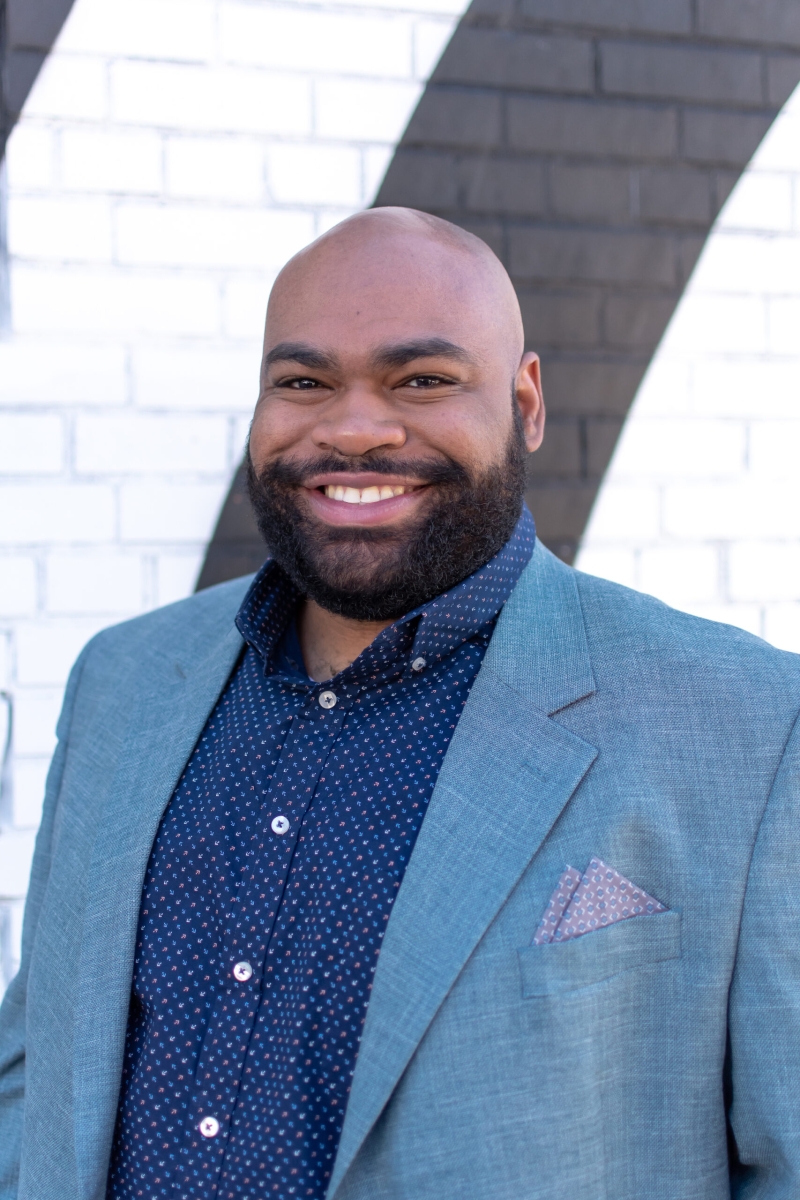 Did you have any exposure to opera growing up? Was it part of your family culture?
DD: Oh, absolutely no. I was the only one. My older sister was in choir in high school and my middle sister was in band. And they were both in drama, so I sort of thought "OK, I can join drama at some point." I joined band in 7th grade and then I joined choir eventually.
CC: Not at all. My family is awesome, but not the most musical. We were very into gospel and R&B and maybe some pop music. Whitney Houston was my first real sort of deep attachment to a singer. My older sister would put on Whitney Houston when I was a baby and she said I used to cry if I heard her. [laughs] She just did it as a party trick for a long time, and I was like "Older sisters..." [rolls her eyes] But now I know every Whitney Houston song and that's really where I got my start with loving music. Then I did church choir, because we went to church every Sunday. I sang in the choir, but I was very quiet as a child until I started getting voice lessons. Then people slowly started to realize I had more to offer, so they started pushing me to the front.
At what point did it occur to you that you might actually have a career in opera?
CC: Not until much later. After my first year at Ashland University, I got into the Chautauqua Institution program that they have for young singers, and it was there that I got my first real dose of opera singing, you know what it's like to maybe do this for real. Then I went back to Ashland and thought, "OK, maybe this is something I can really and truly aim for. I might have a real shot at this."
DD: Oh, goodness - that was much, much later. My first love as far as performing was musical theatre, and I still love musical theatre to this day. So - it was probably my sophomore/junior year of college. My freshman year, I chose Vocal Performance on a whim...
Really?!
DD: Well, I joined choir in the 11th grade, got into All State both years I was in it, and I was also an instrumentalist. I auditioned for scholarships at colleges within an hour of my home. They were both good schools - University of Central Arkansas and Arkansas Tech - and both were going to give me money for Vocal or Instrumental. I chose Arkansas Tech cause it seemed like the better choice, the Vocal program was very, very good (it's still good now). Then you know I was just talking to my advisor and they're asking me, "Hey, do you want to take Voice or Instrumental as your primary focus?" And I was just like "Uhhh ... I don't know. I guess I'll just do Voice."
Over the course of my freshman year, my teacher Dr. Jon Clements was like "I think you may be able to sing operatic type things, so maybe we can look at a couple different arias." So sophomore year we worked on arias from Don Pasquale and Marriage of Figaro. I don't even know if I could truly conceptualize that early that it's something I could do as a living, but somewhere in my junior and senior years, it sort of clicked for me, like "I want to do this as way of life. I want this to be my sole occupation." And thank God that is what I did. [laughs]
As Black singers coming up in the opera world has it been a struggle for you to get considered for roles that weren't specifically written for Black singers?
DD: I know there are some singers where that was their experience, but that really wasn't mine. I mean you come across people who encourage you, which thankfully is mostly what I got. And then there are people here and there who, not necessarily don't think you can't do it, but think there are more things you can improve on than others, or who say "Hey, I don't think you'll be able to do this thing now, but if you work on these things and fix these things then you may be able to have a career."
But, no, I really didn't have that kind of experience, and I know that's maybe abnormal being from a southern state going to a predominantly white school, but the school was very supportive, the instructors, my voice teacher, my music theatre workshop teachers, my parents. So as far as those roadblocks or someone saying, "You can't do this because of the color of your skin."? Never got that.
CC: I would say yes and no. I always say to people, "I am a singer first." I am a Black woman, that is how I was born into this world and I'm proud to be that always, but when it comes to me walking into the room, walking into an audition setting, I want to sing and perform in a way that the music and what I'm doing speaks to them first, and see what that garners me. If I were to go in thinking, "Oh, I'm not sure if I'm going to get a role because of my appearance or the color of my skin" and all of that, I think it would be really difficult just to go into the room, you know?
That being said, I do feel that with the way opera is going today we're making a lot of headway. I'm so grateful and just really amazed and happy to see a lot of Black and brown faces being put on major stages and a lot of new works. I would love to see Black and brown faces put into not only the new works but also some of the more traditional operas, and that this is where Opera San José is really lighting the torch and leading the way, casting singers of color in major roles in the major repertoire, because I think that is what we don't see enough of.
And you know this is a lived experience for me. When I first started out and my voice teacher, Miss Smith, was introducing me to a world of music I knew nothing about, I can honestly say it took a long time for me to find Black singers that I could look up to. Of course, one of the first ones I found was Leontyne Price, and then Jessye Norman and Kathleen Battle and Shirley Verrett and Barbara Hendricks, and the list goes on. Honestly, those are the women who gave me the courage to even go onstage.
I think representation matters, especially that, as someone who did not have a classical background and didn't come from a musical family, I could see those images and those people. Even when I got to college, I had a Black woman teaching me, Dr. Dione Bennett. Having those role models was extremely important and it's what made the dream tangible for me. It's what made me say, "This is a real possibility." What better way to do that, for Black and brown kids, than by showing them?
You've both sung at the Met. What is it like to make your debut there?
DD: Oh, gosh, it's truly, truly wonderful. It is a beautiful house to sing in. In the Porgy chorus, there are various solos from chorus members, and I got a one-line solo, like 10 or 11 words. But the feeling that I got when I sung into the house was one of ... gosh, you could feel the great acoustics in that hall. You know sometimes you sing somewhere and it feels like you're singing into a pillow. Obviously when you're in the audience, everything sounds perfectly fine, but as far as how the singer feels, sometimes it just feels like that. The Met is not like that at all. You can hear yourself, it gives you something back. And it's just so stunningly beautiful looking up seeing all of the seats that go so far back and seeing all of the people see you do your thing in this really great hall. It's unparalleled, and I'm so lucky that I got to do it.
CC: Singing at a place like that is a real milestone for any singer and I really cherish having had that experience, especially at such a young point in my career. For the first stage and orchestra rehearsal, I'll never forget the curtain opening, because the next scene was my line, and I will never forget the feeling of having my whole body drop out from under me. [laughs] Like I opened my mouth and sang my line and I'm not sure just what came out because I was so nervous. But after that, I remember feeling like "OK, this feels great." I was never nervous again, and I think that goes to the company. They were so great about making sure you felt comfortable and had enough rehearsal and you had what you needed to perform at your best.
I think when you take care of the singers in a way that makes them feel so secure that they have nothing to worry about, you get your best from them. And you get a young singer like me at that time feeling really confident on the stage. So I think the biggest thing I took away from that experience is the confidence you gain just because of how they treat you and how they make sure that you are ready for what you're about to do.
Since this article is for BroadwayWorld, I just have to ask: Do you have any interest in doing musical theatre?
CC: You know I love opera and classical music and I think that's where my heart truly lies, but I really love all music so I think that it would boil down to the right role. For a brief period of time I was the Swing in Intimate Apparel [at Lincoln Center Theatre] with Ricky Ian Gordon and Bart Sher and Lynne Nottage, so I got to be there for the creating and making of that whole experience, and got a dose of what it's like in the Broadway world. From that experience, I would say it would have to be the right opportunity and the right role, but I would not be surprised to see myself on a Broadway stage one day. [laughs]
DD: Oh, gosh, absolutely! Probably the top role for any lower-voiced male is Sweeney Todd. The first time I saw that - my sister that's right ahead of me, she showed me that iconic video of George Hearn and Angela Lansbury in like 2006-2007, right before I went to college. I was just completely awestruck by the characterization and what George Hearn was doing with his voice, and the sort of operatic-ness of this musical. Because until then I'd only heard stuff like You're a Good Man, Charlie Brown or Wicked or Chicago, which are not really built that way. But gosh, this musical just had such bombastic orchestrations and it was big and thick, and the chorus sounded like an operatic chorus - before I even really knew what that meant. That's the top of the mountain for me, but I would absolutely love doing Javert from Les Miz or The Genie in Aladdin. That would be fun!
---
Opera San José's production of Falstaff will be sung in Italian, with English and Spanish supertitles, with performances from February 11-26, 2023 at the California Theatre, 345 South First Street, San Jose. For more information or to purchase tickets, visit operasj.org or call (408) 437-4450.