Guild Opera Company Presents TOSCA This Weekend
Performances are Friday January 27th and Saturday January 28th at 7:30 PM at River of the Valley in Canoga Park.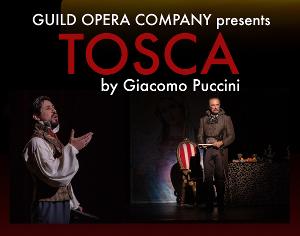 The great opera TOSCA will be presented by Guild Opera Company on Friday January 27th and Saturday January 28th at 7:30 PM at River of the Valley in Canoga Park. TOSCA is a great masterpiece written by Puccini, which encompasses love, lust, jealousy, courage and heroism, and has some of the most beautiful and dramatic music ever composed for the operatic stage. It features famous pieces such as "Vissi d'arte", "E lucevan le stelle" and Puccini's glorious "Te deum."
Based on Victorien Sardou's play La Tosca, set in Rome 1800 as Napoleon's invasion of Italy threatens the Naples' control of Rome.
Opera diva Floria Tosca enters an impossible situation when her lover, the painter Mario Cavaradossi, decides to help the escaped political prisoner Angelotti flee from the corrupt police chief Scarpia. Our cast features Emma Berggren as Floria Tosca, Felipe Prado as Mario Cavaradossi, Carlos Oliva as Scarpia, Haocheng Sun as the Sacristan, Adam McCrory as Cesare Angelotti, Carlos Gomez as Spoletta, Alexei Helmbock as Sciarrone and Lily Berthold as the Shepherd.
Guild Opera Company is the second oldest opera company in California after the San Francisco Opera. Since 1949 Guild Opera Company has been one of the launching companies for famous artists such as Marilyn Horne, Heinz Blankenburg, and Mary Costa, the voice of Walt Disney's Sleeping Beauty. Guild Opera Company currently presents operas to the community, as well as introduces children to the magical world of opera by bringing arts education programs to elementary schools. With the generous support of individual music lovers, as well as funding from corporations, foundations and government sources, over four million students have experienced live professional performances of this important art form that encompasses music, theater, dance and visual arts.
Dr. Robert Chauls, the musical director of Tosca, is well-known as a pianist, accompanist, coach, conductor and composer throughout the United States. Dr. Chauls also serves as the President of Guild Opera Company, and is a former Vice President of the National Opera Association. His first opera, Alice in Wonderland, was the second most performed contemporary opera in America in 1981-82, and continues to be among the most performed children's operas in the United States as well as other parts of the world.
The performances will be directed by Gabriel R. Pazos who is the recipient of the 2007 El Angel Award from the Bilingual Foundation of the Arts. Mr. Pazos has been instrumental in many aspects of Guild Opera Company's operations and has directly worked with many of the cast members as a part of Guild Opera's Young Artist Development.
The show will only have two performances. Tickets should be purchased early! Tickets can be purchased here: https://cloud.broadwayworld.com/rec/ticketclick.cfm?fromlink=2220512®id=52&articlelink=https%3A%2F%2Fwww.eventbrite.com%2Fcc%2Ftosca-1556729?utm_source=BWW2022&utm_medium=referral&utm_campaign=article&utm_content=bottombuybutton1