Click Here for More Articles on OPERA - SAN DIEGO
BWW Review: SAN DIEGO OPERA'S TURANDOT at the Civic Center
The San Diego Opera's new production of Puccini's Turandot held rapt attention throughout its three acts in spite of a dark plot that's implausible, even for opera, and a lead character less loveable than Lady Macbeth.
Powerful men from other kingdoms flock to win Princess Turandot's hand by answering three riddles. This being long before the internet, none of the men seem familiar with them when Turandot (soprano Lise Lidstrom) asks for solutions. A serious oversite on their part. Twelve suitors, in the past year alone, have experienced the beheading failure entails. Calaf of Tartary (tenor Carl Tanner) succeeds only to have Turandot renege on her promise to marry the one who does. When her father the emperor insists an oath is an oath, Calaf puts his head on the block again by swearing he will die if Turandot discovers his name by morning, otherwise she must marry him. She agrees. Determined to discover who he is before the sun rises, she orders the torture of a slave girl who loves him and knows. When the slave kills herself rather than reveal the name, the princess begins to show the first signs of remorse. Soon after, she is alone with Calaf who forces an unwelcome kiss. Some in the audience actually laughed when Lindstrom sang Che è mai di me, a line indicating that, in the heat of the moment, the icy princess has transformed her view of love and marriage. A happy ending ensues, except for the slave girl and many previous suitors.
Fortunately, in a performance as satisfying as this one was, Puccini's wonderfully emotional music and orchestration make it easy to suspend disbelief. San Diego Symphony musicians, led by conductor Valerio Galli, played Puccini's China-influenced score with warmth and authority.
Lead dramatic soprano Lise Lindstrom has a voice made for the role of Turandot. She commanded attention, riding clearly above even forte orchestral passages and easily filling the sold-out Civic Center's 3000-seat auditorium. Having sung the part more than 100 times, Lindstrom has perfected the image of a cold cruel, unapproachable princess.
Tenor Carl Tanner's Calaf was less convincing during pauses before
solving Turandot's riddles, and later when ineffectively trying to come to the slave girl's rescue. But he has the type of strong masculine voice needed to complement Lindstrom. His singing was excellent throughout, and the familiar "Nessun Dorma" received deserved applause, although the inevitable comparison with Pavarotti's magnificent versions, often magnified by a microphone, must drive tenors crazy.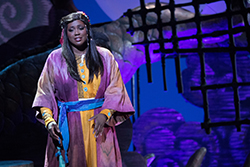 As Liù, the slave girl, lyric soprano Angel Joy Blue displayed an exceptionally lovely luscious voice, and her acting made Liù's loyalty and pathetic agony seem real. Lindstrom, Tanner and Blue all received enthusiastic responses when they appeared for curtain calls,
Marco Nisticò as Ping, Joseph Gaines as Pang and Joel Sorenson as Pong
sang well and provided comic relief with sardonic comments about the brutal actions of fellow members of the royal court and the blood-thirsty populace.
The chorus, under director Bruce Stasyna, sang beautifully. The climactic reprise of "Nessun Dorma" by chorus and orchestra was thrilling, and chorus members and acrobatic dancers added variety and motion to the production.
Principals, choruses, acrobats and extras often packed the large Civic Center stage. Even though Allen Charles Klein's colorful exotic sets save floor space by extending vertically, there were a couple of stumbles on opening night as performers moved about in the most crowded scenes.
Lucas Krech's colorful lighting design added surprise and reinforced the exotic feel of the sets, as did the wild variety of colorful costumes by Willa Kim.
Lise Lindstrom describes her fascinating path to Turandot in my interview with her a few days before her San Diego appearance. After another performance of the opera, this time is Vienna, she returns to San Diego in May for a concert with bass-baritone Greer Grimsley. For information about that and other future San Diego Opera concerts, including next season's, visit here.
Photos courtesy of San Diego Opera.