BWW Review: It's All GREEK for Me, from Scottish Opera at BAM's Next Wave Festival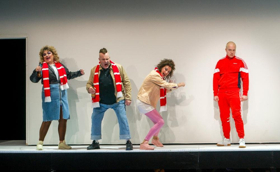 I hope somebody from New York City Opera was at BAM last weekend, because Mark-Anthony Turnage's GREEK--a modern retelling of the Oedipus myth from Scottish Opera/Opera Ventures, presented by BAM's Next Wave Festival--is just what the doctor ordered for that company.
A great story, a small cast, a score that maybe won't leave you humming but moves like gangbusters, a simple production that doesn't look cheesy (except maybe in a mozzarella-ish way). And, oh yes, a happy audience for a work that deserves greater reach on these shores.
Meet Eddy, "a modern-day Oedipus," who lives in North London during the Thatcher years and suffers the slings and arrows of outrageous misfortune (sic). His father tells him a story over breakfast about how a fortune-teller once prophesied that Eddy would kill his father and "get a bunk-up with his mum." (With all its dialect, the supertitles are a must in this English-language opera.) Aghast, Eddy leaves home, just to make sure things couldn't happen that way.
You know how things end up--you can't fool with fate--but that doesn't keep GREEK from being a bang-up piece of contemporary musical drama. With a great cast that shuffles between characters with panache and a sense of fun/tragedy, as the 75-minute or so drama demands, it has a right-on, verging-on-the-ridiculous production from Joe Hill-Gibbins. It takes itself seriously enough to make its point, but never gets its tongue-out-of-cheek enough to bring us down for too long.
Though the opera's libretto came courtesy of playwright Steven Berkoff's 1980 play of the same name, it was adapted by the composer and Jonathan Moore, who directed the first production. ("I didn't know anything about opera," Turnage told the NY Times, "so in the first draft I literally just crossed out all the lines I didn't want to set.") While some of the references might have seemed a bit insider-joke-prone in 1988, in the US of Trump-onomics, well, everything old is new again.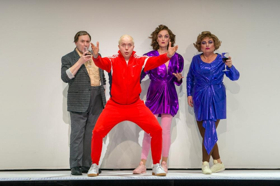 What is the score like? Eclectic. I can't imagine how the sometimes-in-your-face dissonance was greeted three decades ago, but it seemed just fine with the audience at BAM's Howard Gilman Opera House at the performance I attended. (There's quite a bit of lyricism as well, by the way.) This was the first opera for Turnage, who wrote that paean to 36DDs, ANNA NICOLE, the swan song for the old City Opera. He was ready to come out of the gate swinging and take no prisoners, with his rough and ready style. Stuart Stratford led soloists from the Orchestra of the Scottish Opera in a performance that was as exciting as it was eviscerating.
Johannes Schutz's set is no more than a revolving white wall with a couple of doorways, serving as a screen for Dan Trenchard's trenchant video content and Dick Straker's video design. The video largely concentrates on the most revolting offerings of the greasiest of London greasy-spoons, which has multiple meanings right to the horrifying denouement.
The cast couldn't have been better, starting with the exciting baritone of Alex Otterburn, who does most of the heavy lifting as Eddy, with his bleached blonde hair, neon orange track suit and restless determination to outwit his destiny. (Good luck there, bloke.) He manages to be repulsive and sympathetic at the same time-obviously not an easy task.
The over-the-top/under-the-barrel costumes by Alex Lowde transform the rest of the cast into sensational multiple characters: Soprano Susan Bullock as Eddy's Mum (or is she?), a waitress and a sphinx; Andrew Shore as Eddy's dad, the café manager and chief of police; Allison Cook as Eddy's sister, another waitress and sphinx and Eddy's wife (and also ...).
As with most "good" operas--though not usually ones as funny as this can be--there's no happy ending, as Eddy plucks out his eyes and sends himself off to exile to make things right for the world. Come to think of it, this one does end up right: as we discover a work that should have been in our crosshairs long ago.
GREEK is part of "Speaking Truth to Power," co-presented by BAM and the Onassis Cultural Center New York.
Related Articles View More Opera

Stories