Review: Going Down Under with JOHN HOLIDAY in the Crypt
John Holiday is a countertenor for people who don't usually appreciate countertenors--or think of them as "an acquired taste."
Holiday is definitely not that. He has a gorgeous, expressive voice, that somehow balances sweetness and power, whether he's singing Baroque, gospel, American songbook or jazz (and lots in between). Yes, there's a soprano sound to much of what he sings--most times it runs high, sometimes it dips into the chest, but it's a voice he's had since he sang in church as a boy in Texas.
The 2017 Marian Anderson Award-winner was in New York the other day for a recital as part of the Crypt Sessions concert series at the Church of the Intercession at West 155th Street and Broadway. It's not exactly in the center of town, but with Holiday singing, it was the center of "things"--things musical in New York, that is. In a program that ranged from Handel to Rodgers & Hart, he gave the impression that he could sing just about anything--including the proverbial telephone book--and make it worth the trip. (He had three wonderful collaborators on piano: Kevin J. Miller, Neeki Bey and himself, during encores.)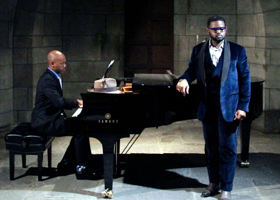 I first heard him a few years ago in a concert staging of a Vivaldi opera CATONE IN UTICA (or, at least, the fragments still extant) by Opera Lafayette out of Washington, DC, and flipped for the unique quality of his voice. Last fall, I heard him again, as John Blue in the Daniel Roumain-Marc Joseph WE SHALL NOT BE MOVED (which premiered at Philadelphia's Opera Festival, then moved to NY's famed Apollo Theatre and more recently went to Amsterdam) and found him equally as thrilling in a modern idiom.
In the crypt, he started off with Handel's "Frondi tenere e belle..." (better known as the Largo from XERXES), with brilliant tone and sweet intensity, and proceeded to show the centuries unfold musically in front of us. (And, oh yes, he didn't seem to have to warm up, which left me in awe.) He went on to Debussy's "Romance" and Poulenc's "Hotel," and melodies by Reynaldo Hahn--the Venezuelan-born but quintessentially French turn-of-the-20th-century composer of salon songs, who used texts by such writers as Victor Hugo, Paul Verlaine and Stephen Mallarme. The purity of Holiday's voice and a deeply felt connection with the material emerged in "Offrande," "Si mes vers avaient des ailes (If my verses had wings)" and "A Chloris."
Holiday then turned to a pair of song cycles that are not heard with much frequency. The first was by Margaret Bonds, a mid-20th century African-American composer, and her "Three Dream Portraits," with text by Langston Hughes, in which he captured the composer's irony and sadness, simply and precisely. "Chamber Music" by Theodore Morrison (who wrote the recent opera, OSCAR) is set to some poems in a collection by James Joyce; Holiday navigates the broad variety of emotions with great subtlety. (I particularly liked his power in coloratura in "I hear an army charging upon the land.) These two sets were separated by a spiritual, his mother's favorite, "I'm Gonter Tell God All O' My Troubles," arranged by Hall Johnson, poignantly sung and, clearly, of deep meaning to him.
His last set was with Bey (a spectacularly jazzy piano), who was "the first person to get me to sing jazz" and we should be grateful for being able to hear this part of his musical vocabulary. Whether he's soothing in Suessdorf's "Moonlight in Vermont," caressing Monk's "Round Midnight," being "naughty" in Waller's "Ain't Misbehavin'," wistful in "Funny Valentine," or soaring in Gershwin's "Summertime," his jazz instincts are impeccable. He never seems to sing anything that doesn't make sense to him--and happily passes it along to us. Perhaps that's why his encore of "Amazing Grace"--self accompanied--was so special.
The concert was part of The Crypt Sessions, produced by Andrew Ousley and Unison Media. A new series, The Angel's Share, will debut in June in the catacombs of Green-Wood cemetery in Brooklyn, with David Hertzberg's opera, THE ROSE ELF. For more information, visit www.deathofclassical.com.