BWW Review: FOUR NIGHTS in a Single Evening at the Japan Society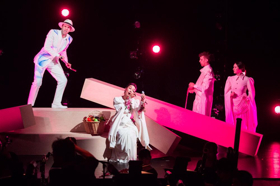 FOUR NIGHTS OF DREAM, composer/librettist Moto Osada's opera performed in its US premiere last week at the Japan Society, is based on a cornerstone of 20th century Japanese literature, "Ten Nights of Dream" by Natsume Soseki, published in 1908 as a serial novel in the Japanese newspaper Asahi Shimbun. While the four stories Osada has chosen may seem stylized and foreign to the Western sensibility, there is no such difficulty in being drawn in by his interesting, dynamic score--by turns lyric and harshly modern--and the staging by Alec Duffy.
If the United States and England are two countries separated by a common language, I'm not sure how to describe the chasm between The US and Japan, particularly when it comes to literature, even in the adaptations made by the New York-based Osada. When I asked Osada why he chose these particular stories from the ten in Soseki's collection, he said that he thought they would work on stage and that the roles would form a well-balanced, yet challenging operatic work--"not Puccini but certainly of the post-Wozzeck era."
In the series of dreams, what we see are modest tales of samurais and ladies' men, parents and lovers, that--said Osada--leave "plenty of room for music to breathe." And the music does, indeed, come to life, in a thoroughly modern way. Anyone arriving at the performance at the Japan Society's newly renovated theatre expecting to hear traditional Japanese melodies must have been disappointed by the significant use of Western idiom. But the rest of us (at least, myself) found much to admire and enjoy in the arias and orchestral interludes that filled in intermission-less 90 minutes by Japanese-born Osada, who studied at NYU and the Manhattan School of Music.
Duffy, a first-time opera director though well-experienced in theatre, brought a keen understanding of the form. I appreciated his light touch in the second scene (which happens to end Soseki's original). A man in a Panama hat (lyric baritone Jesse Malgieri), the subject of the dream, makes a move on a woman by helping her take home an oversized basket of fruit--only to be accosted by an endless line of pigs. ("I see millions of pigs heading right at me! Yet another comes grunting up. I hit it on the snout with my long, hard stick. Oink, oink. The poor pig tumbles down to the bottom of the cliff....")
On the other hand, the poignant final scene, where a man (Malgieri) sits by the bedside of a woman who is dying, is almost magical. The woman asks that her grave be marked with a piece of a falling star and that the man wait for her to return: in a hundred years. Osada's music for the gorgeous lyric soprano of Marisa Karchin was especially effective here, as was Mimi Lien's scenic design (though it might have been more so if there was an actual orchestra pit). Lighting designer Tuce Yasak and costume designer Oana Botez also did fine work. Choreography was by Raja Feather Kelly.
I enjoyed baritone Makoto Winkler in his multiple roles (the Samurai in Scene 1, the Boy in Scene 3) but, then, the entire cast was impeccable: Soprano Karchin also as the Female Chorus; tenor Christopher Sokolowski as Ken-san and, particularly, the Father in Scene 3; bass Rocky Sellers as the Male Chorus III and mezzo Gloria Park as the Female Chorus and the Woman (Scene 2).
The Tokyo Bunka Kaikan Chamber Orchestra, under Ken-David Masur, gave a thoroughly persuasive account of the score.
Related Articles View More Opera

Stories