BWW Interview: MEFISTOFELE is a Devil of a Hat-Trick for the Met's Rising Star Christian Van Horn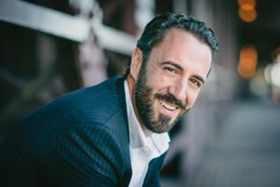 For a charismatic fellow who's usually cast as ne'er-do-wells--if not downright villains--and is quite good at making you love to hate him, in person, rising star bass-baritone Christian Van Horn comes across as, well, a regular guy.
I caught up with him the other day, to find out what the devil was going on with his starring role in the Met's first performance of Arrigo Boito's MEFISTOFELE in almost 20 years. Were you nervous as hell (pun intended) on the first night, I asked Van Horn, winner of this year's prestigious Richard Tucker Award, in your role as the Devil?
After all, not only was he performing the title role of this opera--which New Yorkers associate with some very special singers--but doing his first starring role at the Met, though he's headlined at other major houses (I'd heard his FAUST from Chicago Lyric Opera recently on WQXR) and done quite a few significant parts here.
"No, I really didn't have any nerves that first night," he said in a voice that's as resonant when he speaks as when he sings. "I knew I could sing it, I wasn't worried about that. Sometimes, in other pieces, I might have thought, 'vocally, that might be a little difficult.' Here, I felt 100%: If you've told your story"--and Mefistofele's is a whopper--"you've done your job."
Well, yes, I reminded him, but you not only had to sound good but you had all this business, and he acknowledged there were a few things that gave him pause.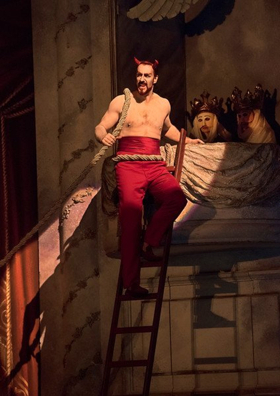 "All these ladders"--at one point he has to climb out of the orchestra pit, carrying a red violin and its case--"and I had to jump up on a table at one point (a high one, I might add) near the beginning--that did make me a little nervous. After all, I'm not 25 anymore" (for the record, he's just 40--still a tadpole for a voice like his) "and the table looked higher and higher. But the adrenaline of opening night fixes a lot of that stuff."
He continued, "If a tenor's worrying about his top note, the adrenaline of the crowd usually fixes that. That was kind of what was going on for me: I was able to enjoy the experience. Honestly, it's a long night, so there's no point in being nervous early on."
Of course, there were other issues in getting this particular revival off the ground that one wouldn't run up against in, say, a TOSCA or AIDA: This was a production that premiered in 1999 and hasn't been done since and they were on a revival schedule--which means not as much rehearsal as a new production would get. But, more importantly, "There were only two people in the house who had been around for the original. So it was really new for everybody, figuring out what-went-where," he recalls. "I have six costume changes--four in less than 90 seconds--so it's a mad dash behind the scenes."
Of course, Van Horn had about 3-½ weeks of rehearsals getting to work with his costars, soprano Angela Meade and tenor Michael Fabiano. (The three singers were supposed to be in the cast of Verdi's I LOMBARDI this season, but that was changed for reasons unknown.) "So we had a lot of time together--six hours a day, six days a week. That's a lot." (Of course, he noted, Fabiano was traveling back and forth between Chicago and NY--and got married during that period. "It was if he were thinking: 'What can I do to make this really difficult?' Nonetheless, Michael was in rehearsal at 11 am the day after his wedding, ready to go.") But behind-the-scenes issues on a different revival at the Met meant the loss of some stage time for MEFISTOFELE--and a closed dress rehearsal, ie, no audience.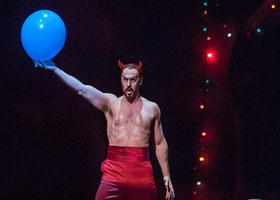 By the time we spoke, Van Horn had done a second performance in front of a paying audience. What was the biggest difference? "After feeling the crowd on opening night and seeing where I had everybody's attention, sometimes more than I expected to, I took the character a little further in breaking that fourth wall--because I really am addressing the audience right at the get-go," he explained. "So, I hope I made it a little more personal, to bring a few more people into the story, like Puck in 'A Midsummer Night's Dream,' checking with the crowd to make sure everyone's having a good time. And," he admits, "I think I did the tiniest bit more mugging--without going too far. I think that worked very well."
The production had been mounted in 1999 for Samuel Ramey, who had made the role his calling card, first performing it at NY City Opera across Lincoln Center Plaza before the Met did this one for him. But it was really Norman Treigle who brought the role to modern audiences in New York, when the City Opera production premiered. It was his breakthrough role, after being well-respected but not a star performer; that was supposed to change with Handel's GIULIO CESARE opposite Beverly Sills but, of course, it turned out to be her night in the spotlight, which people weren't expecting.
"I just love Treigle's voice--it's so raw," says Van Horn, who only knows it from recordings. "It wasn't gorgeous--not like Ramey's that was so even top to bottom--but Treigle sang like it was the last day of his life. It wasn't always beautiful but it was always moving." When Treigle died (tragically, not yet 50), Ramey inherited the role and ran, and ran, with it.
Now that he's played the devil in Gounod's FAUST and MEFISTOFELE in fairly close succession, I ask, how do you compare them?
"They're both kind of caricatures, though not one dimensional," he explains. "In FAUST, there's not a personal investment in what's going on until the end when the Devil thinks he might not get what he wants--he gets his soul 99% of the time: 'Sign the deal, you're coming with me.' It's not till the very last line of the Gounod that he holds up the contract and tells Faust that he's judged.
"Personally, in this opera, I don't think Mefistofele is that invested in the deal, but just observing the foils and the triumphs for whatever is happening at that moment. By the end, though, he's more damaged than the Gounod. You can tell that just from the desperation in the text. In the Boito, he's damaged early in the epilog."
So, I ask, FAUST--which is undoubtedly the more famous--vs. MEFISTOFELE: Is there one you'd choose over the other?
"This one, definitely. I love the Gounod, to watch the Gounod, 'Le veau d'or' and 'Vous qui faites'--they're difficult arias for the Devil and you either survive them or do more than that, but I think it's never a big night. But in MEFISTOFELE, there's 'Son lo spirito che nega sempre,' where he reveals his true self to Faust and goes on to describe the nature of his evil. From a singer's standpoint, I'd take MEFISTOFELE over FAUST any day." He admits that the opera has some dramaturgical issues--"that Helen of Troy scene comes out of nowhere, and we wonder why we're introducing a new character so late in the game, except to show Faust he has another choice to find contentment"--"but I'd still choose it."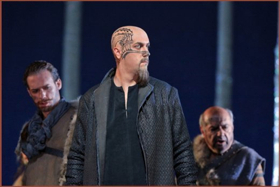 Boito did double duty, as composer and librettist, on MEFISTOFELE and the premiere at La Scala in 1868 was an unmitigated disaster, which he was able to turn around after many revisions. (He is, of course, most famous as being the great librettist of two Verdi masterworks: OTELLO and FALSTAFF, both being done at the Met later this season.) Van Horn notes that in this work, some of Boito's text is difficult because he took it right from the archaic language in the source material, Goethe's play. "There were things that were baffling to some of us because, if there was a choice of words, Boito would use the hard one and the syntax is off not just because it's a different language but even more so with the vocabulary."
Speaking about language, I ask Van Horn how his Italian is? "Oh, it's good--I've lived in Italy. You kind of have to be pretty good, at this level." And his German? "Very good--I lived in Munich for two years, on contract with the company at the Bavarian State Opera (Bayerische Staatsoper), where I might do six different roles in eight nights.
"You show up and see what costume is hanging there and say, 'Oh, okay, we're doing NORMA tonight' or get to the stage and the prompter would hold up the score and say, 'Ok, does everybody know we're doing CARMEN tonight?' You meet your colleagues for the evening on stage; you meet the tenor as the curtain is going up or the soprano would ask whether the door opens in or pulls out. You had to dance around the guest soloists, whoever was coming in, to make sure everything was happening stage-wise. (NB: He did 50 performances there with Jonas Kaufmann during that period.)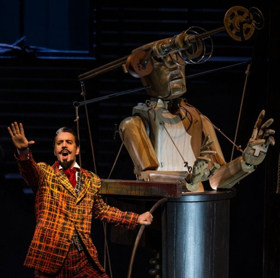 "In this kind of situation, you learn to lose all your fears and learn to use the prompter. I'm not scared of the audience anymore; I did 95 performances in 18 months in Munich--17 different roles, 15 of which were new to me. I would recommend it to any young singer, if they could get this kind of gig, because it fast forwards your stage time five years inside of two. Everybody can sing--at this level everybody can sing--but the difference between being good and great in a role can be how many times you've done it."
Sounds like great experience, I say. So why only two years? "I put a time limit on it--I decided I wasn't going to do it more than two years, getting the most out of it, and got out," he recalls. "The German audience likes singer like few places, so it would be easy to stay, just feeling that sort of love. It's that culture. They'd go to the opera before they'd go to the movies." Is it different in Italy? "Very different, a whole different thing.
"I love the people, they invite you into their homes, you feel welcome but it's hard to work with them. As far as putting on a show it's: 'Is anyone going to work today?' We don't have that much time.
"It's different: In Germany if they say a rehearsal starts at 10am, at 9:45am you're already late; here, if they say ten, you're almost late at 9:55. In Italy, if you're 45 minutes late, you're almost early. And then the coffee happens and the cigarette happens, then we work, then there's another coffee and it ends up being hardly a rehearsed show--it was terrifying."
Not terrifying, however, but something of a surprise, was winning the 2018 The Richard Tucker Award. "Yeah, I kind of thought that the thing passed me by, just because of my age. I was 39--I'm 40 now--and it's typically given to a younger singer and very untypically given to a bass/bass-baritone. They don't even give it to baritones very often. I thought maybe there was a chance in the last year or two but you can sort of tell who's lined up for it. It was a surprise this year--I could name two people I thought it could have gone to and may still get it in the future.
"There are other singers who haven't had the award and should, so there's a timing issue as well. if you move too quickly and become well known, they aren't going to give it to you after the fact. They want to give it to somebody right on the cusp of this moment."
Has the Tucker thing meant some kind of change to him career-wise, I ask? Are people more aware of you? "Of course," he replies, "that has to be true. But my schedule looks the way it does before the award; now maybe my schedule helped me win the Tucker award." What was the best part of the gala for him?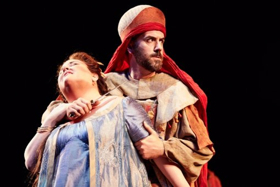 "I sang with that group of singers--all the others on the program--and everybody wants to be in that group. They have been my colleagues for years, but never where I was inserted into their gala concert. That wasn't lost on me. It was a big deal and it felt like a big deal. I wanted to sound like I belonged in that club." (Among the previous Tucker winners he admires are baritone Quinn Kelsey, who he's known since school and considers "the Verdi baritone we've been waiting for," and mezzo Jamie Barton, who he'd "listen sing anything" and "a historic voice--if we can have a historic voice anymore, she has one.")
Of the music he sang at the concert, unquestionably, it was King Philip's aria, "Ella giammai m'amò," from Verdi's DON CARLO that meant the most to him. "They asked me what I wanted to sing and that was it. I keep putting out to the world that I want to sing Philip, so any chance I get to sing that aria, I do it.
"It's the bass' dream role--I'm supposed to say Wotan (in Wagner's Ring) but that's not what I want to do," he explains. "I want to sing Philip for 10 years before I do more Wagner--though that may happen before I want it to--but I don't feel in a hurry for that stuff, though certainly people have asked me. But my voice lands higher; I'm more of the James Morris bass than the Sam Ramey bass. My high F is better than my low F--admittedly so."
I ask him whether, even if ready for Philip vocally, you have to "live" a little bit before you play him. He answer: yes and no. "Who hasn't been hurt, who hasn't felt hurt from love? Even if you're 16, you know that feeling. You can bring that--there's no doubt you need some life experience--but emotion is emotion."
When I press him further, he says, "[Bass] Rene Pape told me that he did it the first time when he was 23 and said, 'I didn't know Philip, I just did what I was told...' So if you trust the people working around you, you can survive it. Pape, of course, has gone on to become one of our best known Philips. (Ferruccio) Furlanetto, however, may actually be Philip." (He laughs).
"I covered him about two years ago. I don't like to cover but he was doing Massenet's DON QUICHOTTE in Chicago and I was there for LES TROYENS and they asked me if I would cover without telling me whom. I said no. Then they said it was Furlanetto and I said yes, because I wanted to be in the room when he was doing it.
"Ferruccio, that voice is like of the most royal class. I don't know that he would warm up; he would start in a place and end in a very different place vocally. It was an amazing evening to hear someone who sounded...tired is the wrong word, but he wasn't fresh at the start but would end up the evening sounding completely fresh. He's an old-school professional."
I noticed that before he finishes his run in MEFISTOFELE--in the starring role--he's doing Colline, one of the young artists in LA BOHEME, who has the great aria, "Vecchia zimarra," a kind of an ode to his overcoat, which he is going to sell for Mimi's medicine. Does this kind of overlap seem weird for him. "Frankly, I think it'll be a nice relief--I've done this BOHEME production so many times, you sort of add water and it happens.
"Everybody's done it. The first time I was ever in the Met was during the Met competition and we were downstairs on C level, but we had free run of the building. For a 22-year-old kid, free rein here is amazing. So I would just go and stick my ear in the rehearsal rooms and see what was happening. And there was LA BOHEME being rehearsed. And I stick my nose through the door and say Oh My God, And I only remember that Mariusz Kwiecien was there and he was singing Schaunard, I think--singing full-throated, clearly an audition.
"I was looking in the window and there's the face of bass Paul Plishka, and he grabs me and sits me down and says, 'If you're going to listen, listen.' So there I was with Mariusz in his early days and me sitting next to my hero, Plishka. I only got to sing with him as a comprimario [supporting) bass but he sang everything with everybody here, all the meat and potato bass roles: He was a famous Falstaff and was a famous Raimondo, the chaplain, to Joan Sutherland's Lucia."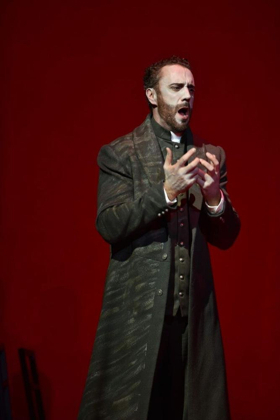 Speaking of Raimondo, I'd recently heard Van Horn as Raimondo in a new Laurent Pelly production at Opera Philadelphia and I asked how he'd liked it. Honestly, he says, it's not his favorite part and he'd be happy to leave it behind, because he thinks the character (according to the music and libretto) is more sympathetic than most directors want him to be and they have the last word. Besides, he feels he has better options these days.
Well, what other roles are on his plate, while he's waiting for King Philip? "I have a Sarastro in Handel's ORLANDO in San Francisco--Handel doesn't come easy to most, it's like an old gear shift to get into that mode of singing. I'm doing my first Claggart (BILLY BUDD), LUISA MILLER (there are two great bass roles there), ERNANI, THE RAKE'S PROGRESS and, yes, there's Wagner." (I heard him do a stellar Donner in the New York Philharmonic's DAS RHEINGOLD, one of Alan Gilbert's parting concerts as Music Director.)
"Yes, I want to sing Wotan, but it has to be done the right way. You have to live with those scores for five years before you ever put it in front of people. I could sing the RHEINGOLD Wotan tomorrow, but the one in DIE WALKURE could be the end of your life. It takes some serious time and I'm not in any rush to get there. Yes: Maybe it's not that I need to be older for certain roles but that I'm not in any rush."
###
There are four more chances to hear MEFISTOFELE with Christian Van Horn at the Met this season: November 19, 24 and 27; and the December 1 matinee. See the Met's website for more details and ticket information.
The November 19 and December 1 performances will be broadcast live on Metropolitan Opera Radio on SIRIUS XM Channel 75, with the December 1 performance also broadcast over the Toll Brothers-Metropolitan Opera International Radio Network.