BWW Interview: Lawrence Brownlee on CYCLES OF MY BEING, in NY Premiere at Carnegie's Zankel Hall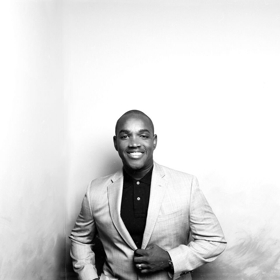 When tenor Lawrence Brownlee--he of the sweet, cultured tones and ringing high Cs-Ds, and higher--was first asked to put a recital together by Carnegie Hall, he was pretty certain of the centerpiece: Robert Schumann's "Dichterliebe (A Poet's Love)," the elegant 19th century song cycle about rapture, disillusionment and regret.
But in coming up with a companion piece to fill out the program, he turned to something very different--a work, in fact, that hadn't been written yet and would reflect his life as a black man in America, as well as his art. "Cycles of My Being" by composer Tyshawn Sorey and poet/lyricist Terrance Hayes (with some help from Brownlee himself) makes its New York debut on April 24 at Carnegie's Zankel Hall. It was co-commissioned by Opera Philadelphia, Lyric Opera of Chicago's Lyric Unlimited and as part of Carnegie Hall's "125 Commissions Project."
Actually, "Cycles of My Being" was composed in what one might call "dueling versions," presenting the same basic material in two ways.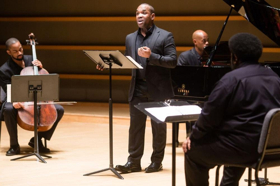 The first, which was performed for the world premiere at Opera Philadelphia on February 20, celebrating Black History Month, and is being done in Zankel, is for tenor, with piano, clarinet, violin and cello; composer Sorey is conducting. Then there is the version for voice and piano that Brownlee and his exceptional pianist-accompanist, Myra Huang, are taking on tour. It debuted in Chicago at a Lyric Unlimited event in the DuSable Museum of African American History on February 22.
I sat down with the tenor a few weeks ago, just before a performance in New York's Greene Space, under the aegis of classical music station WQXR, hosted by Nimet Habachy. The program not only gave a peek into his upcoming recital at Zankel Hall but showed Brownlee's range, including songs that ran the gamut from the 19th century masterpieces he's best known for ("Una furtiva lagrima," e.g.) to "Unforgettable," made famous by Nat "King" Cole.
"Cycles" isn't the first new music that the great bel canto specialist has done. Audiences have heard him in CHARLIE PARKER'S YARDBIRD, the 2015 biographical opera by composer Daniel Schnyder and librettist Bridgette A. Wimberly about jazz musician Charlie Parker, commissioned by and premiering at Opera Philadelphia. Earlier, Brownlee was part of the world premiere cast of Lorin Maazel's opera, 1984, which he recalls as "rhythmically and tonally challenging."
But "Cycles of My Being," a six-part, 40-minute work, is something very different for him, and for his collaborators. True, Sorey hadn't written for this kind of voice and Hayes had never written song lyrics, but it was bigger than that. "This song cycle was the opportunity for us, intelligent black men--these two guys [Sorey and Hayes] are MacArthur genius grant winners, validated and praised as being of great substance, and myself, with all the things I've been fortunate to do in my career--to say something.
"The subject material is something very provocative, something close to home. We ask the questions about many things that we, as black men, face on a day-to-day basis," says the singer. "We start by saying, 'America, I see you hiss and stare. Do you love the air in me as I love the air in you?' It's our opportunity to ask the questions that have never been answered for us--to give people a look into what we face every day.
"When I wake up in the morning and look in the mirror, I don't say, 'Hey, I'm a black man, a normal black man and I know I'm going to face a different reality than someone who has blond hair and blue eyes.' That's just a given. Is it conscious all the time? Maybe not. But sometimes it really is," he explains.
"I know that the way I represent myself when I'm in stores, when I'm in public places, my behavior will be viewed in a certain way. I understand that the way I carry myself, the way I'm dressed, the way I speak--all of this will be judged to sum up who I am in some way shape or form. That doesn't happen to everyone, but that happens for people who look like me."
Brownlee continues. "As we say in our piece, 'Hate wears white sheets, it wears black suits--those are DA's--it wears black robes--the judges--it wears blue uniforms. The people who have the power to put people in jail. We don't necessarily hear people saying the words, but it's in every part of the bureaucracy; it's in government, it's in hiring practices, it's in schools, it's in so many unspoken areas of life that we as black men feel the weight of it in everything we do.'
How did the project take shape, I ask him? It began very simply. "A couple of years ago, I did a recording with a friend of mine, Jason Moran, the jazz pianist, of the spiritual 'There's a Man Going Around Taking Names,' in solidarity with the Black Lives Matter movement. And when we were working on it, Jason and I began talking about how we get the opportunity to use our gifts as a platform, because of who we are.
"I already had the Carnegie Hall concert scheduled, doing Schumann's 'Dichterliebe,' a song cycle that has lasted almost 200 years. I thought 'Wouldn't it be great to have a song cycle that could say, This is our story, this is what we want to ask--the things we're seeing on TV news about Trayvon Martin, Michael Brown, Philando Castile and stories about someone not being prosecuted, someone who felt that the value of a black life was less than that of a white life?"
I ask Brownlee, "How do you get across the 'Black Lives Matter' message to audiences that are, well, mostly old, white people and who may be thinking 'Doesn't every life matter?'"
"It was important for me, and Tyshawn and Terrance, not to shake our fists at anyone," he explains. "On the other hand, we didn't want to be apologetic with what we said either. But I think that anytime when we speak on a subject like this, it is important--or it is important for us--to take hold of the conversation."
What does "take hold of the conversation mean"? He explains. "For example, when you talk about Colin Kaepernick"--one of the country's most polarizing athletes after he knelt during the National Anthem in 2016 to protest treatment of African Americans and other minorities--"the discussion has been robbed of its focus. He wanted to shed light on certain things that were happening; instead, it became about being disrespectful to the flag, to veterans, to the country."
After deciding what he wanted to do, Brownlee went to his public relations and marketing advisor, Andrew Ousley--a presenter and producer of events as well--for some direction about how to proceed. He suggested looking for collaborators established in their own fields who had something to say. "Andrew mentioned Tyshawn and Terrance to me--he has his hand on the pulse of things."
The collaboration, however, wasn't a slam-dunk, Brownlee admits. "It was a learning experience for all of us; Tyshawn had written for voice but not for an operatic tenor like myself; Terrance was mostly a poet, but he was challenged to be a lyricist.
"I looked at Terrance's writing"--which frequently deals with matters of racial identity and masculinity--"and found it in the right vein and he was enthusiastic about the project. I found that Tyshawn, being a jazz percussionist, could use musicians to conjure up feelings of tension and rhythms where you never feel steady.
"I said to them, 'This is the general idea I'd like to present and let's come together with something of which we could all say, yes, that's my voice.' I felt that Tyshawn's music with our words--and I was fortunate to be able to contribute some things myself, things particularly important to me, alongside Terrance's work--collectively would be able to express what we wanted to say." In the end, the men were committed to making the project work as a true collaboration.
From his work on CHARLIE PARKER'S YARDBIRD, Brownlee had experience in helping shape music to his vocal strengths and gave input to Sorey on what personally works (and what doesn't work) for him. He recalls that the music started out being about a third too low for him (not surprising for a singer whose 'money notes' are in the stratosphere). "I asked Tyshawn if the contourable line could lie higher; he was receptive and came back in a few days with what, basically, audiences are hearing." He also suggested that it would be easier to set words to music if Sorey took a simpler approach to the rhythms in his score.
What about his experiences working with a poet? Hayes encouraged Brownlee's participation in the creative process, according to the singer. "For example, we have two pieces that talk about hope. The first is Terrance's. He said to me, 'As an exercise, I want you to think about the text I wrote about hope and come up with something similar.' And so I wrote Part Five of 'Cycles.' All of that is mine." I asked if Hayes tried to make Brownlee's contributions more poetic and he answered in the negative--rather, Hayes brought fresh eyes that sometimes produced surprising results. "For example, in one place, I wrote, 'You hate the god in me'; he added 'and the god-awful too', which I feel makes it more powerful.
"This is a project that is close to my heart, using my art as a platform. I hope that, years from now, when somebody else picks it up, they will feel like 'This is my story, this is my song, something I also want to ask the questions about.' Hopefully things will be better for black men in America but, as we have seen, it's not that close--it's not getting better," he concludes.
Judging by the responses to the work in Philadelphia and Chicago, the creators have succeeded in their goals: Audiences in Philadelphia and Chicago have responded resoundingly. New Yorkers--never shy about giving their opinions--will have their opportunity to chime in on April 24th.
Brownlee will be joined in "Cycles of My Being" by Randall Goosby, violin; Khari Joyner, cello; Alexander Laing, clarinet; and Kevin Miller, piano; conducted by Tyshawn Sorey and, in "Dichterliebe," by Myra Huang on piano.
The printed program will last approximately 90 minutes, including one 20-minute intermission.
For more information and tickets, visit the Carnegie Hall website.