Interview: Five Questions for Composer Moto Osada on FOUR NIGHTS OF DREAM, New Chamber Opera Opening Sept. 13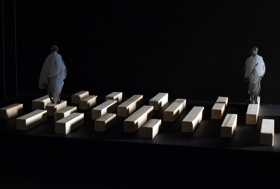 Tokyo and New York City are the two homes of composer Moto Osada, whose new chamber opera, FOUR NIGHTS OF DREAM will have its North American premiere at the Japan Society in Manhattan on September 13, directed by Alec Duffy.
Why the two homes? He considers New York to be much more international than Tokyo in general, offering more international opportunities to composers, with FOUR NIGHTS OF DREAM a good example. (He received the commission for his first full-length opera from Vadstena-Akademien in Sweden, without being located there.) Personally, he finds living in New York allows him to experience what it is like to be an outsider in a society; no matter how long he has lived here, he feels he will never be completely assimilated because of the fundamental cultural differences between Japan and America. This is not necessarily a bad thing, because he thinks it has definitely influenced the way he expresses himself through music, though he finds it difficult to explain exactly how.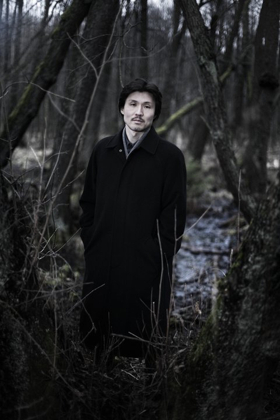 FOUR NIGHTS OF DREAM is based on a work by Natsume Soseki, "Ten Nights of Dream," written 100 years ago and now in the public domain. He is considered a key figure in modern Japanese literature, someone who every school child has read--the composer discovered him when he was 10-years-old--and widely known in Japan although not as well known abroad. (He was on the Japanese 1000-yen bill from 1984-2004.) Osada felt Soseki's book would be challenging but interesting operatic material, since the stories are simple, leaving plenty of room for music to breathe and drive the drama. At the same time, they are quite unique and imaginative, providing lots of inspiration not only for music, but also for staging including set, costume, and lighting designs.
Here are some questions I posed to the composer about how the project came together.
There were ten stories in the original Soseki collection. Why did you choose these specific ones to musicalize? Were there others that you started on and rejected?
I selected the stories that I thought could work on stage and that had different characters so that they would form a well-balanced operatic work. From the beginning, I felt that it would be very difficult to stage the other six stories in "Ten Nights" - the ones I didn't select - but it may be interesting to turn them into some sort of performance art pieces!
Is there a structure to the piece-a thread that ties these stories together or did you just choose them for their stories?
A thread that ties the stories is of course that they are all dreams that someone had. But I did not just take them out and put them in the original order. I rearranged the order of the stories so that the opera would have a balanced structure. Almost all the stories in "Ten Nights" deal with death as a subject matter, but the four stories I selected for the opera especially deal with love (sex) or death--or both. These are of course classic operatic subject matters.
There are also some "hidden" possible connections between the scenes in the opera.
For example, here's a simple example, since the baritone who plays Shotaro, the delusional womanizer in the comedic scene (Scene Two), also plays the Man in Scene Four, the romantic and impressionistic final scene about eternal love.
- It is possible to interpret the man in Scene Four as a matured version of Shotaro, or we can take a different interpretation that Shotaro and the Man are the same delusional and narcissistic man;
- In Scene Two, we are looking at him as depicted by the other characters whereas we are peeking into his own delusional and romantic world in Scene Four.
This is just an example, but you can also make similar connections between the Samurai in Scene One and the blind Son in Scene Three, also played by the same singer.
How would you describe your musical voice in these pieces? To me, you seem to use a variety of musical styles-some of it what I'd call ritualized, some of it minimalist, some almost romantic. Will someone listening to them for the first time recognize that they're by the same composer?
From the beginning, my plan was to provide music with a different style for each scene. Since the stories are so different from each other, I thought that the music should vary as well, giving the audience different impressions as if they are having different dreams in succession.
At the same time, if you carefully study the score, you will see many thematic or motivic connections between the scenes. I already talked about the relationship between Shotaro in Scene Two and the Man in Scene Four, but a simple pattern that accompanies Shotaro when he sings about his dream of owning a fruit shop in Scene Two is further developed into the opening music of Scene Four.
Further, there are similar oscillating figures based on major seconds in Scenes Three and Four. They appear in the respective scene at approximately the same point in time - a little bit after halfway through - and they both appear in sections related to "time." In Scene Four, the figure depicts the passage of time whereas it indicates that time is running out in Scene Three.
How close did you stay to the original texts in these four pieces and why did you choose to do the libretto yourself rather than with a collaborator?
Basically I did not change the essence of the stories, but I felt that there were too few characters in the original texts, even for a chamber opera, so I created a main female character, the Female Narrator, who appears in multiple scenes and added some more, purely for musical reasons, such as Male Choruses in Scene Three to use them like jiutai in the Noh Theater. (They sit at the side of the stage, narrating the background, the story and its mood. They also sometimes describe the character's thoughts and emotions or even sing lines for the characters.)
Also, I changed minor things so that it would work as an opera in English. For example, koan, the Zen question asked by the Priest in Scene One is simply about the meaning of Nothingness in the opera, but in the original text, it is more complex. I also simplified some terms that are difficult to understand without knowledge of Japanese history or culture.
When this project begun, our plan was to find an appropriate librettist. We consider a few candidates, but it didn't work out for various reasons. Eventually I suggested to Nils Spangenberg, Artistic Director of Vadstena-Akademien who commissioned the opera, that I do double duty because by that time I already knew how I wanted to approach the texts and had built up the confidence to do so.
What would you like the audience to come away with when the opera is over?
Well, this work may be a little unusual for opera goers who are used to seeing operas by Mozart, Verdi or Puccini, or it may not be so unusual for people who are familiar with operas written after WOZZECK. But in any case, first and foremost an opera performance has to be entertaining and I hope that the audience will simply enjoy the show and that they will feel a little better about our existence on earth when they walk out of the door at Japan Society than when they came in.
###
This production of FOUR NIGHTS OF DREAM, to be performed in English, marks the 110th anniversary of the Japan Society, 333 East 47th Street, New York, NY 10017. Three performances are scheduled, on September 13, 15 and 16; at the moment tickets are only available for the 15th. A waiting list will begin at the box office one hour prior to each show's curtain time. Box office: (212) 715-1258.
Here is a brief description of the opera:
A frustrated samurai. An unwieldy herd of pigs. A mysterious murder. A woman's dying wish. Four surreal stories from Japanese author Natsume Soseki's (1867-1916) Ten Nights of Dream come to life in FOUR NIGHTS OF DREAM, which traverses the subconscious through colorful melodies and piercing emotions. For this new production, New York vocalists and Tokyo instrumentalists come together to perform within a spellbinding and ever-morphing set.
Music and Libretto: Moto Osada
Conductor: Ken-David Masur
Director: Alec Duffy
Set Designer: Mimi Lien
Costume Designer: Oana Botez
Lighting Designer: Tuce Yasak
Singers: Marisa Karchin, Gloria Park, Christopher Sokolowski, Makoto Winkler, Jesse Malgieri, Rocky Sellers
Instrumentalists: Tokyo Bunka Kaikan Chamber Orchestra