The Frights Gear Up For Tour Upon Release Of THE FRIGHTS LIVE AT THE OBSERVATORY Out 4/12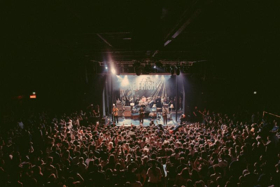 The Frights are getting ready to go back out on the road before the release of their brand-new album, The Frights Live At The Observatory on April 12. The tour kicks off with a sold-out night at The Glass House in Pomona on April 6. Not only that, The Frights have been highlighted as a must-see Coachella 2019 act by local alternative weekly, Coachella Valley Independent, placing their name right above Kacey Musgraves. "In a lineup that is less focused on rock bands, The Frights definitely stand out," shares Coachella Valley Independent. Music focused blog, We Are: The Guard, have also highlighted The Frights as a must-see calling them, "Our official guess for no longer small font by the next time they're on the poster."
The Frights Live At The Observatory is a document of their sold-out kick off show of their Hypochondriac headline tour at The Observatory in Santa Ana on September 8, 2018. Live At The Observatory features 14 songs spanning the band's complete catalog. After opening with the anthemic frenzy of "Kids" (a cut from their 2016 sophomore effort You Are Going To Hate This), the band delivers full-tilt fan favorites like "Cold" and "Crust Bucket," then turns tender on acoustic-guitar-driven tracks like "Hold Me Down" and the painfully vulnerable "Alone," both from their 2018 Epitaph Records debut, Hypochondriac. Throughout the entire set, the love and solidarity from the crowd is palpable, their shared confession giving way to something way more fun and more powerful than ordinary catharsis.
Every live show from The Frights is both high-energy and hyper-emotional, a free-for-all fueled by crowds of thousands screaming along to intensely honest lyrics about anxiety and angst, breakups and bad crushes, mental health and medication. Since 2015, the San Diego surf-punk band has set that surreal phenomenon in motion at over 300 shows across the U.S. and Europe, as well as at festivals like Lollapalooza, Shaky Knees, Ohana, Riot Fest and this year's Coachella. On their new album Live At The Observatory, The Frights capture all the dizzy chaos of their live set, an experience that's equal parts a wildly unsupervised kid's birthday party and an off-the-rails group-therapy session.
TOUR DATES:
Sat Apr 6 -- Pomona, CA -- The Glass House --
SOLD OUT
Fri Apr 12 -- Indio, CA -- Coachella
Fri Apr 19 -- Indio, CA -- Coachella
Fri May 17 -- Portland, OR -- Hawthorne Theatre
Sat May 18 -- Seattle, WA -- Chop Suey
Wed May 22 -- Fresno, CA -- Strummers
Thur May 23 -- San Luis Obispo, CA -- Fremont Theater
Fri May 24 -- Santa Cruz, CA -- The Catalyst
Related Articles View More Music

Stories
More Hot Stories For You