The BPM Festival: Portugal 2018 Announces Final Lineup and Showcases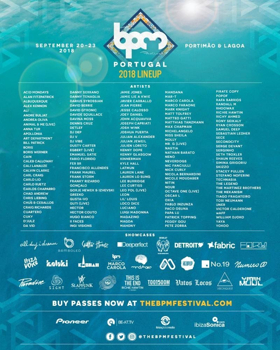 With its second Portuguese edition on the stunning Algarve coast under a month away, The BPM Festival: Portugal announces its final artist lineup along with an additional wave of showcases for its highly-anticipated weekend to close out the summer festival season this September 20-23, 2018. New additions include some of dance music's finest including: Craig Richards, Detlef, Joseph Capriati, Kenny Dope, Latmun, Magda, Marco Faraone, Octave One (Live), Patrick Topping, and YokoO, complementing previously announced heavyweights Chris Liebing, Jamie Jones, Loco Dice, Marco Carola, Nic Fanciulli, Nicole Moudaber, Peggy Gou, Richie Hawtin, Seth Troxler, and The Martinez Brothers. Another slew of showcases including Carl Craig's Detroit Love, Dutch house collective SlapFunk Records, and Mark Knight's Toolroom Records also join the lineup announcement. Boasting beachside parties and nighttime events across several venues in Portimão and Lagoa, festival-goers can explore one of Europe's top destinations while experiencing a world-class festival.
Showcasing underground dance music's most in-demand DJ talent, labels and party brands, The BPM Festival: Portugal brings along a cast of newcomers and industry veterans for its second Portuguese edition. Making their showcase debut, longtime BPM favorites Neverdogs introduce Bamboleo Records while Ibiza Voice presents dance music's brightest rising stars. From Barcelona, SIGHT bring along their favorite dancefloor selectors, Dutch house maestros Julian Alexander and Samuel Deep present Resident Advisor's 'Label of the Month' SlapFunk Records, and Mark Knight's Toolroom Records continues its globe-trekking 15th anniversary celebration. Also making its return to Portugal is Carl Craig's beloved Detroit Love series championing the sounds of the city that invented techno, Italy's Numero 00, and notorious Burner collective The Kazbah.
Portugal's coastal Algarve region, with its impeccable views, glittering sand beaches, hidden caves and massive limestone cliffs, will once again host the underground's finest over four days and nights this September. Taking over the picturesque towns of Portimão and Lagoa, previously announced showcases include All Day I Dream, Cuttin' Headz, Desolat Serán Bendecidos, fabric, FORM Music, Kaluki Musik, Mindshake Records, MoodZONE, Paradise, Stereo Productions, Vatos Locos and more.
Festival passes are on sale at www.TheBPMFestival.com. Packages for festival passes plus accommodation and/or airport transfers, are also available via The BPM Festival's official partner Festicket.
The BPM Festival: Portugal 2018 Final Artist Lineup (in alphabetical order):
(* indicates new additions)
ACID MONDAYS
ALAN FITZPATRICK
ALBUQUERQUE
ALEX KENNON
ALI
ANDRE BULJAT
ANDREA OLIVA
ANIMAL & ME (LIVE)
ANNA TUR
APOLLONIA
ART DEPARTMENT
BILL PATRICK
BORIS
BORIS WERNER
CAIN
CALEB CALLOWAY
CALI LANAUZE
CALVIN CLARKE
CARL CRAIG
CARLO LIO
*CARLO RUETZ
CARLOS CHAPARRO
CHAD ANDREW
CHRIS LIEBING
CHUS & CEBALLOS
*CRAIG RICHARDS
CUARTERO
CUKY
D'JULZ
DA VID
DANNY SERRANO
DANNY TENAGLIA
DARIUS SYROSSIAN
DAVID BERRIE
DAVID GTRONIC
DAVIDE SQUILLACE
DAVINA MOSS
DENNIS CRUZ
*DETLEF
DJ DEP
DJ V
DJ VIBE
DUSTY CARTER
EGBERT (LIVE)
EMANUEL SATIE
FABIO FLORIDO
FER BR
*FRANK MAUREL
FRANCISCO ALLENDES
*FRANK STORM
FRANKY RIZARDO
GONÇALO
*GORJE HEWEK & IZHEVSKI
*GREEKO
GUSTA-VO
GUTI (LIVE)
HECTOR
HECTOR COUTO
HUGO BIANCO
II FACES
INGI VISIONS
JAMIE JONES
JAMIE LIE A KWIE
JAVIER CARBALLO
JEAN PIERRE
JESSE CALOSSO
JOEY DANIEL
JOHN ACQUAVIVA
*JOSEPH CAPRIATI
JOSH WINK
*JOSHUA PUERTA
JULIAN ALEXANDER
JULIAN JEWEIL
JULIEN LORETO
*KENNY DOPE
KENNY GLASGOW
KINNERMAN
KYLE HALL
*LATMUN
LAUREN LANE
LAUREN LO SUNG
LEE BURRIDGE
LEE CURTISS
LEO POL (LIVE)
LEON
LIL' LOUIS
LOCO DICE
LUCIANO
LUIGI MADONNA
MAGAZINO
*MAGDA
MAHONY
MANDANA
MAR-T
MARCO CAROLA
*MARCO FARAONE
MARK KNIGHT
MATT TOLFREY
MATTEO GATTI
MATTHIAS TANZMANN
MAX CHAPMAN
MICHELANGELO
MISS SHEILA
MOLLY
MR. G (LIVE)
NASTIA
NATHAN BARATO
*NENO
NEVERDOGS
NIC FANCIULLI
NICK CURLY
NICOLA BERNARDINI
NICOLE MOUDABER
NITIN
NOUR
OCTAVE ONE (LIVE)
OSCAR L
OXIA
*PABLO INZUNZA
PACO OSUNA
PAPA LU
*PATRICK TOPPING
PEGGY GOU
PETE ZORBA
PIRATE COPY
POPOF
RAFA BARRIOS
RANDALL M
RHOOWAX
RICHIE HAWTIN
*RICHY AHMED
RONY SEIKALY
RYAN CROSSON
SAMUEL DEEP
SEBASTIAN LEDHER
*SECE
SECONDCITY
SERGE DEVANT
*SERGINHO
SETH TROXLER
SHAUN REEVES
*SIMINA GRIGORIU
SKIZZO
STACEY PULLEN
STEFANO NOFERINI
TECHNASIA
THE LEGEND
THE MARTINEZ BROTHERS
THE MEKANISM
*TIAGO FRAGATEIRO
TOBI NEUMANN
UNER
VICTOR CALDERONE
wAFF
WILLIAM DJOKO
YAYA
*YOKOO
The BPM Festival: Portugal 2018 Showcase Lineup (in alphabetical order):
(* indicates new additions)
10 YEARS OF NO.19 MUSIC
ALL DAY I DREAM
*BAMBOLEO RECORDS
CUTTIN' HEADZ
DEEPERFECT
DESOLAT SERÁN BENDECIDOS
*DETROIT LOVE
FABRIC
FORM MUSIC
*IBIZA VOICE
KALUKI MUSIK
MINDSHAKE RECORDS
MOODZONE
NEOPOP
*NUMERO 00
PARADISE
*SIGHT
*SLAPFUNK RECORDS
STEREO PRODUCTIONS
THE BPM FESTIVAL PRESENTS MARCO CAROLA
*THE KAZBAH
THIS IS THE END hosted by Uberhaus
*TOOLROOM
VATOS LOCOS hosted by Partai
VISIONQUEST
YA'AH MUUL
*YA'AH MUUL II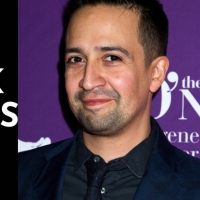 Lin-Manuel Miranda To Return For HIS DARK MATERIALS Season 3 On HBO

October 6, 2022

HBO has confirmed that award-winning composer and actor Lin-Manuel Miranda will return for the third season of the fantasy drama.
---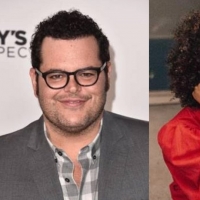 Development Halts On Disney+ BEAUTY AND THE BEAST Prequel Series

February 10, 2022

A planned Beauty and the Beast musical prequel series will not move forward at Disney+.
---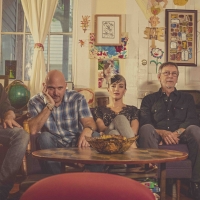 Tony & Grammy Winner Michael Cerveris' Loose Cattle to Stream Live Performance Tonight

January 5, 2022

Loose Cattle, fronted by two-time Tony Award & Grammy winner Michael Cerveris and Kimberly Kaye, will stream a performance live from New Orleans tonight!
---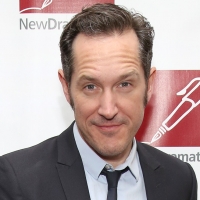 Bertie Carvel Joins THE CROWN Season Five As Tony Blair

October 28, 2021

The acclaimed Netflix series, 'The Crown' has added Tony Award-winning actor Bertie Carvel to its cast in the role of British Prime Minister Tony Blair.
---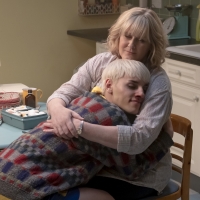 REVIEW ROUNDUP: What Do Critics Think of EVERYBODY'S TALKING ABOUT JAMIE?

September 17, 2021

Inspired by true events, Everybody's Talking About Jamie follows Jamie New (Harwood), a teenager from Sheffield, who dreams of life on stage.
---